ClothingTAGs.cn provides a variety of custom personalized die cut hang tags to make your products stand out. You can customize any shape of hang tags, including round, triangle, dress shape, diamond shape, pentagram, folded, logo shape, etc. In addition to shapes, our die cut hang tags can use any printing technology and materials. You can also match any hang tag string and metal grommet you need. We provide the most complete customized service. Low MOQ and free design can meet the needs of small businesses.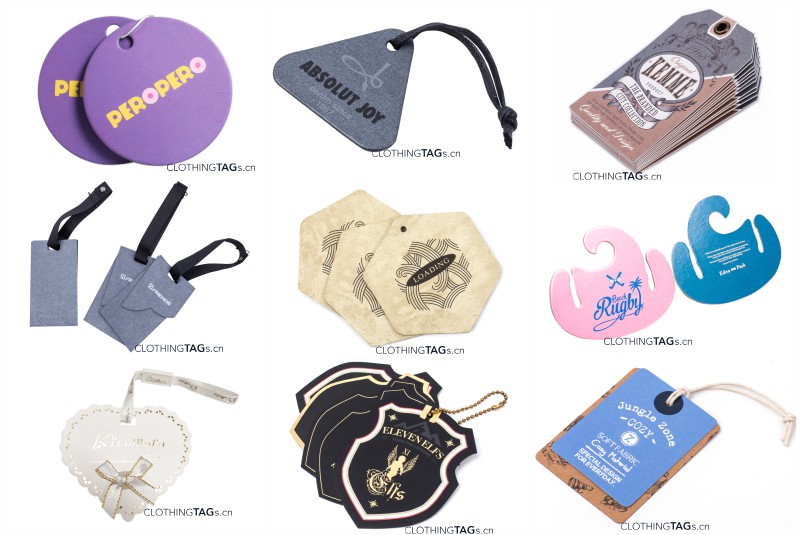 What is a die cut hang tags?
Die cutting is a cutting technique used for post-processing of printed hang tags. The die cutting technology can make the hang tag into any shape, so that the shape of the hang tag is not limited to the right angle and straight edge shape.
Die cutting needs to make a cutting die according to your design, so there will be an extra cost of a cutting die. (Right-angle and straight-edge shapes do not require additional die costs.)
Although we have a high-precision die-cutting machine, there may be slight deviations of less than 1mm during the die-cutting process. Therefore, the distance between the logo and the edge is preferably greater than 4mm to eliminate the influence of logo deviation. We take every excellent design seriously, and we will give the best suggestions based on your design. Therefore, your design may need to be adjusted before production for your confirmation. If you insist on your own design, we will pay special attention to it in the production process.
Custom die cut hang tags can use any hang tag printing technology, you can print any color, including gradient color and picture, or choose brand color according to Pantone card.
You can also add embossed, foil and UV technology, and choose matte or glossy finishes.
Hang tag materials: cheap white card, black card, Tracing paper, kraft hang tags, and personalized coated paper, special paper, and recycled paper, etc. We can give the most professional advice, including the thickness of the paper.
Hang tag size: You can customize any size of die-cut hang tag, if you have no good ideas, we can provide suggestions.
Our rich technology allows you to use your imagination to create unparalleled artworks. You can check our gallery, or reference designs elsewhere, and send us hang tag pictures and physical samples. We can design matching fonts and shapes for free based on sample pictures. You can contact us via Email or WhatsApp for more information. We provide one-to-one professional services, and we can give you the best prices and service.