"ClothingTAGs.cn" custom woven name labels is mainly used for clothing, shoes and hats, home textiles, toys, handbags, suitcases, ties, etc., using high-quality materials and high-quality Sewing Crafts to ensure excellent quality and durability. Our MOQ is small quantity to meet the needs of small businesses.
The woven labels has the characteristics of high end, firm color and soft hand feeling.
Each woven labels with own logo has a different color. The correct matching of the logo's definition and color determines the overall effect of the woven labels. We guarantee that the real product font is beautiful and clear, we will choose the most similar yarn color according to your design, to minimize the color difference. (If your color requirements are very strict, we can choose the most matching yarn color according to Pantone card for your confirmation, then make sample first)
You can boldly use creative fonts and bright colors to personalize your woven label. We have professional designers offering about the size, material, color and technique requirements good advice and woven labels design to meet your customization needs.
Woven name labels for clothing
Woven labels with personalized name will make your clothing more attractive. Create a personalized name woven labels from us will impress your customers.
We can customize the materials, sizes, colors and technique according to your needs.
You can choose soft and matte damask woven labels, woven with fine yarn, it is high density, woven logo is clear, and the colors can be arbitrarily matched.
You can also choose a soft and luster satin woven labels, its yarn density is not high, but there are woven edge on the top and bottom, will look more high-end.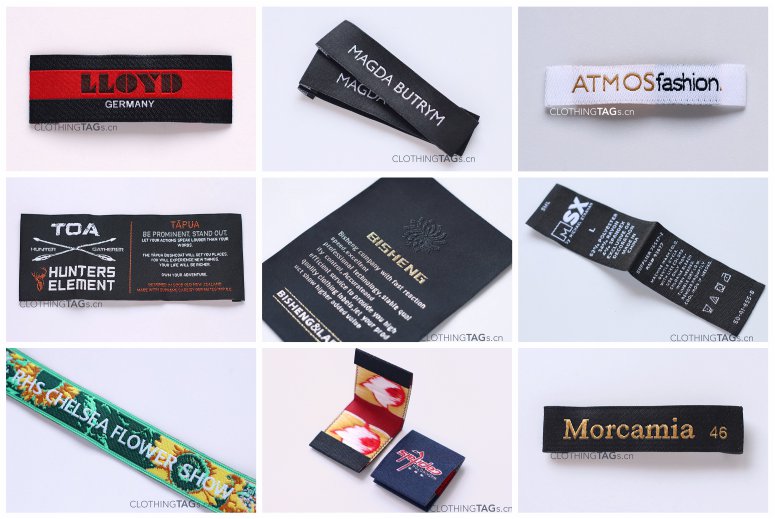 Continue reading "Woven Labels for Clothing, With Own Logo Name"