We custom high-quality soft rubber labels for clothing brand, clear in details, including luggage tags, pull tabs, PVC patches, 3D rubber patches, Silicone labels, etc.
Rubber labels is soft and not easily deformed. It can be attached on any curved products, suitable for clothing, hats, backpacks, etc., wherever you want to display your logo. (Can also add luminous effect)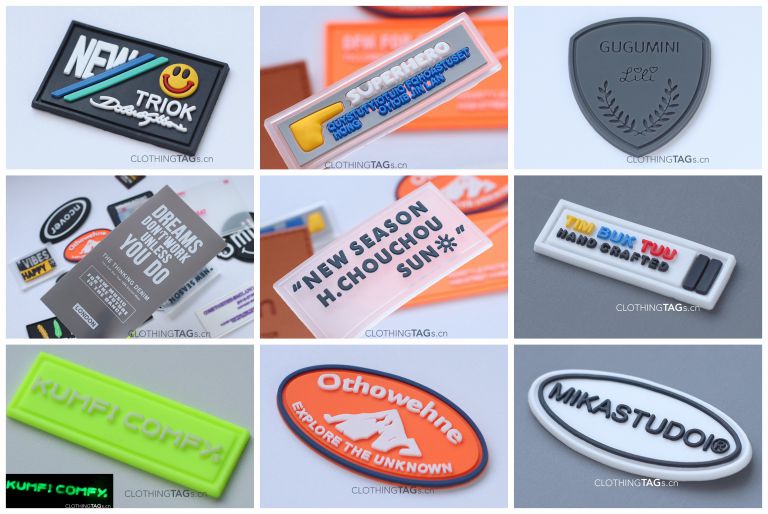 Rubber labels for clothing
The 3D rubber labels stands out in the clothing, and it can add a high-end logo to the clothing.
Windproof, waterproof, durability are the most practical features of rubber tags, so it is often used in outdoor clothing, such as jackets, military clothing, etc.
The shape and color of the rubber labels can be chosen arbitrarily, and the designer can freely design different styles according to the clothing, so it can also be applied to other types of clothing, such as T-shirts, swimsuits, etc.
The environmentally friendly rubber labels for clothing are available in two materials: rubber patches and silicone labels. Economical and practical PVC patches or high-grade and comfortable silicone labels. Due to the indistinguishable appearance, economical pvc patches will be the most commonly used option.
We pay great attention to detail, we use high-quality materials, meeting the international environmental standards. Our rubber patches are smooth, washable, durable and no fading, they feel comfortable and logo is clear.
We have independent design department that provides professional and detailed design, including a 1:1 3D design, to complete your design in a timely and accurate manner. If there is a problem with your design, we will help you.
Your satisfaction is very important. If any problems due to materials or technique, please let us know, we will re-produce the products, or refund the money
We have professional team providing excellent service. I believe that you will love our service and quality.
If you want to customize a unique soft Rubber labels for your clothing brand, please email us your requirements.
Details:
Material: soft PVC, silicone
Size: according to your needs (we can also provide advice)
Color: according to your needs (can do a lot of colors on one label)
Structure: 3d, 2d, double-sided logo, etc. (you can provide samples or pictures)
Technique: Add velcro (HOOk & LOOP), translucent, with luminous effects, etc.
MOQ: Can be customized in small quantities