If you are design and custom personalized pvc patches for your fashion brand, 2D or 3D is an important factor to consider. Although all pvc patches look 3D, the appearance of their raised logo is different.
2D PVC Patches
2D PVC patch is the most commonly used PVC patch. Each layer of the raised logo is flat, without fillet edge.
Its production process is simpler, lower cost, and more suitable for the appearance of most logos.

It can be seen from this 2D pvc patch that the raised white and purple signs are flat.
Usually 2D patches only raised one or two layers of logo, because the more layers, the higher the price.
2D PVC patches example
3D PVC patches
3D PVC patch can raise the multi-layer logo just like the 2D PVC patch, the difference is that it can raise the fillet edge logo.
Due to the difficult production process and high cost, the used is less than 2D PVC patch.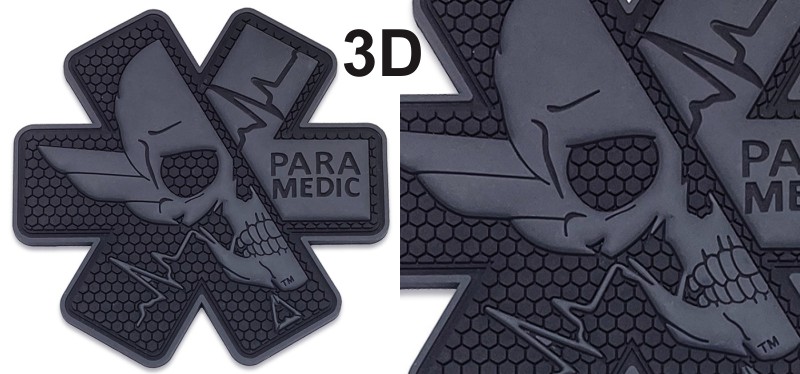 It can be seen from this 3d pvc patch that the raised gray skull has fillet edge, like raised bubbles, which is more three-dimensional.
3D pvc patch also usually only raised one or two layers of logo, the more layers, the higher the price.
3D PVC patches example
How to choose 2D or 3D pvc patches
Generally, 2D pvc patches are suitable for all raised logo appearances, and 3D pvc patches are more suitable for larger raised logo appearances.
The raised layer of the logo is also the most important consideration, and generally important content needs to be more prominent.
In order to make your design more clear, we will provide a 1:1 3d rendering to confirm and improve the details with you. Make your artwork more perfect.

Detail:
Color: Customize any color according to your needs, or it can be customized as a fluorescent color that glows in the dark.
Shape: According to your needs.
Size: According to your needs, we can also suggest a size for you.
Design: Send your design, logo or sample image. (Choose the reference picture in our photo gallery, or sample pictures from other places)
As a rubber label manufacturer and supplier, we can consistently manufacture products that meet your requirements. If you need to customize a higher-end rubber label, you can also choose a more comfortable silicone labels.
We have comprehensive pre-sales and after-sales services. If you have any questions, you can contact us via email or WhatsApp, and we will actively solve the problem for you.