Custom leather patches can add high-quality style to your jackets. You can choose to sewing, adhesive or add Velcro for fixing. You can see leather patches on everywhere of jackets, such as the lapel, front pocket, shoulder or backside. We custom leather patches for global brands, for example, the USA, Australia, Canada, UK, France, Saudi Arabia, etc.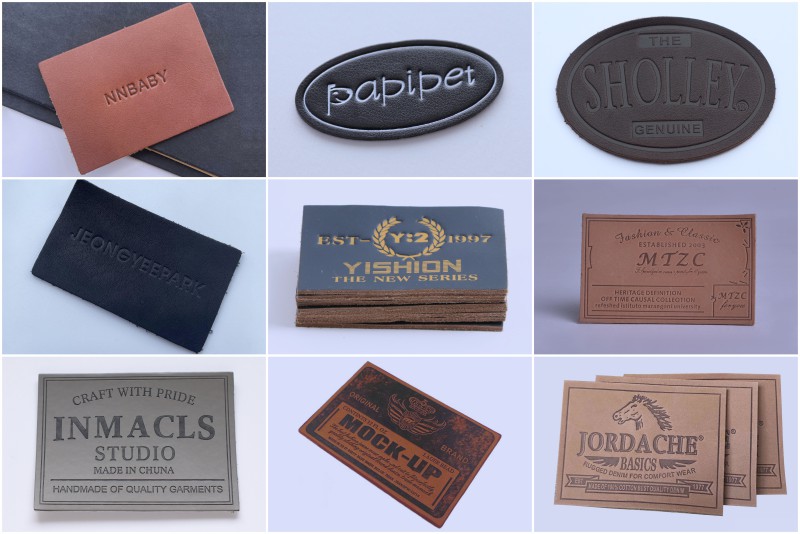 Custom leather patches
There is no minimum order quantity for custom leather patches on ClothingTAGs.cn
From design to production, we strictly control every detail of custom leather patches to ensure first-class quality.
Contact us to make your leather patch online. Also we provide one-to-one free design service.
We can design and produce according to your samples, or design new patches.
You can customize any size, material, color, design, Tell us your information and get a quote immediately.
We focus on making high-quality genuine leather and faux leather patches.
Custom leather patches, use different leather materials to enhance your products. So it can add a high-quality look to the jackets through natural finishes.
There are three options of leather which are used to custom leather patches: real/genuine leather label, faux leather patches (pu leather patches), suede leather label.
You can choose different textures and colors for each type of leather. For reference, you can choose samples from our Photo Gallery. (or sample pictures from other places)
Use high-quality leather as the base material and emboss or print your name, logo or brand. Let us start with your ideas and your logo, and jointly create some unique styles of leather patches.
You can use 4 kinds technique to customize logo on leather patches, that is embossed leather patch, printing, embroidered, and adding metal label.
In addition to leather patches, there are other options for your jacket patches: embroidered patches, pvc patches, woven patches, etc. They all have a unique and iconic appearance. If you are looking for more special patches, then our professional technology and products will be very suitable for you.
As a patch and label manufacturer and supplier, we can consistently manufacture products that meet your requirements. We have comprehensive pre-sales and after-sales services. If you have any questions, you can contact us via email or WhatsApp, and we will actively solve the problem for you.