Custom design unique clothing woven labels from ClothingTAGs.cn, you only need to consider the content, fold types and style. You don't need to download boring templates or software, we provide one-to-one free design at no extra cost. Our designers will complete the design in one to two working days according to your requirements, and send you confirmation and improve details.
If you are a start-up company without a logo, we have countless fonts to choose from. If you have a font picture or sample picture, you can send to us, and we can find the corresponding font according to the picture.
You can view comprehensive materials and details from our Tags catalog. All you need to do is describe your idea, and we can make products that meet your requirements as always, making your idea a reality easily.
Woven Labels Content Design
They are generally divided into main labels, care labels and size labels. Different labels need to be designed with different contents.
The main woven label is generally used on the neckline of clothing, often in conjunction with size labels to identify of clothing of different sizes. It is essential to add a brand logo to the main label, because a unique logo is the foundation of brand building, which can leave a deep first impression. In addition to adding the brand logo, you can also add size and origin information on the main label. Simple size and origin information will not appear to be too many texts and difficult to read.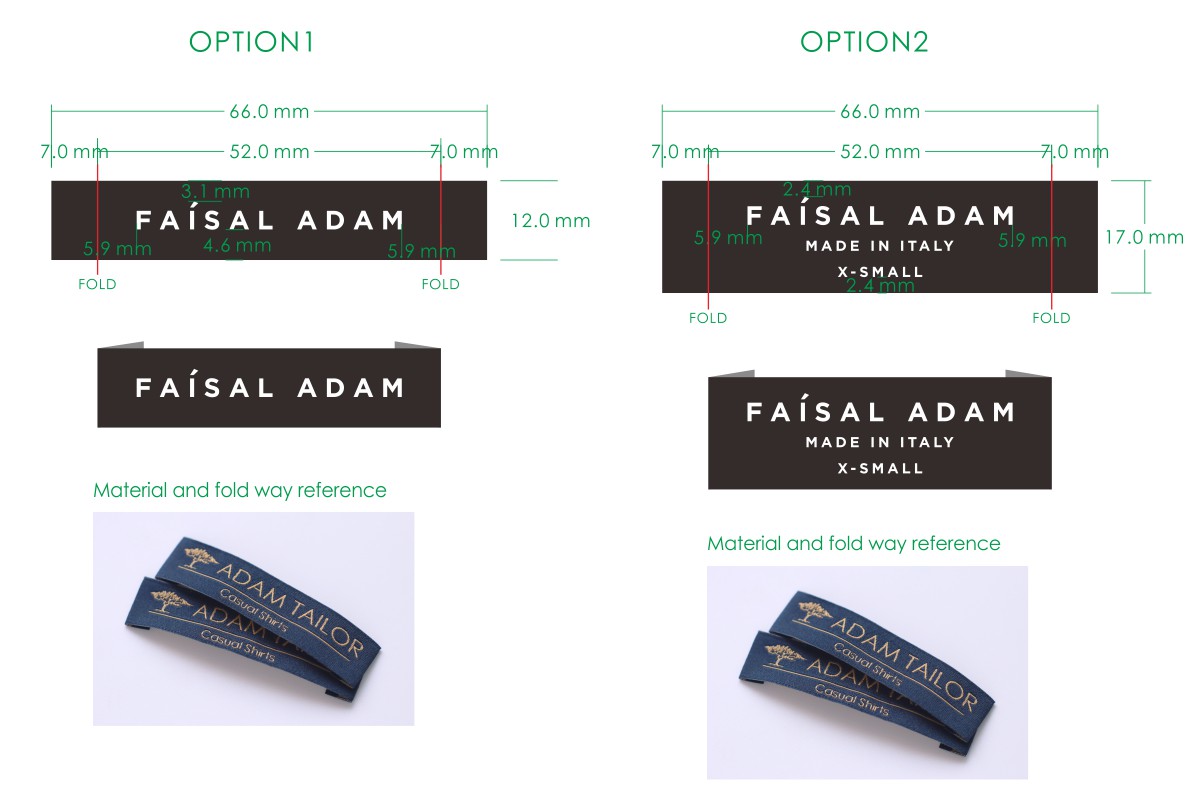 Since the main label has a brand logo, you can choose to add or not add your logo on the care labels. You can view more of care labels content: brand logo and website, composition of clothing fabrics, Wash symbols and meaning, size, origin.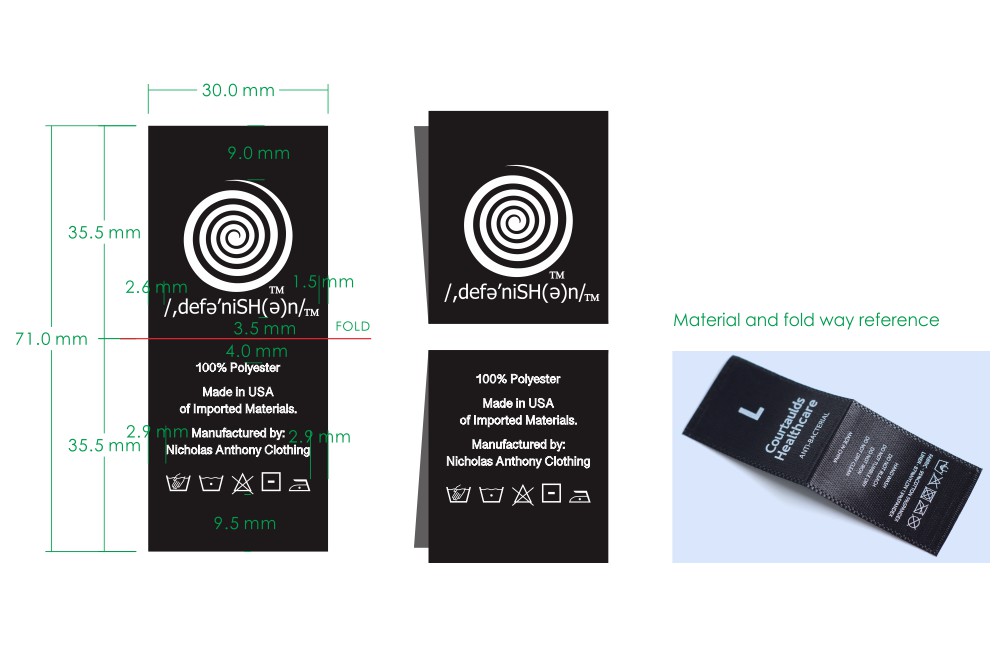 Separate size labels are usually sewn below or the right of the main label. Its font design needs to correspond to the font of the main label.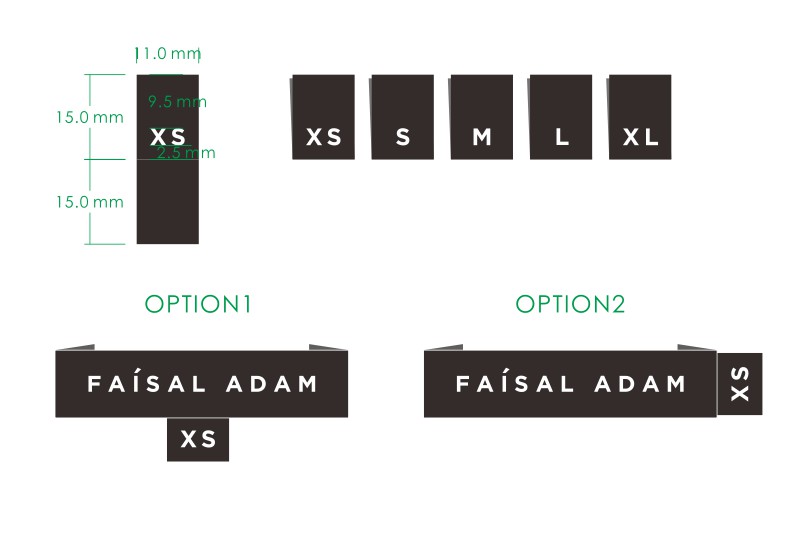 Label Fold Types
According to the sewing position of the garment, add the label fold types. You can choose manhattan fold label, end fold labels, center fold label, straight cut labels, loop fold label, miter fold label and die cut any shape. The sewing allowance of the label generally needs to be 4mm-5mm, and the center fold position needs to be left 2mm-3mm.
Woven Label Size
There is no standard size for woven labels, so you need to choose according to clothing, content and logo. The more text, the larger the size of the woven label needs to be. You can contact us and we will provide professional advice.
Different Styles Of Woven Labels
If your clothing is casual style design, we suggest using damask woven labels. Because damask woven labels is more comfortable on skin, and can make complex texts and colors. (The minimum character height needs to be larger than 1.6mm(8pt).)
Vintage clothing, Jeans, street-wear LOGO usually are complex, so we suggest high definition damask woven labels.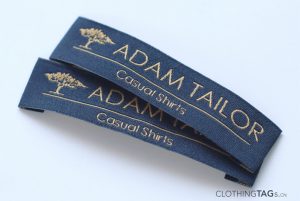 If your clothing is luxury design, you can use satin woven labels. (The minimum character height needs to be larger than 2mm(10pt)) Satin woven labels looks bright and stiff. Its more suitable for luxury clothing like suits, coats etc. Please note, if your texts are bold, it will appear small dots in label. If you mind, you can choose high definition damask woven label.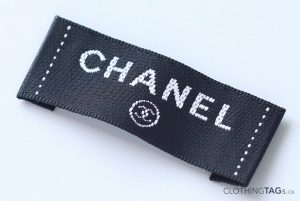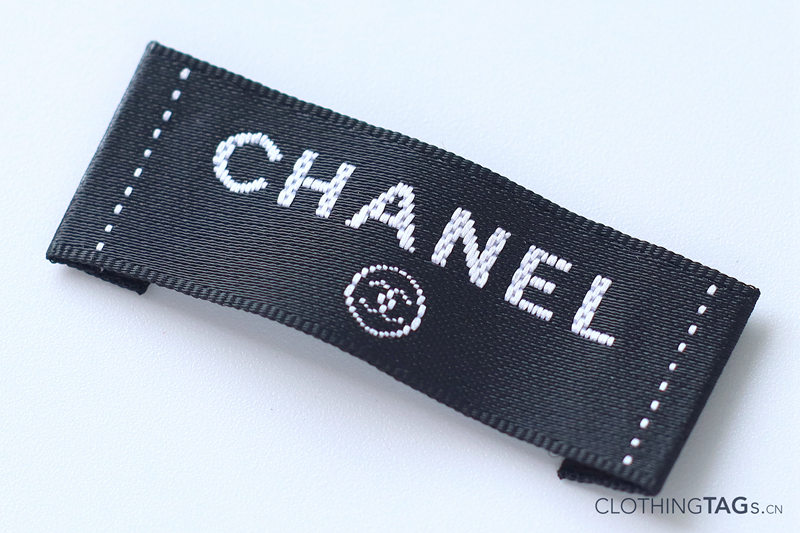 Want more luxury labels? we can add texture to the label background.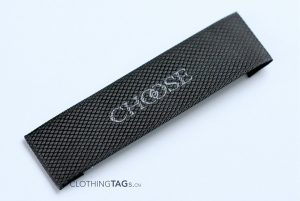 Several common problems when design woven labels
Logo is too small (to ensure your logo reads clearly. With our professional experience, we will adjust the logo to the smallest size on the basis of clear reading and beautiful look)
Don't have computer design, but have simple hand draft or ideas. (We can help with computer design based on your draft or ideas).
Don't have design nor ideas (pls send us your files or logo, we can help design).
Other question (We would help as best as we can)
Label design is the same as drawing, it needs to highlight the subject (logo), and it needs to look comfortable and natural.
If you need custom design woven labels with own logo, please contact us via email or WhatsApp, we provide one-to-one professional services. If you are just starting business, we can offer very low minimum order quantity.