Woven satin labels are the best choice if you need a custom taffeta-like label for your clothing, shiny, silky, and never fades.
Satin woven labels cannot weave too small details like damask woven labels, but it can weave a slightly raised logo. So it is more suitable to use as a main label.
Satin woven label is a kind of selvage woven label. It is of good quality, widely used in luxury clothing like suits, coats, hand bags, lace dresses etc.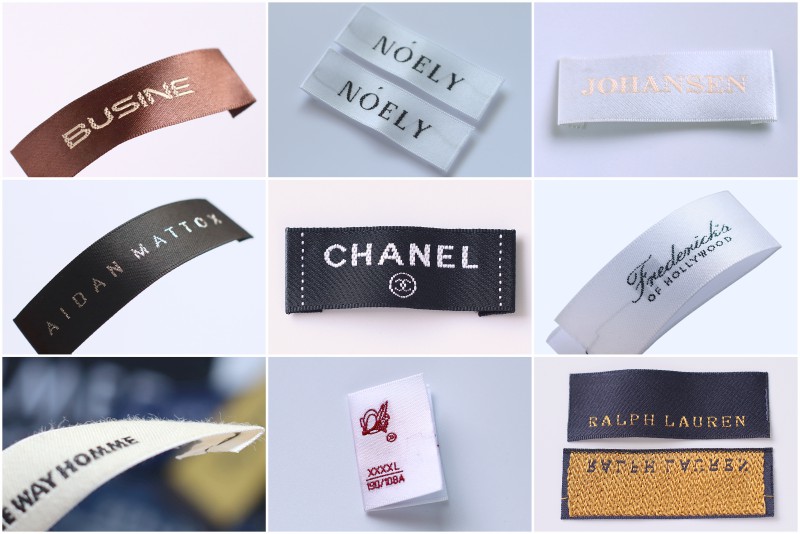 Satin VS Damask Woven Labels
High quality woven labels generally use satin woven labels, because its surface looks smooth and slightly shiny, more featured than damask woven labels. Edge is with selvage, and is comfortable to touch skin.
The logo in satin woven label is not so delicate as damask woven label, and cannot use too many colors (preferably one color logo), but the texture is clear. You can choose a shiny gold or silver logo to make the satin woven label more luxurious. You can also choose the color according to the Pantone Card, and we will match the most accurate color according to the Pantone Card.
It will appear some dots if your logo is bold or large(this is technique requirements). You can choose damask woven labels if you mind these dots.
Unique Selvage Woven Labels
Unique woven labels are very important to luxury brands, and rarity is the most important quality of luxury brands. The unique luxury woven labels can promote the brand to the greatest extent.
You have multiple options to customize unique and luxurious selvage woven labels.
The satin woven label is a kind of selvage woven label. The main material is polyester. It can also be cotton tape, the surface has cotton fibers, which is very suitable for pure cotton clothing.
You can customize bright satin woven label, can also be reverse woven for a personalized matte color, with a unique background texture.
Can also add italic textures in background, making the label look more luxury.
Satin woven label can spread yarns on the whole background, so the label feels thicker and more characteristic.
Request a Quote
Our satin woven labels are high quality and durable. If you have a picture reference, send us, we can design and produce according to the picture. Contact us via email or WhatsApp to get the best price. Customize woven labels with own logo, we have professional customized services and the most advanced technology, to best meet your needs.
As a woven labels manufacturer and supplier, we can consistently manufacture products that meet your requirements. Besides, we custom woven labels for global brands, including the USA, Australia, Canada, UK, France, South Africa, Saudi Arabia, New Zealand, Ireland, etc.