"ClothingTAGs.cn" custom engraved exquisite metal tags, add unique and high-quality logo to your products, and make your brand standing out. The various metal tags we produce are environmentally friendly, non-toxic and durable. They can be used anywhere, including metal clothing tags, metal jewelry tags, metal bag tags, metal furniture tags, etc., or as company nameplates. You can customize it to any shape according to your logo or text, And logo technique is also various, such as an engraved logo, embossed logo, hollow logo or logo itself shapes.
Custom engraved metal logo tags
Custom engraved metal tags is usually a flat plate, and the flat plate can be round, square or any other shape; the logo engraved on the plate is often very simple or a few letters. The logo sinks into the plate. Then it can also fill any color on the logo (we can customize the logo color according to the PANTONE card to make the it more accurate).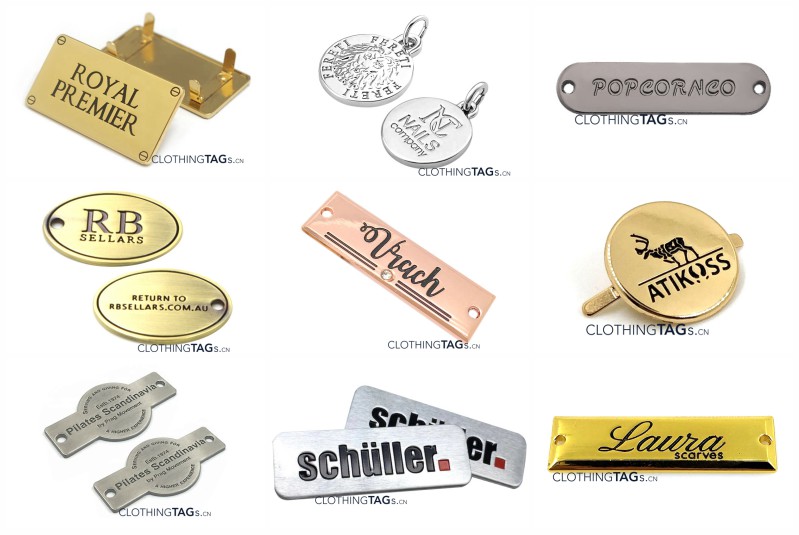 Embossed logo
The embossed metal tags contrast with the engraving style. It is also a plate, and the logo is raised on the plate. Generally speaking, if the logo font is thicker, the raised metal label will look better.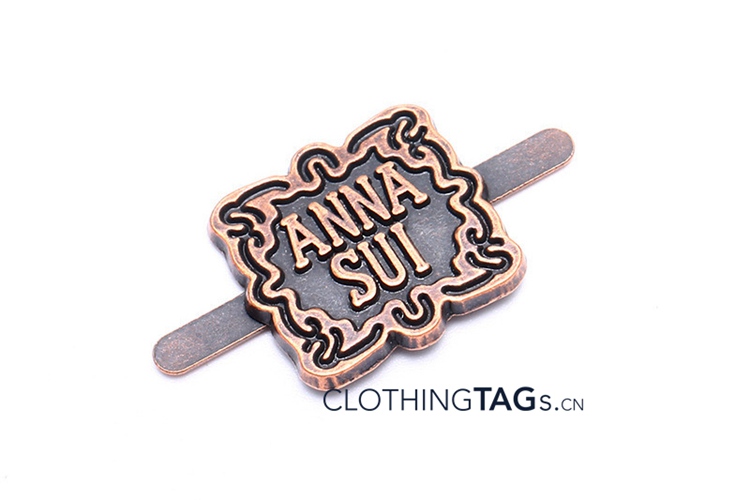 Hollow metal tags
The shape of the hollow metal tags is also similar to the style above. It is also a plate, and the logo is cut through the plate, so the inside of the plate is hollow. Please note that the logo in the middle of the metal tag must be connected.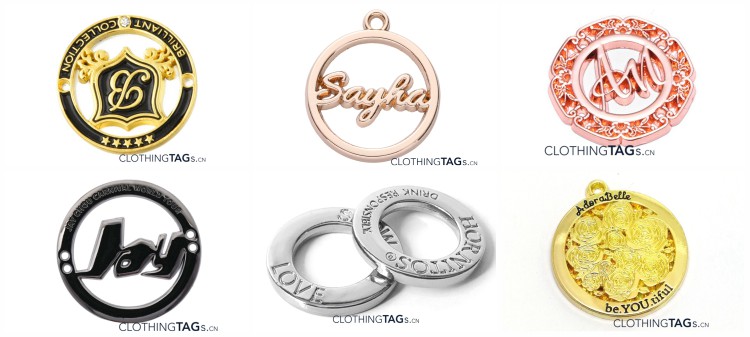 Custom Logo shape metal tags
Custom logo shape metal tag is exactly the same as your logo. If the logo is a flower, then the shape of the tag is also a flower; if the logo is a phrase, then the tag is also a connecting phrase. Note that this kind of metal tag logo should not be too thin, otherwise it is easy to break. Of course, if your logo font is very thin, don't worry. We have a professional design and will adjust it into a beautiful and strong metal tag according to your logo. After confirming the design, we start production.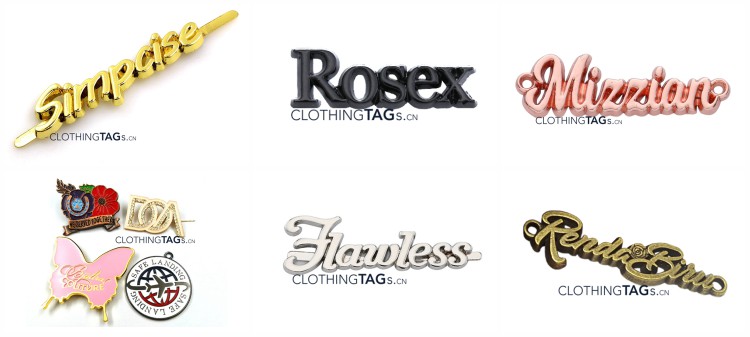 In addition to the shape of the metal tags, we also provide a wealth of metal colors, such as gold, silver, gun metal, rose gold, anti-brass etc.
If you need to custom metal tags, you can choose the reference style from our gallery, or choose the style picture from other places. Contact us via email or WhatsApp, we provide the most professional design, and it's free. We will provide 3D rendering for your confirmation before production.