Custom design your own zipper pulls to add a personalized logo sliders to your clothing series.
We offer a full range of zippers and pulls, including metal, leather, woven, rubber zipper puller and a wealth of zipper options.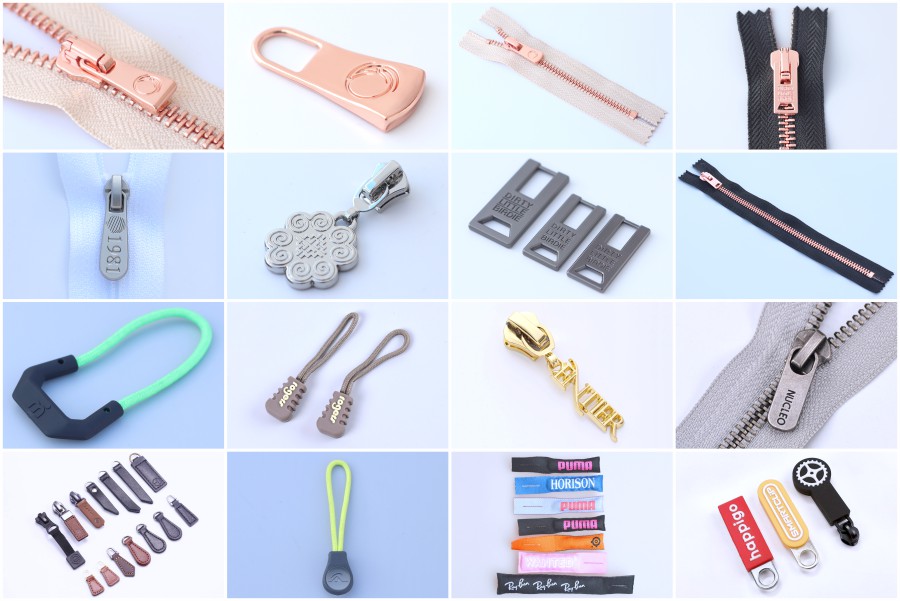 Metal
Custom high quality metal zipper pulls, engrave, emboss or laser print your logo to add a luxurious look to your garments.
Our metal zipper pullers surface is smooth and bright. Moreover, the electroplating color is uniform. It has excellent abrasion resistance, corrosion resistance and water resistance, so it often uses in swimwear.
You can use a variety of metallic color finishes to match your clothing. Such as gold, silver, copper, antique brass, rose gold, gun metal, nickel etc., (both glossy and matte)
Send your logo, sample pictures, or ideas, we have professional designers who can provide free designs according to your requirements. Also we can give suggestions on size, shape, thickness, style, etc.
In order to make your design details more clear, we will provide 1:1 3D design for you to confirm and perfect the details before production.
In addition to metal zipper pulls, you can also customize our other metal tag series.
Leather
Custom textured leather zipper pulls, foil, emboss, engrave or silkscreen print your logo. Leather puller can add a luxurious look to your garments.
Faux leather or genuine leather?
You can use any color and texture of leather. Even gold and silver. Choose the desired color and texture from our leather labels, or send pictures from elsewhere.
Besides color, you can choose any structure and shape of leather zipper puller, no matter different shapes of leather body, different shapes of metal rings and different styles of metal connections.
Contact us and tell us your idea, we can customize any style according to your needs.
Rubber
Custom vibrant rubber zipper pulls, which are very popular in sportswear series.
Rubber zipper pulls are a very popular option, the colors are unlimited, and installation is quick and easy. Often the rope are in unit with the sliders, but you can also choose metal rings to link the sliders.
The material of the rubber zipper puller is mainly TPU, PVC and silicone, its color is unlimited, you can choose any color according to the Pantone card. Also, logos can be embossed, engraved or printed.
Send us the rubber zipper puller style you want, then we will provide free designs, including 1:1 3D designs to confirm and perfect the details with you.
Woven
Custom unique woven zipper pullers, woven or screen print your logo. The colors are rich, can match with different garment brands.
The woven zipper puller can choose any color, size and style, and the logo can be single-sided or double-sided.
Usually fabric pullers have two types: high definition woven label (filled cotton or flat) and thick fabric zipper pull.
We have professional pre-sales and after-sales services. If you have any questions, you can contact us via email or WhatsApp, we provide one-to-one professional services. We will provide you with the best suggestions during the customization process, including size, color, material, font, design, etc.