Custom design high quality heat transfer logos, and easily print your own artwork on t-shirts. A wide range of high-quality materials and styles can perfectly match your design.
Our heat transfer logos have low MOQs and can meet the customization needs of any size business.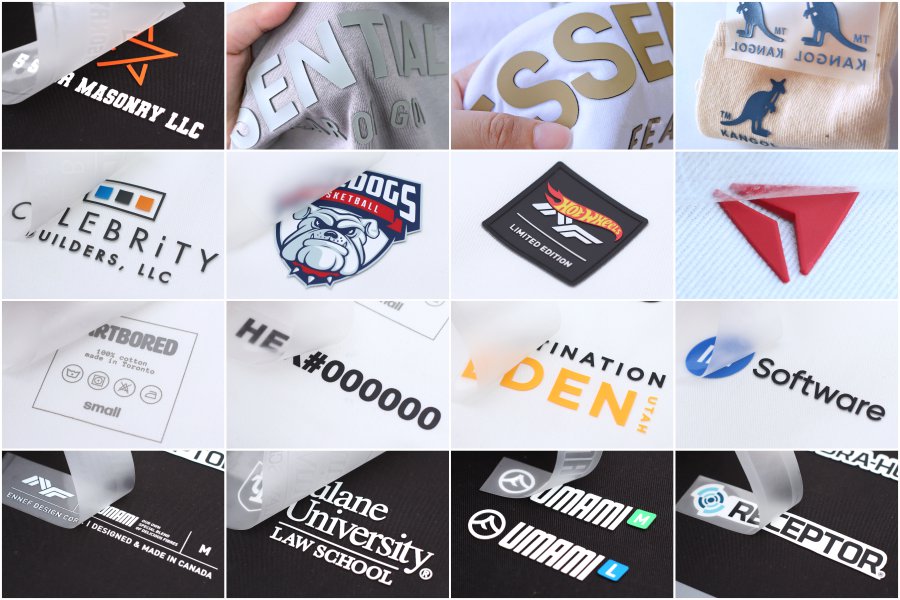 Professional Custom Heat Transfer Logos
We provide one-to-one professional service, you only need to send your design, color, purpose, appearance reference pictures and other information by Mail or WhatsApp. Leave the rest to us, we will choose the most suitable materials and techniques.
You can customize silicone heat transfer logos to add 3D effect to clothing: Flat, Two Layer Color, Rhombus, Arc, Glossy, Arched Glossy, Patches, etc.
Ordinary flat heat transfer printing can also be customized to add care information to garments.
You can also print designs in full color, or even photos.
Or some unique materials: Woven, Embroidery, Glitter, Reflective, Luminous, etc.
As a heat press logo maker, we will provide the best quality and service, and also can provide free samples for you to test, you can completely trust us. If you don't have a design, no need to download boring templates and software, we have professional Designers can provide free designs.
Best Heat Transfer Logo for Shirts
Heat transfer logo are the fastest and easiest way to print T-shirts. All you need is a heat press and you can easily print your garments.
Contact us and send your creative design, text, reference image, or an idea. We will create the best heat press logo for you. We are professional, besides T-shirts, we also serve major brand projects. For example: Hats, shoes, coats, sportswear, tote bags, backpacks, etc.
Our heat transfer logos are soft to the touch and can stretch and bounce back. We use the best heat transfer adhesives that can be applied to most fabrics and ensure firmness. We guarantee clear and accurate logo printing, whether it is a full color logo, a photo, or a solid color.
Start creating your own branded merchandise now and give your customers the t-shirts they want. You can customize the heat transfer logo in any color, shape and size.