Custom printed tape with logo for your packaging, shipping, etc. We provide one-to-one professional service and provide detailed free design.
We made high quality packing tape rolls at cheap prices, no minimum and can customize any width, length, background color and logo color.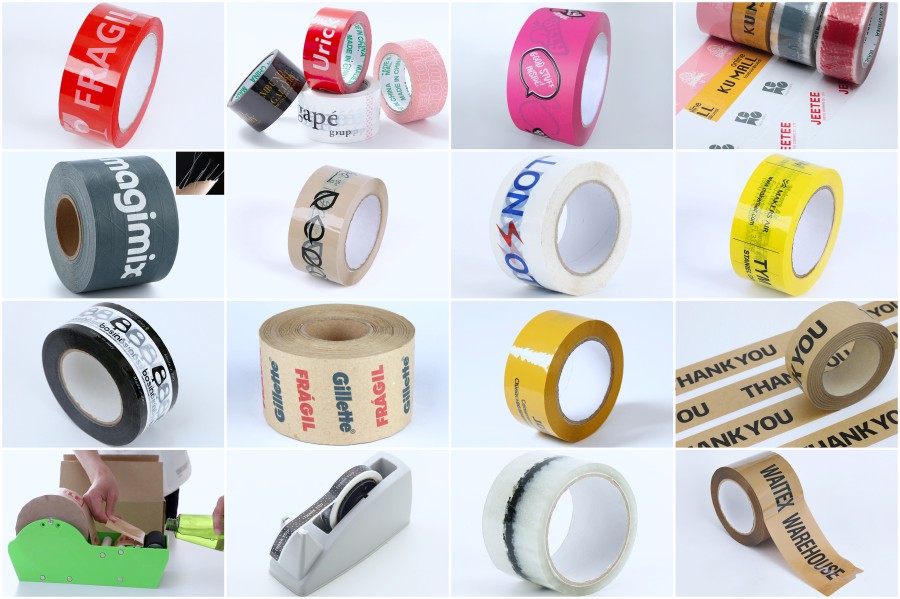 Custom Printed Most Common Packaging Tapes – Biaxially Oriented Polypropylene (BOPP)
Our Biaxially Oriented Polypropylene (BOPP) packing tape rolls, with pressure sensitive adhesive. They are of good toughness and stiffness, very sticky, you can use it for any packaging, and shipping.
Biaxially Oriented can increase the tape's toughness, stiffness, clarity and grease resistance, and enhanced barrier properties to water vapor and oxygen. Significantly improved impact, low temperature impact and flex crack resistance.
Details
Common tape width: 3.6cm, 4cm, 4.5cm, 4.8cm, 5cm, 5.5cm, 6cm, 7.2cm. Can customize according to your needs
Common tape length: 100m, 150m
Common tape background colors: clear, white, black, yellow, you can choose the color according to the Pantone card (glossy or matte)
Logo color: Any color. Four colors can be printed at the same time.
Tape Thickness: Conventional packaging uses 2.5mil or 2.8mil standard tape. (Bundle packaging uses 3.6mil thicker tape)
Custom Printed Kraft Tape (Quiet and Silent)
Custom Water Activated Tape (Quiet and Silent)
Custom PVC Tape
PVC tape is generally used in industrial duct, floor marking, barricade tape, construction, insulation etc.
Easily create your own branded packing tape
Contact us via Email or WhatsApp to get a quick quote for custom tape.
Just send your logo, size, usage, or design and other information. Then we provide excellent one-to-one customer service, and can customize exactly the packaging tape you want.
If you need new tape designs, our professional designers can provide free designs, confirm and improve the details with you.
Why Custom Printed Tape?
Custom printed tape with logo has a stylish appearance, which can make your brand stand out, promote your business while protecting your packaging. It can reduce errors while strengthening your package, prevent the possibility of package theft, and Prevent tampering. You can also print more social information to let more people know your brand and improve your brand awareness.