Custom design your own metal labels for your handbags, purses, bags and more. Personalize a shiny logo to make your brand stand out.
Engraving, embossing, or a unique shape, or even adding a luxurious leather? We can provide you with professional advice and free designs, saving you a lot of time and effort, and consistently manufacturing products that meet your requirements.
We produce economical and durable high quality metal labels, can be customized to any size, shape, color and design.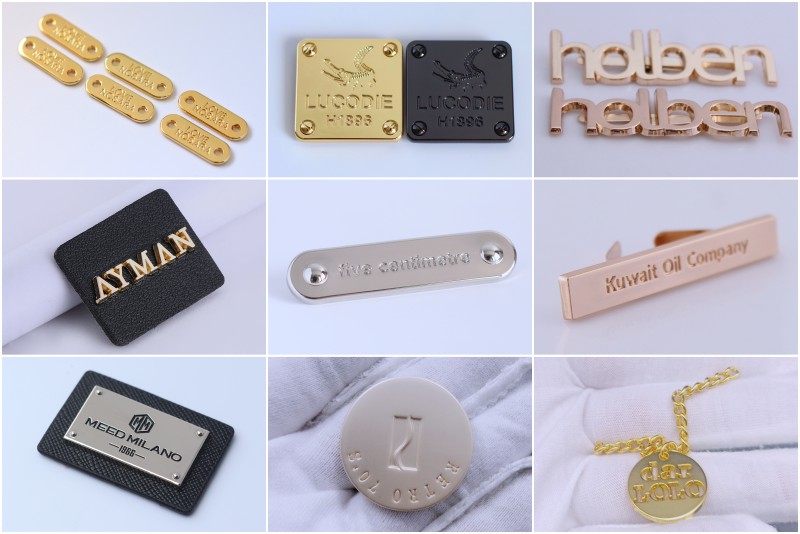 Best Metal Labels for Handbags and Purse
Metal labels are basic accessories for handbags and purse. An excellent metal labels can bring unimaginable vitality to the bags and truly complete the appearance.
Usually shiny metal tags are displayed on the inside or outside of the bag and are fixed by sewing holes, bendable legs or rivets and plates. It can also be match with luxurious leather, attach by sewing, a wise choice for luxury brands.
If you are considering starting your customized plan, our rich experience can save you a lot of time, energy and creativity. You can choose custom personalized metal labels for unique bags. Also, we provide a rich of metal label colors, logo technology and 3D design.
Gold and silver metal labels are the most common colors for handbags and purse, which can give high-end and luxurious features, making it easier to match your artwork.
In addition to gold and silver, you can also choose rose gold, gun metal, brass, etc., or send us other colors you need.
Design Different Logo Shapes
The shape of the metal logo used for handbags and purse can be infinite: round, square, hollow logo, engraved logo, embossed logo or logo itself shapes. Tell us the style you want, we provide one-to-one free design.
In order to reach the personalized design of metal tags, excellent 3D design is essential. It is not only related to the appearance of the metal tag, but also to consider its structure. Regarding the size of the metal tag, we can give you the most professional advice, or design the smallest size according to your logo.
As a metal bag tags manufacturer and supplier, we can consistently manufacture products that meet your requirements. Besides, we custom metal tags for global brands, including the USA, Australia, Canada, UK, France, South Africa, Saudi Arabia, New Zealand, Ireland, etc.
In order to make your design more clear, we will provide a 1:1 3d rendering to confirm and improve the details with you. Make your work stand out.
In addition to metal labels, we can also provide other labels and packaging for your handbags and purse.
Custom the best label options for your bag, create top branded labels for you.
If you need to custom some labels and tags for your handbags and purse, please contact us via email or WhatsApp, we provide one-to-one customization service. We will provide you with the best suggestions during the customization process, including size, color, material, font, design, etc. We look forward to long-term cooperation with you and can give you the best price.