Custom printed paper hang tags for your clothing, gifts, DIY projects, thank you cards and more.
You can choose any shape, style, thickness, size, color and paper material, match a suitable hang tag string to create a quality and unique hang tag that will make your brand stand out and impress your customers.
As a paper hang tags manufacturer and supplier, we custom produce high quality paper hang tag for fashion brands at competitive prices. We provide paper hang tag of various materials, which can meet your design needs to the greatest extent, including white card, black card, Tracing paper, Kraft paper, and personalized coated paper, special paper, and recycled paper, etc.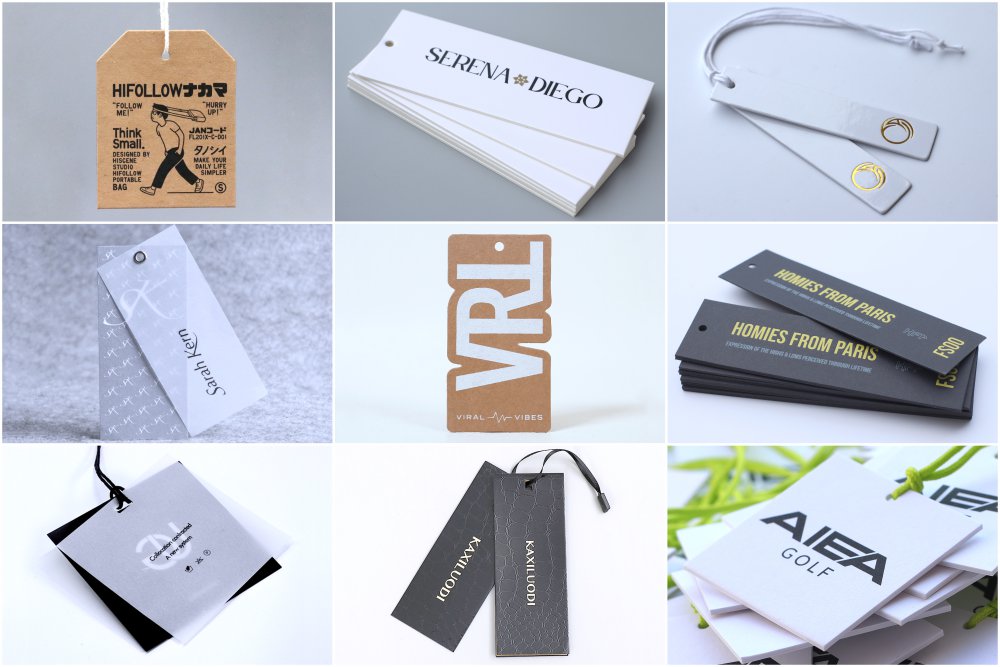 How to present your design on these paper hang tags?
You can enhance your brand and create unparalleled quality by using high-quality paper and choose a variety of hang tag printing technologies.
Cheap white or black hang tags
If you want hang tags to be matte white or black, you can choose white card or black card.
White card or black card are pure white or black, the surface is not so smooth, it is better for printing simple color, or hot stamping gold/silver foil hang tags. The cost of white card or black card is cheap because the paper is nature, without adding any other technique.
Personalize coated paper hang tags
If want to personalize complex color hang tags, or you want the hang tags looks shiny. You can choose custom coated paper. Coated paper is very smooth, can use four-color technique to print vivid color, gradient color, or even a photo. Coated paper surface can film with shiny or matte effect. The cost of coated paper is slightly high when film shiny effect or print very complex color.
If you want hang tags to be of vintage feel, you can choose Kraft paper. Kraft paper is usually matte brown, surface is also not smooth, it is better for printing simple color. The cost of Kraft paper is also cheap because the paper is nature, without adding any other technique.
Cheap transparent tracing paper
There is another simple paper called tracing paper. It's very simple, basic color is semi-transparent, it can just print simple color logo. The tracing paper is usually bonded with other paper as one-unit hang tag. The cost of tracing paper is very low because it's very simple.
Personalize special paper
If you want personalize hang tags with special texture or special feeling, you can choose custom special paper. There are many different texture styles. The special paper cost is slightly high.
Recycled paper hang tags
Recycled paper hang tags are made by environment friendly paper which is recycling. It replaces the manufacturing paper from the original wood pulp. As recycled paper no longer cuts down new trees, recycled paper has the advantage of protecting the environment.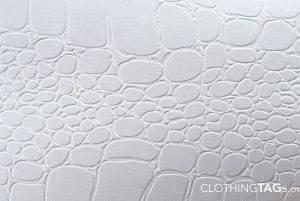 More Hang Tag Paper Material and Texture
Besides paper hang tag, you can also choose other material, like metal tags, PVC labels, plastic hang tags, fabric hang tags, Waterproof Tyvek Hang Tags, etc. But these materials are not common, so price differs a lot.
You need a new design?
We provide free design assistance without downloading any templates or software, and help you create more professional paper hang tag designs for free.
Just send us your logo, text, color, size, shape or a sample picture and we can design any style and font to bring your ideas to life.
For best results, you can print samples first.
Details
MOQ: According to your needs (according to materials, techniques, larger quantity and price is more competitive)
Size and shape: Customized according to your requirements, we also provide free design, you can also view more hang tag design ideas.
Hang tag material: White card, Black card, transparent tracing paper, Kraft paper, coated paper, special paper, recycled paper, metal, leather, PVC, plastic, fabric etc
Hang tag printing: CMYK four-color printing, special color printing(pantone color), Engraved and Embossed, foil, UV, film(light or matte)
Other accessories: hang tag string, metal grommets (gold, silver, bronze or black), etc.
Thickness: We recommend the two most commonly used thicknesses, 0.5mm (thin tag, can be bent) 1mm (thicker card, almost impossible to bend)
We custom paper hang tags for global brands, including the United States, United Kingdom, Canada, Australia, South Africa, Dubai, etc. Our cheap transportation can save you costs.
We have comprehensive pre-sales and after-sales services. If you need custom paper hang tags, you can contact us via email or WhatsApp, we provide one-to-one professional services. We will provide you with the best suggestions during the customization process, including size, color, material, font, design, etc.