Custom design tissue paper in any color, printed your logo in high quality, and add personalized packaging to your products.
You can choose the color from Pantone card, and customize any size and logo layout.
Contact us via Email or WhatsApp, send your design works, or design requests, then we can easily customize professional packaging tissue paper.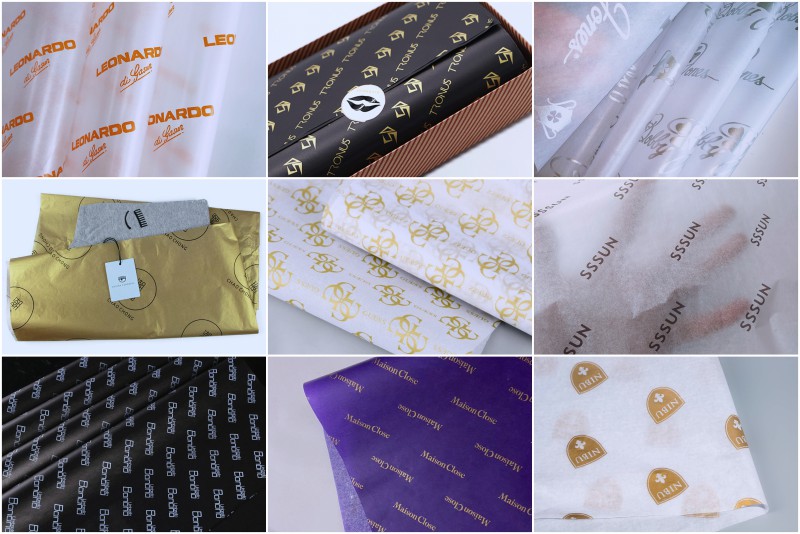 Design Tissue Paper With Logo
Need a new design? You don't need to download boring templates or software, we offer one-to-one free designs.
Send your logo, color, size or your favorite layout and reference pictures. We can also provide professional advice. We will design the most suitable logo size and spacing according to your logo. And send you the design to confirm and improve the details with you. The size and spacing of the logo is crucial and affects the look and quality of the tissue paper.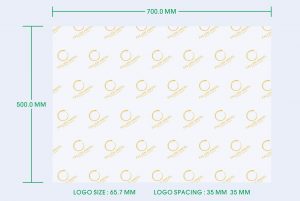 Custom Printed Tissue Paper Details
Custom tissue paper can add a exquisite packaging look to products and protect it from moisture and dust. Then printing your own unique brand logo on tissue paper can increase brand awareness and improve product quality.
Colors: White and black tissue paper match the shiny gold or silver logo. Or choose the color according to the Pantone card. Everything you need we can do.
Size: The size needs to be customized according to your product, the following size is for reference only
Underwear
Summer And Autumn Clothing
Winter Clothes
500mm x 380mm (20″ x 15″)
750mm x 500mm (30″ x 20″)
1070mm x 780mm (42″ x 31″)
Thickness: Tissue paper uses 17gsm paper by default, which is the most suitable option for balancing quality and price (high quality and cheap). If you need a higher gsm paper, such as 28gsm, please let us know.
Best Tissue Paper Manufacturer
Our tissue paper uses eco-friendly materials and inks, has high physical strength and high tear resistance. The surface is smooth and delicate, can be used for clothing, shoes, wine bottles, gifts, etc.
You can also customize a seal sticker to make the tissue paper packaging more perfect.
As a tissue paper manufacturer and supplier, we can consistently manufacture products that meet your requirements. Besides, we custom tissue paper for global brands, including the USA, Australia, Canada, UK, France, South Africa, Saudi Arabia, New Zealand, Ireland, etc.
Small quantity or large wholesale? Our tissue paper MOQ is small, so it is good for small and big business.
We have professional pre-sales and after-sales services. If you have any questions, you can contact us via email or WhatsApp, we provide one-to-one professional services. We will provide you with the best suggestions during the customization process, including size, color, material, font, design, etc.