Custom designed unique pouch and bags for your jewelry, no matter what style, material, color and design, printed or embroidered logo, we can do it. Our jewelry bags are not in stock, all custom made.
Custom Jewelry Pouch Bags Styles
Choose the best pouch bags style for your jewelry-favor bags with flower tops, regular drawstring bags with flat tops, flap pockets, or more interesting designs.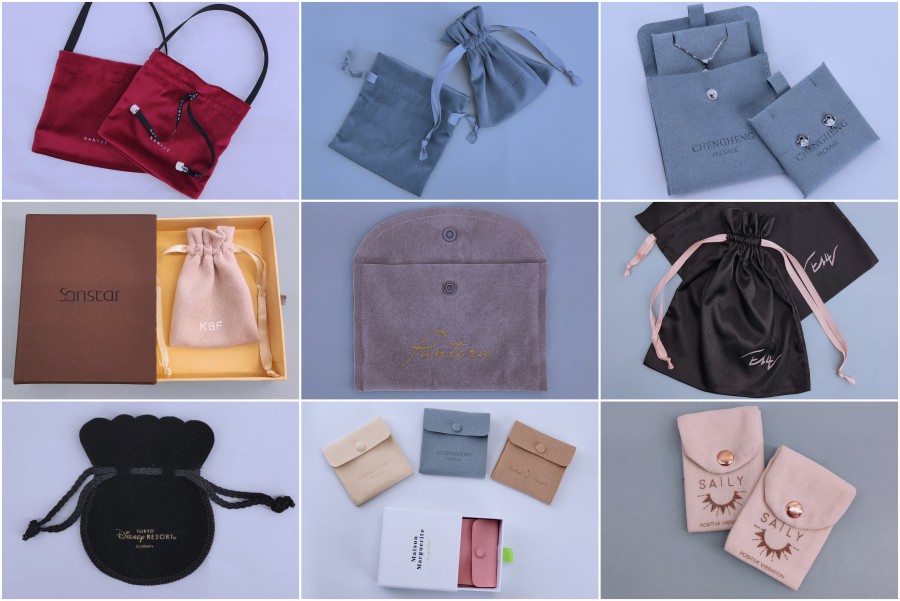 Customizing jewelry bag according to your own style, we have the easiest and professional service to create one-of-a-kind packaging pouches. Just send your logo, reference image, freehand sketch, or an idea. Then, our designers will do detailed digital designs based on your needs, then confirm and improve the details.
We make it easy to turn your ideas into reality, ensuring your customer the best unboxing experience when they receive their exquisite jewelry and packaging.
Jewelry Pouch Bags Material And Color
Choose the right material and color for your jewelry bags, the materials are unlimited, you can send a picture of the material you want, or you can use the following commonl jewelry bag materials.
Suede, velvet, eco-cotton, pu leather, satin silk, clear organza, etc. All fabrics are available in custom brand colors according to your needs. Also, we can produce accurate colors according to Pantone cards.
Jewelry Bags With Logo
Jewelry bags with logo can elevate your jewelry while promoting your brand. You can customize the logo in any color according to the Pantone card, or in gold and silver. Also it can be printed or embroidered with a three-dimensional logo.
If your logo is too small or thin, we will adjust your design to confirm and improve the details without compromising the aesthetics. Make sure your logo is clear.
About size
You can customize your jewelry bag to any size that suits you, and we will also advise.
More drawstring and accessory options
Various drawstrings and accessories can serve an important function of decoration for jewelry bags.
We have countless options for drawstrings: ribbon, cotton, suede, leather, polyester, and more.
In addition to drawstrings, we can also match other accessories: snap buttons, tassels, etc.
They can all be customized in any size and color. You can send the sample pictures you want.
Add the finishing touch to your jewelry with the best jewelry pouch bag designs. A simple design, or a chic bag. We can all do well. Besides jewelry bags, we also offer jewelry boxes, metal tags, hang tags and strings, etc. We have long-term cooperation with many jewelry brands. If you need it, please contact us by Mail or WhatsApp, and we will quickly quote for you.