Custom durable "tagless" heat transfer labels. How to fix the labels onto your product?Using a heat press or household iron can easily complete your label project. Where to use the label? You can use it in any clothing series, including: T-shirts, shirts, swimwear, underwear, sportswear, safety clothing, protective clothing, etc. Moreover, They do not irritate the skin, and are stretchable and washable.
Care labels? Gold or silver? Silicone? Glitter? Reflective? Luminous? Or a color picture? Use multiple heat transfer label technologies to personalize your own label projects.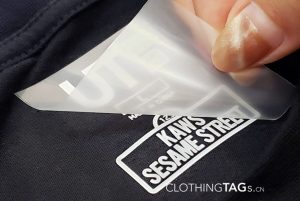 Heat Transfer Care Labels
Heat transfer care labels, suitable for neck labels, are the most common heat transfer labels.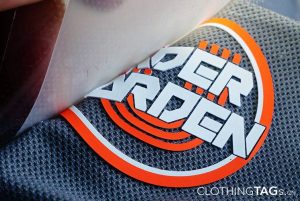 Silicone heat transfer labels
This heat transfer label uses silicone as the printing material, which is suitable for sports products that require a three-dimensional logo.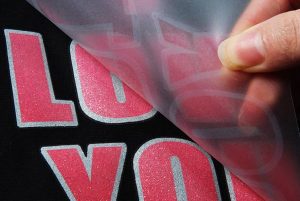 Glitter heat transfer
Adding glitter effect, adding shining granular powder to the ink, can present a dazzling appearance.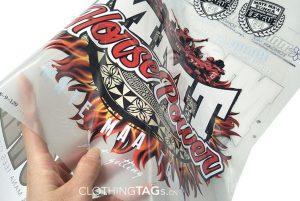 Full color heat transfers
Full color heat transfers, using professional printing equipment, the color effect can reach the photo effect.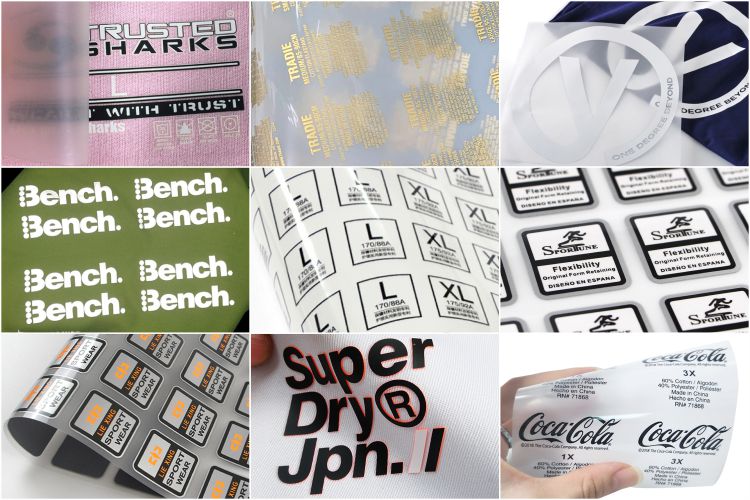 These perfect heat transfer labels can be used on polyester fabrics, cotton fabrics, linen, felt fabrics, etc. (Please tell us the fabric type you are using before ordering.)
How to apply heat transfer labels for clothing?
Before use, you need to keep the garment flat and preheat the heat press equipment to the appropriate temperature.
Then, add cotton cloth above the heat transfer label, so that it can prevent damaging to the clothes.
Thirdly, Press the equipment onto the label, lasting 6-10 seconds.
At last, Peel off the plastic cover when labels are cooled down.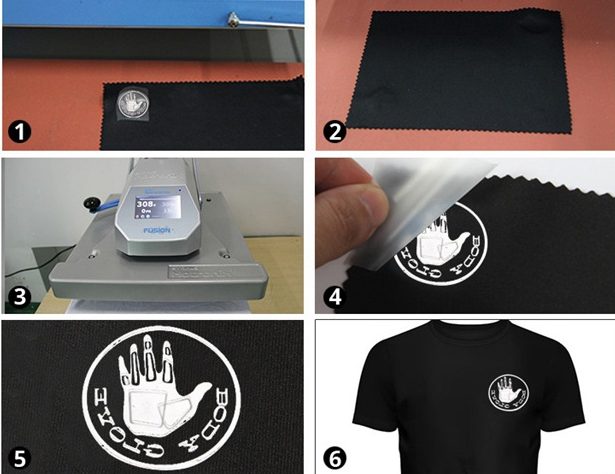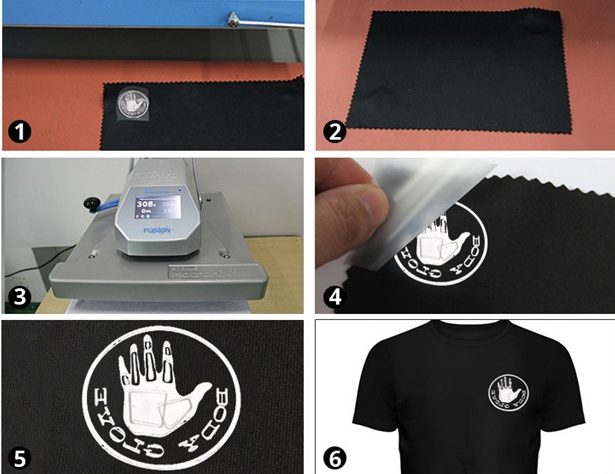 Heat press
Set the temperature of the heat press: 140-160°C (290-320F)
Pressure: moderate pressure, 5-6kg
Pressing time: 6-10 seconds
Household iron
Set temperature: cotton setting, turn off the steam. (Steam will affect the firmness of the heat transfer label)
Pressure: moderate pressure, 5-6kg
Pressing time: continuous pressing for 8-12 seconds
The above elements will vary with different heat presses and different fabrics. So first of all, use waste fabric to test first.
Moreover, Let the clothes remain 40 hours before washing.
About heat transfer labels
Heat transfer labels are easy to produce, cost is low, and can print complex images. So they are widely used in many different industries.
Best heat transfer labels Manufacturer
As a heat transfer label manufacturer and supplier, we can consistently manufacture products that meet your requirements. Besides, we custom heat transfer label for global brands, including the USA, Australia, Canada, UK, France, South Africa, Saudi Arabia, New Zealand, Ireland, etc.
Our heat transfer labels are made of high quality and environmentally friendly materials, so it can ensure the safety and durability of the products. (corrosion resistant, acid and alkali resistant, ultraviolet light resistant). Also, you can wash by hand or machine, color will not fade. The logo is print clearly.
You can customize your labels of any techniques or color. We support a variety of heat transfer label technology, such as 3d silicone heat transfer label printing, four-color printing, gradients printing, luminous effects, etc. (You can also provide samples or pictures)
With rich experience, we can provide you with professional advice and free design. Our target is to create a unique and exquisite heat transfer label for you.
Our heat transfer patches MOQ is small, so it is good for small business.
We have comprehensive pre-sales and after-sales services. If you have any questions, you can contact us via email or WhatsApp, and we will actively solve the problem for you.
If any problems due to materials or workmanship, please contact us, we can re-produce the product, or refund the money.