Custom and wholesale all kinds of hang tag string snap lock fastener for your artwork. square shaped? bullet head? round? Or other styles? They can all custom your logo.
Our hang tag string snap lock fastener are strong enough to help protect you from fraudulent returns. And it can easily attach hang tags to clothing, hats, jewelry, bags, shoes and other products without any tools. All in all, our hang tag fastener is a ideal choice.
Perfect size, color and rope material
You can choose any perfect size, color and rope material to match your clothing.
Black, white, silver, gold, or any brand color you need. (It is more accurate to choose the color according to Pantone card)
It is the combination of hang tag fastener(square shaped, bullet head, round etc.) and rope (cotton, polyester and other ropes). The price is very cheap.
Custom hang tag string with logo. This kind string seal tag can well express your high-end brand, suitable for luxury clothing.
You can also choose different string color and material like polyester, cotton, ribbon, waxed cotton, leather etc.
Its logo can be customized in any color, you can choose shiny gold and silver, simple black and white, or choose a unique brand color according to Pantone card. To match your tags and clothing.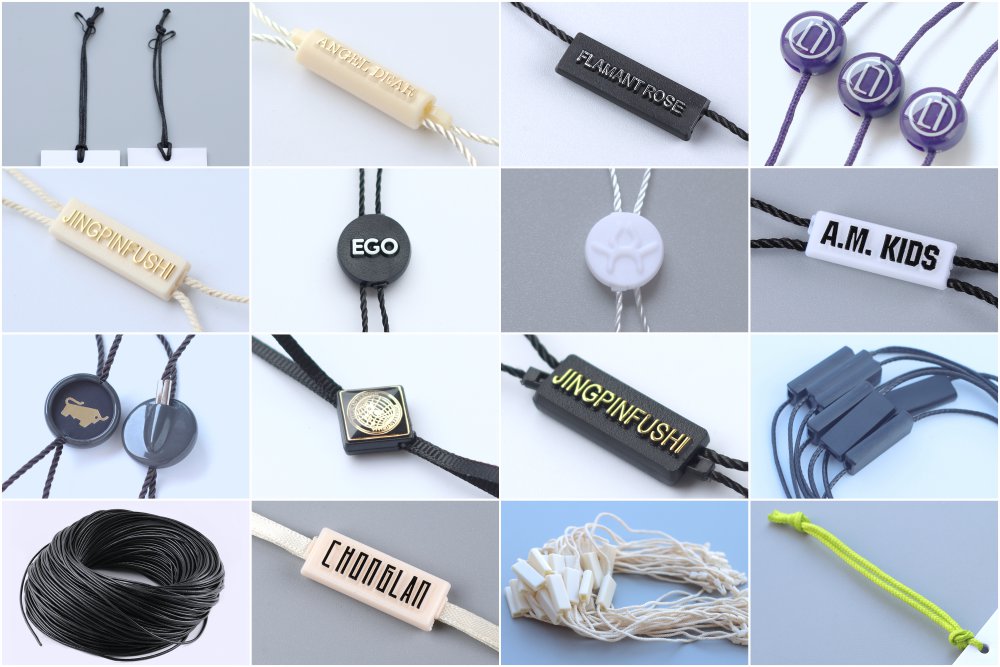 Hang tag string with safety pin
String is a simple rope, such as cotton rope, flax rope, leather rope, nylon rope, ribbon and so on. Plus a chic safety pin, it looks simple but clean.
It is not only convenient to remove, but also simple and beautiful, and the price is relatively low.
It can remove hang tag string lock without cutting. And the color of the rope and safety pin can be selected according to your needs.
Plastic hang tag string buckle and needle
There are also plastic hang tag string like buckle, needle, etc., the material is very clear, mainly used for thin clothing such as swimwear, underwear, t-shirts. The price is also very cheap.
It is very important to choose the right hang tag string snap lock fastener according to your product. If you have any special needs, you can contact us via email or WhatsApp, we will try to meet your needs. As a manufacturer and supplier, we can consistently manufacture products that meet your requirements. We have comprehensive pre-sales and after-sales services.