The hang tag string is the connection between clothing and the hang tags. The matching of the hang tag and string is very important. Custom wholesale hang tag string snap lock fastener usually have four options: hang tag string with logo, hang tag string with safety pin, hang tag fastener without logo, plastic hang tag string.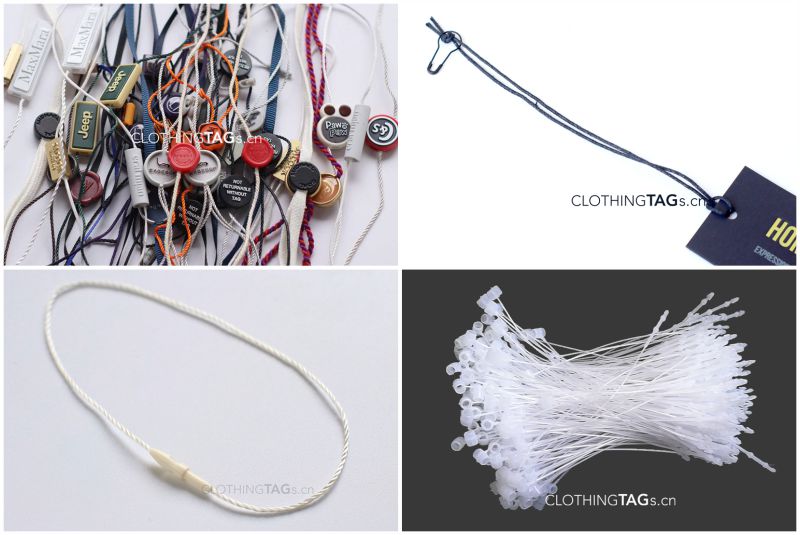 Hang tag string snap lock fastener with logo
Custom hang tag string with logo. This kind string seal tag can well express your high-end brand, suitable for luxury clothing. You can also choose different string color and material like polyester, cotton, ribbon, waxed cotton, leather etc. Its logo can be customized in any color, you can choose shiny gold and silver, simple black and white, or choose a unique brand color according to the Pantone card. To match your tags and clothing.
Hang tag string with safety pin
Simple cotton rope, hemp rope, leather rope, nylon rope, ribbon and so on. With a chic safety pin, it looks simple but clean. It is not only convenient to remove, but also simple and beautiful, and the price is relatively low. It can remove hang tag string lock without cutting. And the color of the rope and safety pin can be selected according to your needs.
Hang tag string snap lock fastener without logo
There are also bullet hang tag fastener made of cotton, polyester and other ropes, also some Aluminum hang tag string without logo, the price is very cheap.
Plastic hang tag string buckle and needle
There are also plastic hang tag string like buckle, needle, etc., the material is very clear, mainly used for thin clothing such as swimwear, underwear, t-shirts. The price is also very cheap.
It is very important to choose the right string material according to your clothing. If you have any special needs, you can send us requests, we will try to meet your needs