Custom clear frosted and transparent TPU labels for your clothing: swimwear, active-wear, underwear and more. Print your logo, wash care, size and more to create a unique label.
Custom TPU Clothing Labels
You can custom TPU clothing labels in any color and size, because we can match accurate color based on pantone card. You can also customize it as a hang tag.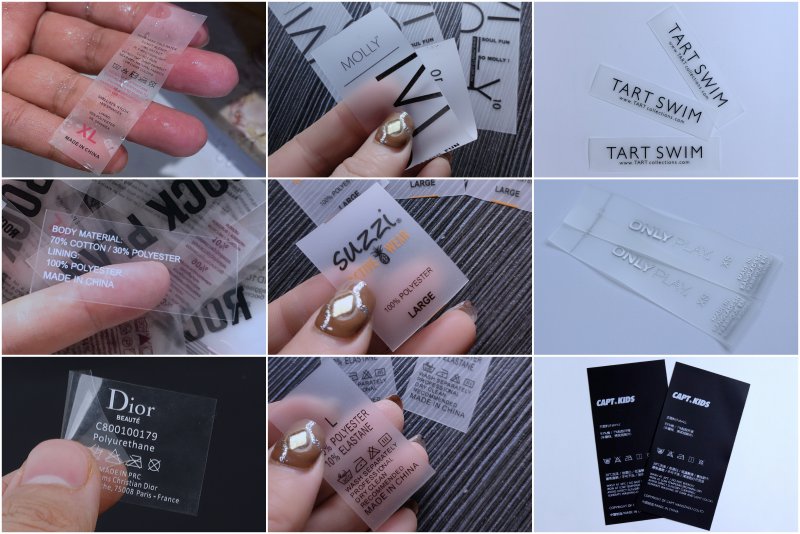 Our TPU clothing labels is very soft and comfortable to touch (very light and thin), has good elasticity and strong recovery ability. Also the color keeps well, not fade after washes. At the same time, we have good printing technology to ensure that the logo is clear. It is made of environmentally friendly TPU and EVA materials, which do not cause allergic problems, and are not easy to absorb bacteria. You can easily sew it on any garment and fabric, washable and will not deform.
To customize your TPU label, pls send us your design or sample. The design's color, font and content can customize on your needs. Moreover, we have a professional team providing suggestion and design. If you don't have a vector artwork, we provide a free conversion vector to ensure clear printing. Our TPU clothing label is good for small business because our MOQ is very small.
Clear Clothing Labels
TPU (Thermoplastic polyurethane) labels is one of the printed labels. It is very soft and safe, does not irritate the skin, and has good stretch, durability and stability, and does not release harmful gases. The labels are used by many fashion brands, and become a new fashion trend. It is often used in swimwear and active-wear due to its unique appearance and material characteristics.
TPU labels are usually clear frosted, and you can also choose white and black backgrounds. If you need complete transparency, you can choose transparent EVA material, which has good transparency and gloss, and has the same safe and durable charactor as TPU.
Details:
Material: frosted TPU, transparent EVA, etc.
Technique: screen printing, hot foil, etc.
Color: according to your needs
Size: according to your needs
Thickness: Its thickness is generally 0.2mm, if you need other thicknesses, we can also customize it according to your needs.
Design: We provide professional design
If you need customize the TPU labels, please contact us via email or WhatsApp, and we will quote price shortly.