We custom design woven logo labels of any size, color, material and fold types, which are mainly used for clothing, shoes and hats, home textiles, toys, handbags, suitcases, ties, etc. For fixing method, you can choose sewing or Ironing back.
Send your logo, name, design, sample image or idea to create a professional and high quality woven clothing labels. If you don't have a logo and design, we provide one-to-one free design.
By using high-quality materials and logo sewing techniques, our labels can ensure excellent quality and durability. Besides, our MOQ is small quantity to meet the needs of small businesses.
Different types of woven logo labels
Create a personalized woven logo labels from us will impress your customers. Because we can customize the materials, sizes, colors and technique according to your needs.
You can choose soft and matte

damask woven labels

, which are woven with fine yarn, high density, woven logo is clear, and the colors can be arbitrarily matched. (optional ironing backing)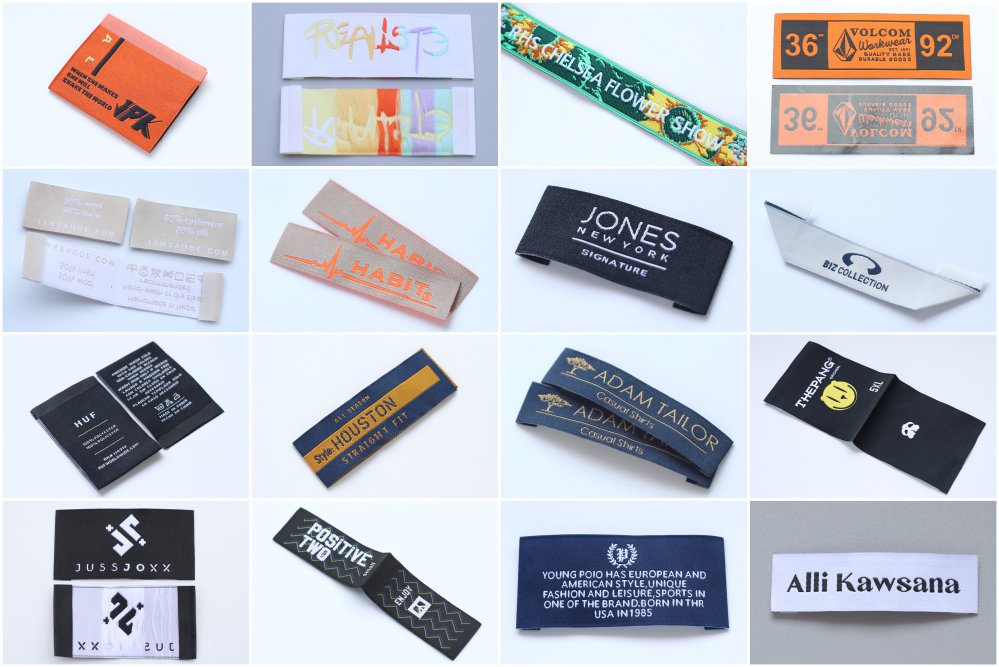 You can also choose a soft and luster

satin woven labels

(taffeta woven labels), its yarn density is not high, but there are woven edges on the top and bottom, looks more high-end.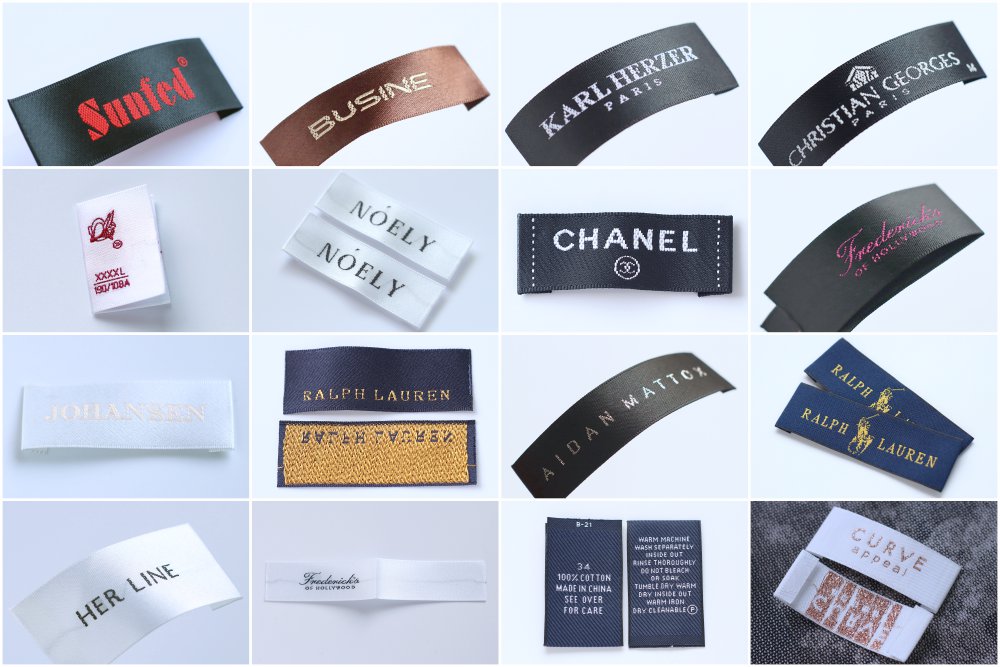 Or

cotton woven labels

with cotton fibers on the surface, there are also woven edges on the top and bottom, which is very suitable for pure cotton products.
Free Design Clothing Labels With Logo
You don't need to download boring templates or software, or worry about font size etc. Just send information like your logo, text, ideas or sample images. Our designers will create professional and unique designs for you.
We can design clothing labels according to sample pictures and provide professional advice, including size, color, material, font, design, etc.
The woven labels has the characteristics of high end quality, firm color and soft hand feeling. Each woven labels with own logo has different color. The correct matching of the logo's definition and color determines the overall effect of the woven labels.
We guarantee that the real product font is beautiful and clear, because we will choose the most similar yarn color according to your design, to minimize the color difference. (If your color requirements are very strict, we can match yarn color according to Pantone card, then make sample first)
You can boldly use creative fonts and bright colors to personalize your woven label. Because we have professional designers advising about the size, material, color and technique. Our good suggestions and woven labels design can meet your customization needs.
Logo yarn options
Ordinary yarn: logo matte
Glossy yarn, the logo is slightly shiny, and the color is more vivid than ordinary yarn.
gold yarn and silver yarn: Shiny, Yarn density is not high.
Add textures in background
Woven labels back
Spread yarns on the whole background
Will be thicker than ordinary woven labels, and the hardness will increase.
Iron on woven name labels
Add hot-melt glue to the woven labels back, you just need to iron it.
In addition to woven labels, you can also choose our printed fabric labels with premium printing materials: Polyester, 100% Cotton and Tyvek for your premium needs.
To quote price, pls offer below information:
Tell us the size, material, color and technique requirements.
If you need to produce according to an actual sample, please ship us the actual sample; if there is a picture or design, please also send us.
We quote according to your requirements, actual sample or design
After placing order, we will make computer design for your approval, then start production.
if you need see samples, we will make free PP samples.
If you just want to make samples first, there is sampling fee 10us dollar
After you confirm the design or sample, we will confirm the delivery deadline
As a woven labels manufacturer and supplier, we can consistently manufacture products that meet your requirements. We have professional pre-sales and after-sales services. If you have any questions, you can contact us via email or WhatsApp. Besides, we custom woven labels for global brands, including the USA, Australia, Canada, UK, France, South Africa, Saudi Arabia, New Zealand, Ireland, etc.