Resin buttons have many types, polyester buttons is one of the most important type,  and the cost is low. They are the most commonly used clothing buttons.
(Polyethylene terephthalate(PET), is the most common thermoplastic polymer resin of the polyester family, and it is also used as fibers for clothing.)
Polyester buttons (Resin buttons) have the characteristics of acid and alkali resistance, and it can bear high temperature washing. It can withstand 100°C hot water washing for about 1 hour without deformation. When ironing clothes, you don't need to be worry about damaging the buttons. It is also very scratch resistant, so it can be washed in machine. Because the material is strong plastic. It can produce different types of finishes: solid colors, pearls, transparent, imitation shells and horn buttons, etc. You can also custom any shape, color, size and logo.
Solid color polyester buttons
Simple solid color polyester buttons finishes are mainly smooth and matte. And its color can be customized to any colors: like simple black and white, or other colors according to the Pantone card.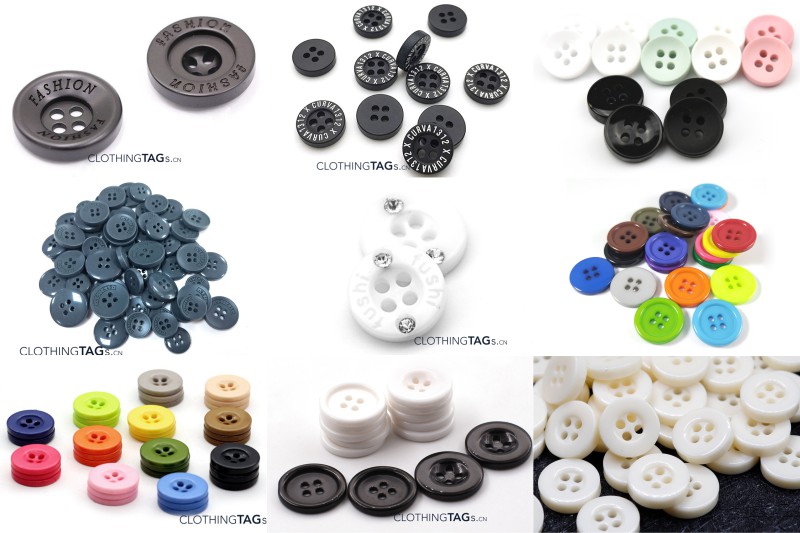 Pearl polyester buttons
Polyester buttons can add shiny effect, it looks like pearl luster. And the buttons can make any colors  according to Pantone card first, then add pearl effect.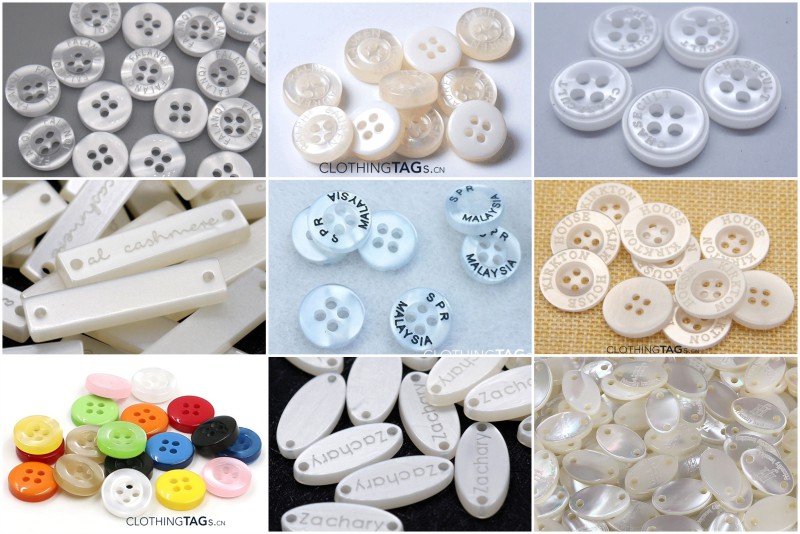 Imitation shell buttons
Imitation shell buttons also have colorful pearl luster, but the color is more closer to the luster of natural shell buttons. Although the effect is not as good as real shell buttons, the price is much more economic than real shell buttons.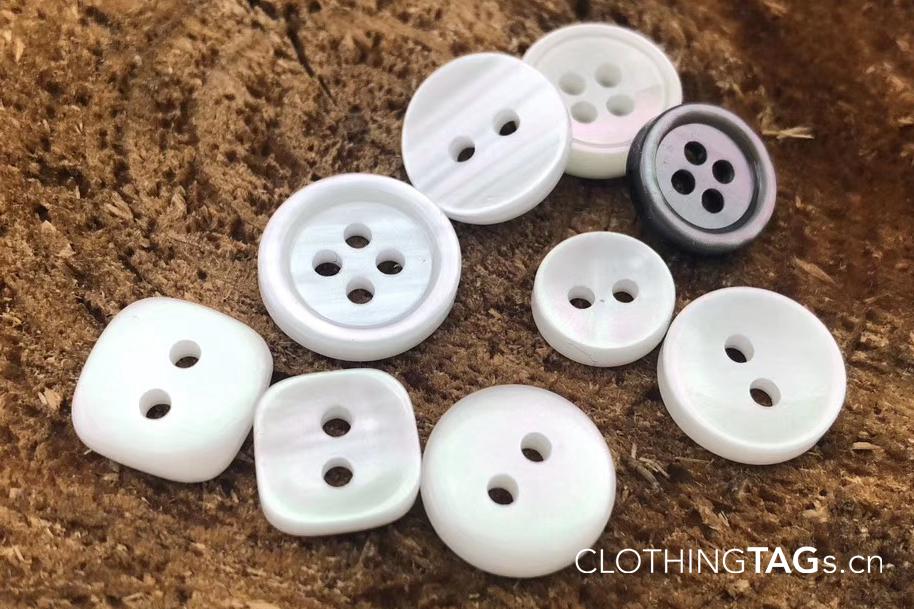 Transparent polyester buttons
Transparent polyester buttons are very popular in shirts, underwear, etc. The color is the resin color itself which is transparent, so this button just have one color, and logo color is often also transparent. Transparent buttons is one unique style.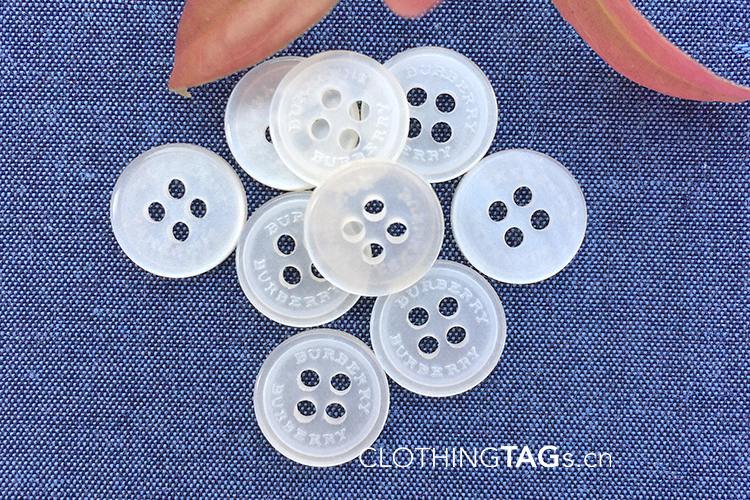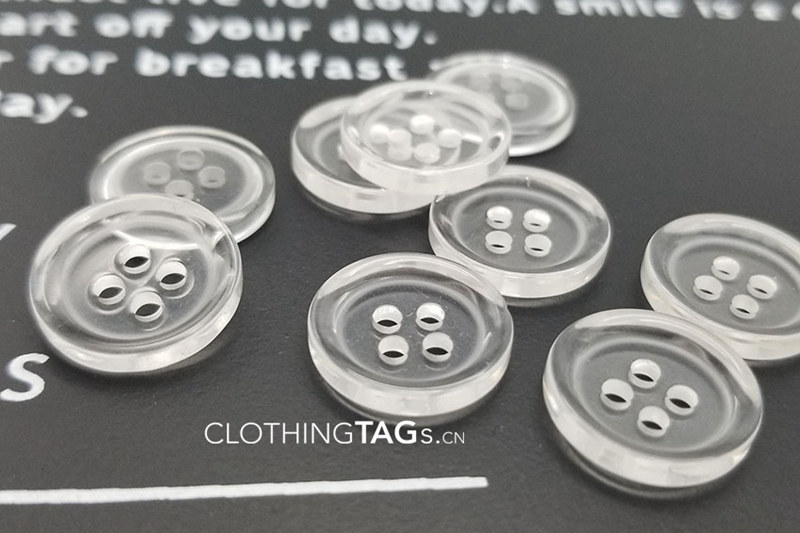 Imitate horn button
There is also a special resin button (urea button) that can imitate a horn button. It is a high-end clothing button. The button color is also just one color, can not customize other colors. And the price is slightly higher.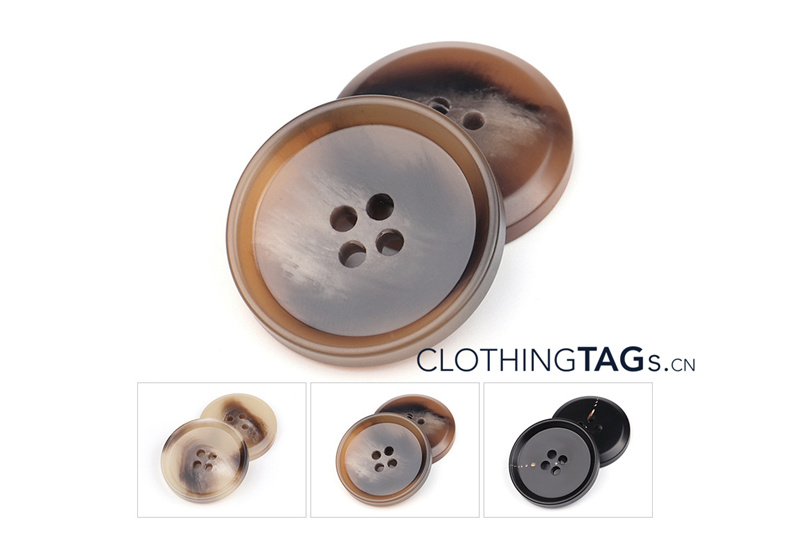 Other polyester button options
Polyester buttons can also imitate bamboo, wood textures and other materials. All in all, the polyester can imitate many buttons styles by adding special colors or techniques in the production process.
Details
Logo: engraving, printing, embossing, side logo, etc. (we can provide free design)
Shape: Customize any shape according to your needs
Material: Polyester (resin)
Minimum order quantity: 100 pieces
Customizing our durable polyester buttons from us, you can choose any sewing method and button types. You can choose the style pictures from our gallery, or sample pictures from other places. Contact us via email or WhatsApp, we provide professional customized services.