Clothing hang tag is the business card of clothing and the best tool for writing brand story. A good hang tag design inspiration and ideas can add the finishing touch to a garment.
How to design a professional and high-end clothing tags? We have witnessed the development of many brands from small to large. They always find ways to make their tags clear and unique.
In any case, brand promotion is the mission of the hang tags, so the brand logo is the soul of the hang tags. It needs to be concise and unique to highlight your brand logo.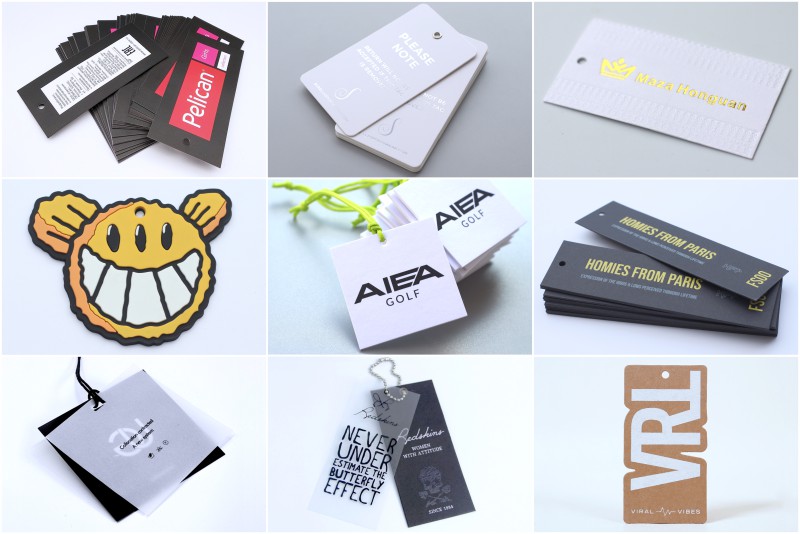 Best Hang Tag Design
Vibrant brand colors, or a beautiful picture background? A vibrant color always attracts attention.
Hang Tag Logo Ideas
Choose the best logo technology can make your high end brand stand out.
Print a unique brand color, engraved and embossed logo, shiny uv logo, or a shiny hot stamping/foil logo.
Get Hang Tag Inspiration From Materials
A high-quality paper material can make a simple hang tag design upscale. Unique and high-quality hang tags require the right choice of materials.
High quality paper hang tags: matte white or black card, smooth coated paper, vintage kraft paper, transparent tracing paper, personalized special paper
Fabric hang tags: cotton, canvas, lace, satin, etc.
Clear plastic hang tags: Hard, Soft, plastic bag tags, opaque
Write important information on the hang tags
Add a concise website, ingredient descriptions, origin, thank you words, etc.
A website makes it easy for your customers to find your products, bringing you more business.
Other important information such as: Composition of clothing fabrics, Size, Wash symbols and meaning, Designed in and Made in.
You can also fill in a sincerely thank to use as a thank you card.
Details
You can get more design inspiration from our website directory.
Die cut hang tags in different shapes: Round, square, rounded corners, heart, triangle, etc. The size needs to be selected according to the content of the hang tag.
For rectangle shape size: about 100*50mm, such as 90*40mm 90*25mm 125*65mm (or customized)
For round/square shape size: about 50-100mm, such as 90*90mm 40*40mm 55*55mm (or customized).
Material: coated paper, black card, white card, Kraft paper, tracing paper, special paper, plastic, PVC, metal, etc.
Thickness: We recommend the two most commonly used thicknesses, 0.5mm (thin tag, can be bent) 1mm (thicker card, almost impossible to bend)
Luxury swing tags generally use 1mm thickness, which is the most suitable thickness to balance the price and professional appearance. Of course, you can also choose other thicker thicknesses, such as 1.5mm, 2mm, 3mm, etc.
Matching hang tag string: hang tag string with logo, hang tag string with safety pin, hang tag fastener without logo, plastic hang tag string.
Choose the hang tag printing technique: foil bronzing/silver, UV, glossy/matte film, silk screen, embossing/engraving, etc.
Add or not add the metal eyelet of the hang tag,
Contact us for more stylish hang tag inspiration. As a hang tags manufacturer and supplier, we can consistently manufacture products that meet your requirements.
Need a new design? You don't need to download boring templates or software, just send information like your logo, color, font, text or your favorite reference image.
Because we have a professional design team and provide one-to-one free design. Create the perfect and amazing hang tags look for you without any extra cost.
Besides, we custom hang tags for global brands, including the USA, Australia, Canada, UK, France, South Africa, Saudi Arabia, New Zealand, Ireland, etc.