Clothing hang tag is the business card of clothing and the best tool for writing brand story. Look for the best hang tag design inspiration and ideas in terms of color, content, shape, material, printing technology, string, etc. (We provide free design)
Hang tag design ideas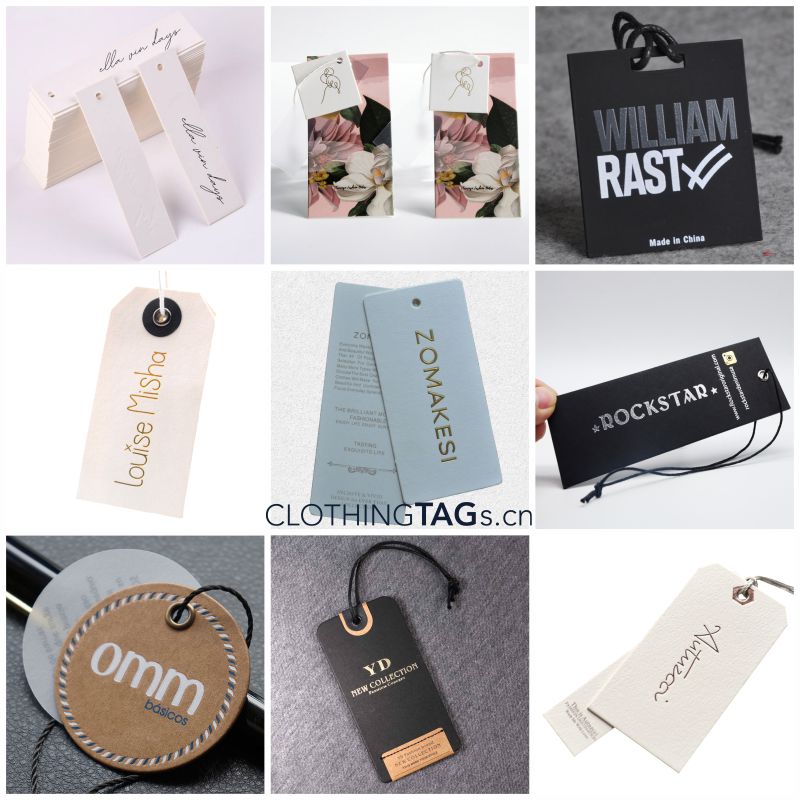 Simple and stylish pure color hang tag design is the choice of most brands, black and white or unique brand colors. This is a timeless style and cheap.
Four-color print vivid colors, gradient colors or photos can make the hang tag express more details. It can give consumers a more intuitive feeling, and the cost is slightly higher.
Based on logo design, you can add website, ingredient description, origin, thank you words etc. (We can provide one-to-one free design.)
Determine the shape and size of the hang tag. Round, square, rounded corners, heart, triangle, etc. The size needs to be selected according to the content of the hang tag. (We can provide advice)
(Generally, the smallest printed font is 4pt, the smallest font with UV effect is 6pt)
triangle, heart, etc.
Rectangle: about 100*50mm, such as 90*40mm 90*25mm 125*65mm (or customized)
Round/square: about 50-100mm, such as 90*90mm 40*40mm 55*55mm (or customized)
Hang tag design inspiration
Design inspiration can be obtained from different hang tag material, hang tag string, and hang tag printing technique.
Two common problems with label design
There is no vector diagram, which will affect the printing quality. If the design is not high-definition, the printing will be unclear. (We can turn unclear designs into vector designs)
The text is too small, the printing is not clear, the embossing and UV effects are not good. (We provide the best advice)
We provide the best custom hang tags, please contact us via email or WhatsApp to get the best price.