Custom printed die cut hang tags in different shapes to make your design more unique. ClothingTAGs.cn offers high-quality die cut hang tags at competitive prices. Our superb cutting techniques make the printed products a complete and exquisite work.
You can use any color, size, shape, paper material, logo technology etc. to realize your unique creativity and ideas.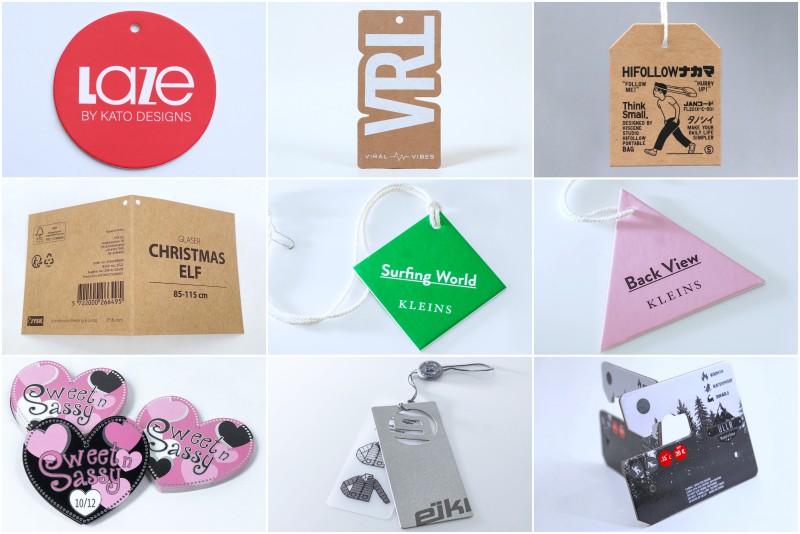 Real Custom Die Cut Hang Tags
Circle/round, triangle, diamond shape, pentagram, folded, or logo shape? Anything you can think of, we can do it.
Our die cut hang tags, using a variety of paper materials and hang tag printing technology, add more possibilities to your creativity.
Print a bright color, or a shiny gold, or print double sides for more content, etc. Then, match with matte black or white card, or glossy coated paper, etc. We can recommend the most suitable paper material according to your needs, including the thickness of the paper.
You can customize any size of die-cut hang tag, if you have no good ideas, we can provide suggestions.
Need a hang tag string? Our hang tag string are available in a wide selection of materials and styles to perfectly match your hang tags.
Our rich technology allows you to use your imagination to create unparalleled artworks.
Want a good design?
You don't need to download boring templates or software, we provide one-to-one free designs. Send your ideas, shapes, logos, text or sample images to easily create elegant die cut swing labels.
What is a die cut hang tags?
Die cut hang tags showcase your brand name and message in a stunning hang tag look to make your brand stand out.
Die cutting is a cutting technique of post-processing of printed hang tags. The die cutting technology can make the hang tag of any shape, so that the shape of the hang tag is not limited to right angle or straight edge shape.
Die cutting needs to be according to your design, so there will be extra cost of a cutting die. (Right-angle and straight-edge shapes do not require additional die costs.)
Although we have a high-precision die-cutting machine, there may be slight deviations of less than 1mm during the die-cutting process. Therefore, the distance between the logo and the edge should be larger. Besides, we take every excellent design seriously, and we will give the best suggestions based on your design. Therefore, your design may adjust before production for your confirmation. If you insist on your own design, we will pay special attention to it in the production process.
Contact us via Email or WhatsApp, we provide one-to-one professional services. We will provide you with the best suggestions during the customization process, including size, color, material, font, design, etc.