Professional custom silicone 3d rubber heat transfer labels. Choose any color, thickness, shape and finish to create your own silicone heat transfer labels.
Soft and comfortable silicone heat transfer labels can make raised 3d effects of different thicknesses, such as: 0.5mm, 1mm, 1.5mm, 2mm, etc.
Flat, rhombus, arc, etc. Different shapes can present different logo styles.
Matte, glossy, clear, reflective or luminous, the different surface effects add more possibilities to your brand.
High quality silicone heat transfer labels
These personalized 3d rubber heat transfer are made of eco-friendly high quality silicone material with good stretchability. And nonpoisonous and tasteless, can be in contact with the skin. Can be washed at 60-100 degrees, wear-resistant, suitable for most fabrics, such as cotton, linen, silk, polyester, brocade, waterproof fabrics, etc., which means it can be used for T-shirts and other clothing, underwear , handbags, hats, sportswear, safety clothing, etc. (Please tell us the fabric type or send picture of your clothing before ordering.)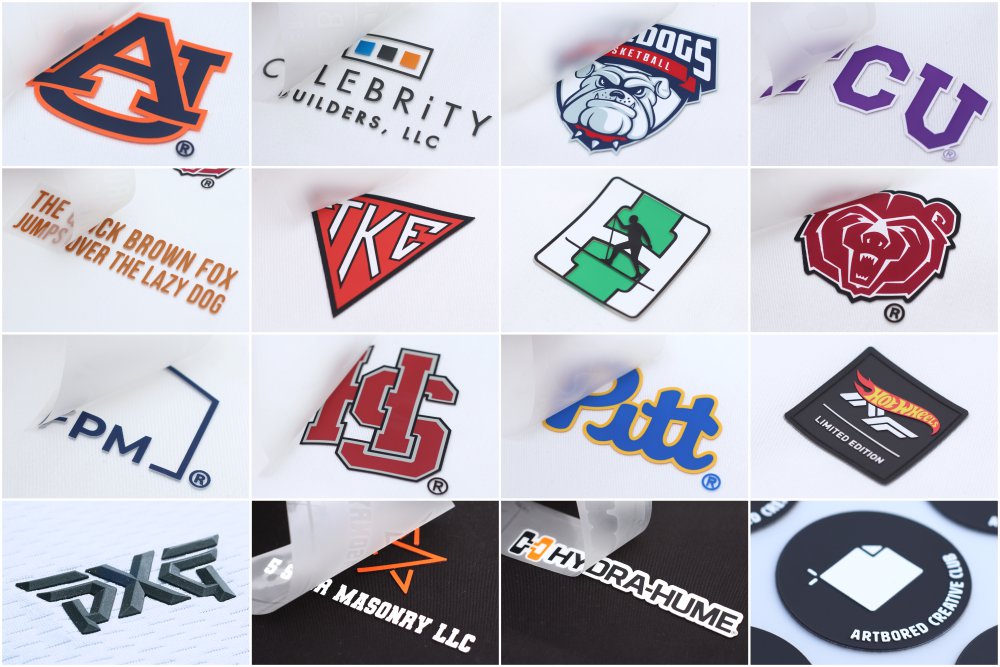 Heat Transfer Label Photo Gallery
It can maintain its original strength and elasticity no matter in high or low temperature environment. Therefore, silicone heat transfer labels are often used on outdoor clothing, so it can maintain their original shape in various harsh environments. Even in the freezing arctic and hot deserts, it will not deform, damage, or fade. Children's clothing can also use it, because it is very safe.
Easily complete your label projects with heat press
Before use, you need to keep the garment flat and preheat the heat press equipment to the appropriate temperature.
Above the heat transfer label, it is best to add cotton cloth to prevent damage to the clothes.
Set the temperature of the heat press: 140-160°C (290-320F)
Pressure: moderate pressure, 5-6kg
Pressing time: 6-10 seconds
The above parameters will vary with different heat presses and different fabrics. Please use waste fabric for testing first.
Let it cool completely before lifting the veil.
Let the clothes stand for 40 hours before washing.
As a heat transfer label manufacturer and supplier, we can consistently manufacture products that meet your requirements. We custom heat transfer label for global brands, including the USA, Australia, Canada, UK, France, South Africa, Saudi Arabia, New Zealand, Ireland, etc.
We at the same time meet the customization needs of large and small businesses. Because we provide high quality, low price, and low minimum quantity orders.
Contact us via email or WhatsApp for a one-on-one professional consultation and free design, or send your artwork/design idea to create your own heat transfer project.
We have comprehensive pre-sales and after-sales services. If you have any questions, we will actively solve the problem for you.