Hang tags styles are various: There are paper, plastic, metal, PVC etc. in material; round, rectangular, square, hexagon etc. in shape; to express clothing company information, care instructions, thank you etc. in function. There are some hang tag examples and design samples to help you pick the right styles.
Clothing hang tag examples and samples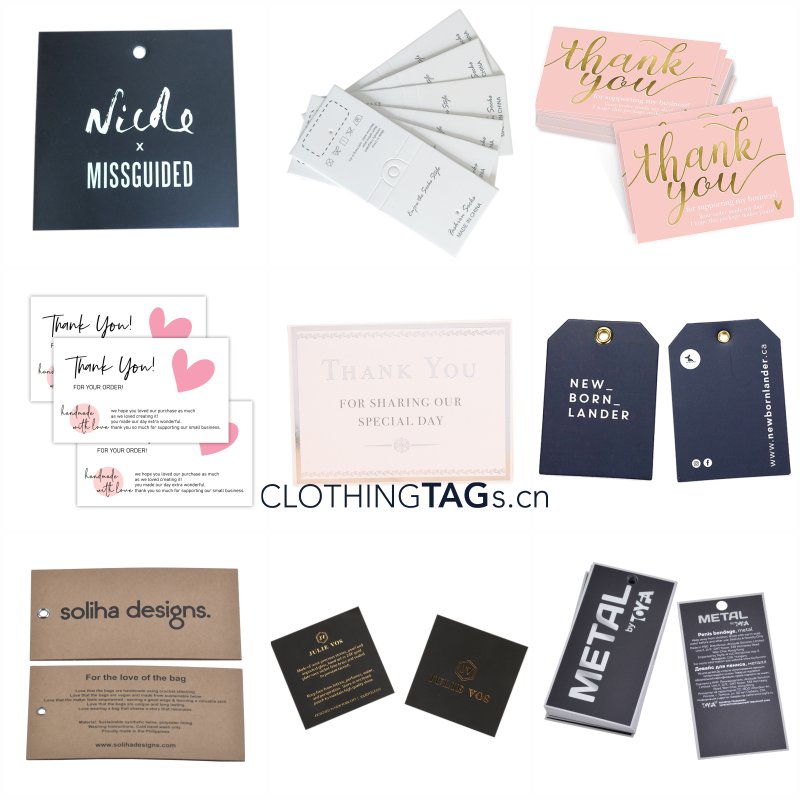 The hang tag material are usually all kinds of paper papers, and there is other material like metal, plastic, PVC. Paper hang tags are very common and mostly used in clothing and related products. If your clothing is of very strong feeling, like leather jacket and bags, you can use leather hang tags which has special texture. If your clothing is swimwear or sportswear, you can use plastic or PVC tag because they are waterproof.
Hang tags have different functions. Some tags can be used to express your logo, press a picture. Accordingly, these hang tag should choose very good paper; And some tags can be used to show care instructions and show sizes, these tags can use very simple paper, appearance is not so important;  And some tags can even use as thank you card and business card, these paper is usually in large dimension.
Hang tags can have different shapes, most common shape is rectangular, square, round, but you can customize the shape according to your logo shape. For example, even your logo shape is like a bear shape, that's okay.
Hang tags thickness are different. From 0.2 mm to 2 mm, you can choose according to your products style, the thicker paper, the heavier feeling. Most clothing tag will use 1 mm thick around; while, earrings and necklace usually use very thin paper like 0.2 mm paper.
Contact us via email or WhatsApp, we provide the best custom hang tags. If you have no good ideas, we can provide free one-to-one design. Moreover, we can provide hang tag design inspiration. And our low prices and low MOQ can meet the needs of small businesses that are just starting out.