Jeans rivets are small metal fasteners, which are divided into two parts: the button surface and the nail. Its main function is to reinforce the areas where jeans are prone to wear, such as the corners of the pockets. Protect jeans wear and make jeans more durable. Rivets are also an important metal decoration for jeans. Custom exquisite rivets for your jeans collection to make your brand stand out. Like the jeans buttons, you can custom logo and different colors.
Custom logo rivets
The design of custom jeans rivets is usually in the same series as jeans buttons, and their logo technology is also the same.
Embossing, engraving, laser printing, epoxy filling, etc. We can also add fake diamond on the rivets.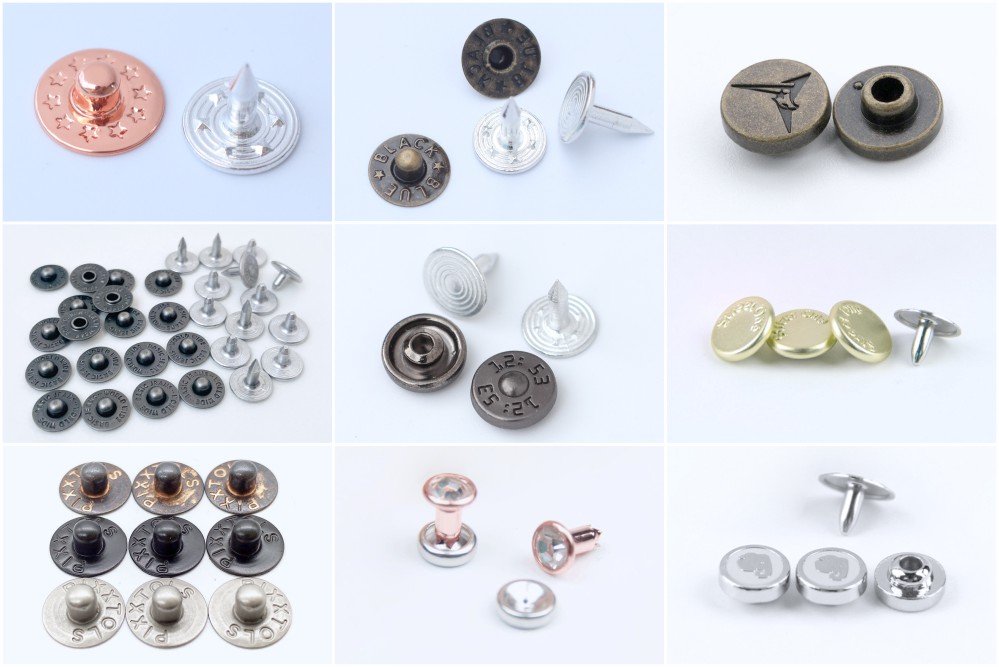 Jeans rivets color
Jeans rivets are of same color as jeans buttons, you can choose a variety of metal colors, including antique brass, black, rose gold, gold, silver, vintage, matte, shiny, etc.
You can choose rivets styles and color reference from our gallery. (Or send us sample pictures from other places)
Copper and zinc alloy denim rivets
Like jeans buttons, zinc alloy and copper are two main material to produce denim rivets. they all have their merits. You can choose the denim rivets according to your brand tone.
Copper denim rivets is cheaper. But copper gives customer a feeling of old, so it can match many vintage jeans brand.
However, zinc alloy is thicker, more durable, and quality is better. So price is slightly higher.
Leather rivets
Rivets can also be customized to be double-sided for leather and leather bags. (Need to tell us the thickness of the leather.)

Detail:
A riveting machine must be used to install the rivets. If you need a manual riveting machine, we can also provide it.
In addition to jeans rivets, we also provide other custom metal accessories: snaps, eyelets, zippers, metal sewing buttons, etc.
If you need to custom jeans rivets or other types of clothing buttons,
You can contact us via email or WhatsApp. We provide one-to-one professional services.
(As a jeans rivet supplier, we can consistently manufacture products that meet your requirements. We have comprehensive pre-sales and after-sales services. If you have any questions, you can contact us and we will actively solve the problem for you.)