"Clothingtags.cn" customize high-quality plastic packaging bags, widely used in clothing packaging, mailing envelopes, shopping, gifts and all retail products.
We are professional to make your design or idea more perfect, we can carefully design a special plastic packaging bag for your brand.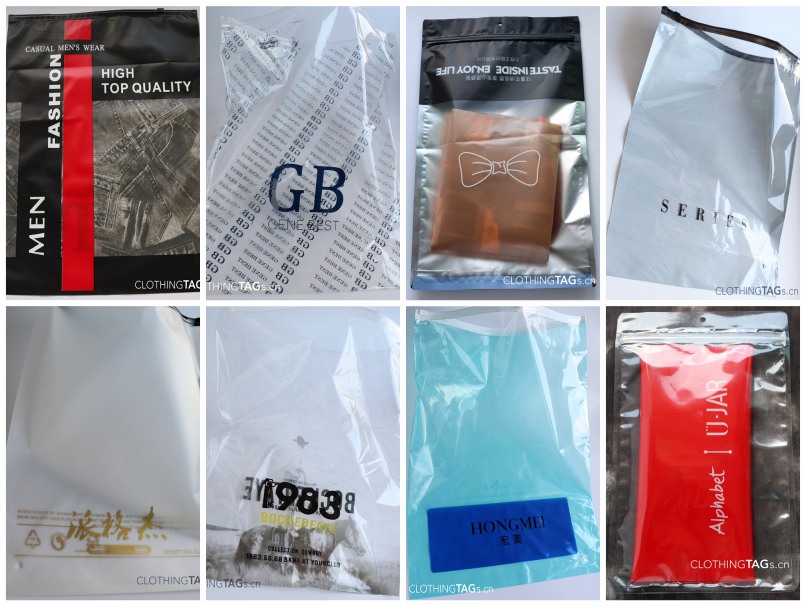 You have multiple options:
Mainly for packaging

Reusable plastic zipper bag (with plastic zipper in the opening)–reusable
Plastic hook bag (can be installed hooks according to your needs)–reusable
Plastic self-adhesive bag (with self-adhesive seal attached to the opening)–single use
Plastic heat sealing bag (without any treatment in the opening)–single use

Mainly for shopping

Plastic tote bag
Plastic handle bag

Other types

We have a variety of technique and multi-color printing technologies. We can customize high-quality plastic bags of any size and any color according to your needs.
We guarantee the bag logo is clear, odorless, soft to the touch and not easily deformed and broken.
If you don't have a design or have a good idea, we will provide professional suggestions and design, to make beautiful and low-cost plastic packaging bags on your needs.
Material: OPP, PE, PVC, PET, LDPE, HDPE, CPE, PP, CPP, PBAT, etc. (can provide samples or pictures / we will provide suggestions accordingly)
Technique: frosted, transparent, holographic, hot foil gold/silver, adding plastic hooks, etc.
Color: to your needs
Size: to your needs
Bags made with the highest quality materials, make your brand perfect