We provide custom printed metal tags with different colors for global brands. You can choose electroplating any metal color and logo technology. Many clients think that the color of metal tags is limited because they think that the color of metal is limited, and what they often see may be gold or silver. Actually, the colors of metal tags are various, and the colors can be electroplating, spray printing, or epoxy filling.
Electroplating different colors
The electroplating colors is to coat a layer of metal on the tag surface by using the principle of electrolysis. The electroplating effect is luxurious, the surface of the metal tags looks bright and smooth, and there are many colors, including gold, silver, gun metal, rose gold, anti-brass, etc. (Visit the color catalog). The electroplating colors are the mostly common colors for metal tags.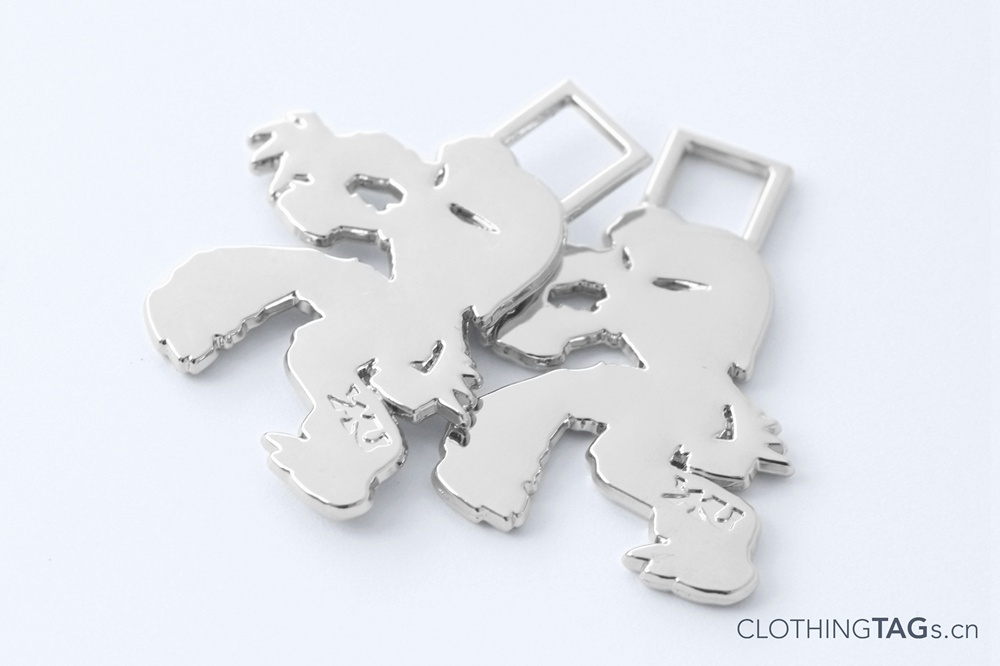 Printed metal tags
Printed metal tags is a method of atomizing paint, It uses spray gun to print and coat color on tag surface. The colors are also unlimited, and it can print any color based on pantone card. The disadvantage is that the metal tags surface is usually matte, and looks not so smooth. If your clothing brand is vintage style, the color effect will be perfect.
Epoxy tags
Filling with epoxy: as words explain, epoxy color is filled in metal tags, Firstly, cut/engrave logo on the metal tag surface, then fill the logo gutter with epoxy liquid, after drying up, the epoxy looks like shiny plastic. Epoxy color is also very rich, can also use any color based on pantone card .
You can also add transparent epoxy to the surface of the metal tags. So it can make the metal tags looking more luxurious, also it can protect metal tags against wear.
In addition to the logo and colors, you can also add glass diamonds to make the metal tags more luxurious.
If you need to custom metal tags, you can choose a reference picture from our gallery, or a reference picture from other places. Send it to us by email or WhatsApp, we can design according to the style picture for free, and provide 1:1 3D design. After confirming the design, we will proceed to production.