Custom the hang tag string with the name logo to make your brand out of the ordinary. The unique string seal tag can add a brand impression to your clothing and make the brand stand out from the competition. From design to production to delivery of your customized hang tag stirng, we provide the most comprehensive service.
String seal tag with name is relatively rare in categories, mainly in plastic string seal, Aluminum string seal, epoxy string seal, metal string seal  etc.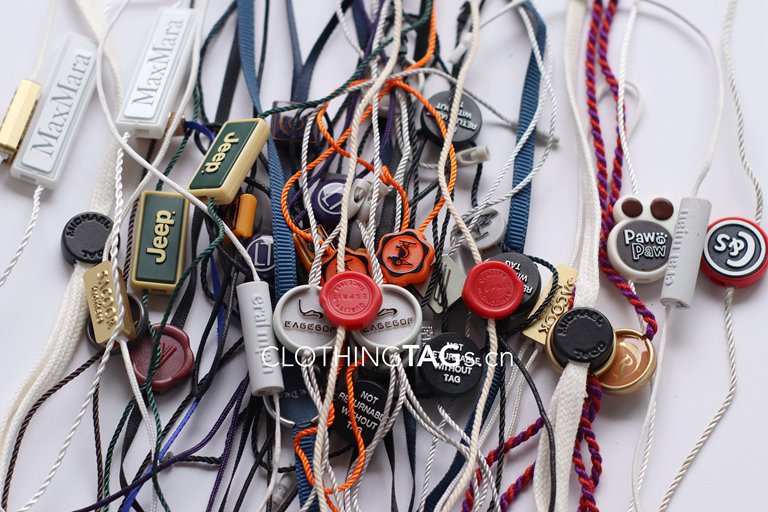 Plastic string seal tag
Plastic string seal tag are the most common and can be embossed with name logo. It is by putting plastic liquid into a mold, connecting the string, after drying, printing color on the seal, then cutting into pieces. Plastic string seal can make any color, any size or shape ideally, and the price is very cheap. You can also customize the hang tag string snap lock fastener without logo.
Aluminum seal tags
Aluminum seal tags is made from Aluminum shell, the shell is thin. Usually there is a paper stuck in the shell, with logo or design on the paper. Aluminum seal tags is also cheap, but the color and shape of the shell is limited.
Epoxy hang tag string
Epoxy hang tag string technique is similar to plastic string seal. After the plastic finished, it will epoxy clear liquid on the surface of the seal, after drying, it will form a clear smooth cover. Epoxy string seal looks shiny and luxury, so the price is relatively higher.
Metal tags string seal
Metal tags string seal is not normal, because the cost is very high indeed. It is made of alloy, of course it looks luxury and high-end, some luxury brands may use such string.

Above we mainly talked is seal, there is another important factor-string. The hang tag string material are usually polyester, cotton, waxed cotton, satin tape, nylon, plastic etc. Any string can be used on any seal, you can match as your will. String color are various, can be customized.