Silicone is a high-end rubber labels material, and it is a wise choice to custom silicone labels for high-end clothing.
The voluptuous silicone labels is made of high-purity epoxy resin and other materials mixed with high-temperature and high-pressure molds. It is nonpoisonous and tasteless , and it can maintain its original strength and elasticity no matter in high or low temperature environment. Therefore, silicone labels are often used on outdoor clothing to maintain their original shape in various harsh environments. Even in the freezing arctic and hot deserts, it will not deform, damage, or fade. Children's clothing will also use it, because it is very safe.
Silicone labels for clothing
Silicone labels are widely used on clothing. In addition to being used as labels, you can also custom silicone hang tags, zipper pulls, heat transfer labels, etc.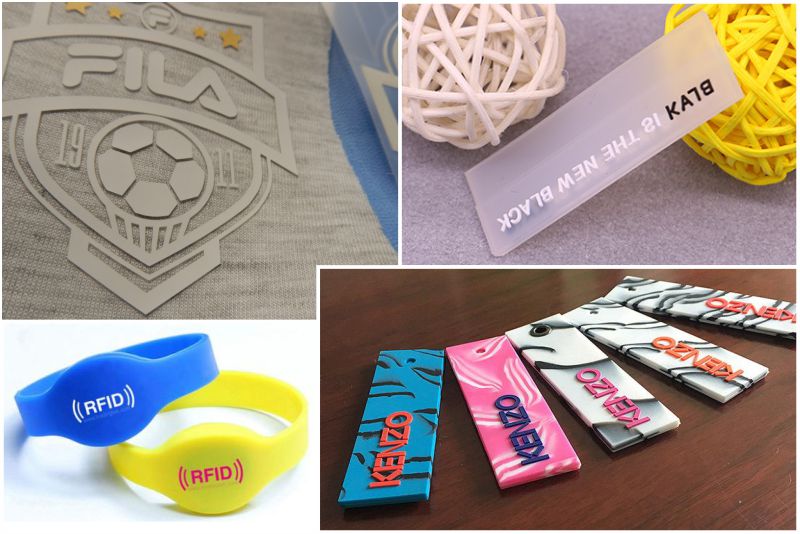 The logo of the silicone labels can be embossed and printed, and can be customized in any shape and color. The thickness is the same as that of the pvc label.
Silicone hang tags is divided into single-sided logo and double-sided logo. The thickness of single-sided logo is generally 2mm, and the thickness of double-sided logo is generally 4mm. (Of course pvc can also be made into a hang tags)
When making a rubber labels with a transparent double-sided logo, you must choose a custom silicone labels, because pvc labels needs to customize two single-sided logos and then glue them together. Transparent materials will display glue and affect the appearance.
The double-sided logo silicone labels is formed at one time and does not require glue.
The silicone zipper pulls is similar to the silicone hang tags, except that an extra ring will be added.
Heat transfer silicone labels, the thickness is generally 0.5mm-2mm, transferred to clothing by heat transfer machine, with three-dimensional and durable. It can also be embossed and printed, and customized in any shape and color.
Silicone labels are softer, smoother and more comfortable to touch than pvc labels.
Silicone labels are more environmentally friendly than pvc labels, have a smaller smell, and can pass RoHS certification.
Silicone labels are more stretchable than pvc labels, they will recover immediately after stretching, and can be in contact with the skin, so you can also custom the silicone bracelets.
Silicone labels will cost more than pvc labels.