Custom cotton muslin bags for your clothing, jewelry, fragrances, gifts and more, choose the right drawstring material, print your logo or pattern, and personalize your own branded packaging.
Best Custom Printed Muslin Bags
Small muslin bags, or a larger size? You can custom any size, thickness, color, logo and style, etc. Everything you need we can do.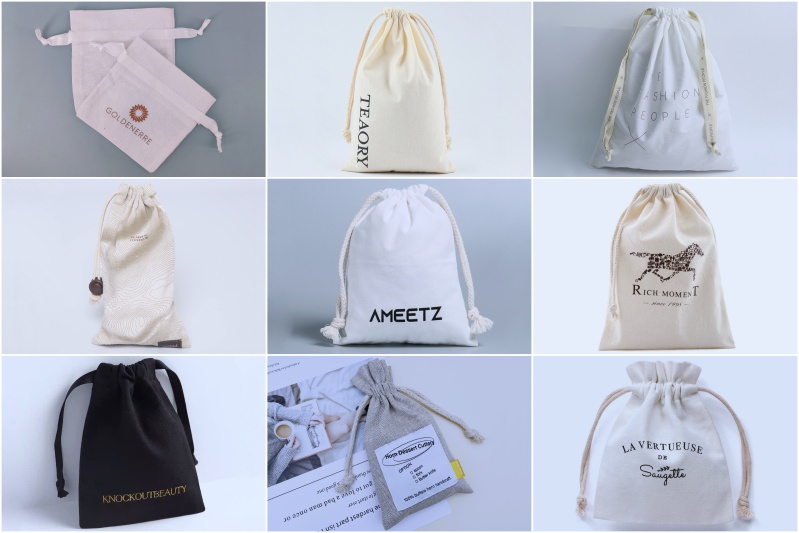 We customize high quality muslin bags for you with low price and best service. Just send your logo, size, style, material, and other information, we provide professional service and free design. Allows you to easily customize your own muslin bag.
Cotton Muslin Bags Thickness
Our cotton muslin bags are made from 6 oz of eco-friendly organic cotton. 6 oz muslin, representing light and thin, more breathable and elegant, more soft and comfortable to the touch. Because the thickness is thin, it is easy to wrinkle. You can also choose thicker canvas, such as: 8 oz (for thick drawstring bags), 12 oz (for large bags, backpacks), etc.
You can check out more of our drawstring bags in different types and materials.
Display Your Own Brand Logo And Colors
You can choose the color of the muslin bag and drawstring you like: natural off-white, white, black or according to Pantone color.
Match the best drawstring: cotton, polyester, wax cotton, satin tape, flax, etc., and can be customized in any color and length.
You can also print brand logo and pattern in any color, or even sew up high-end woven labels. Our rich technology and materials allow you to be more creative.
Top muslin bags for the best unboxing experience for your customers. From clothing to jewelry and more, make sure your brand stands out. Add the perfect packaging to your products, and customers will love it when they see your refinement, high-quality bags.
Contact us via email or WhatsApp.