Custom and wholesale 100% pure cotton hang tag string of any style, length, shape, color and quantity. You can use them for any product including clothing, bags, shoes, gifts, jewelry, etc.
Different Types of Cotton Hang Tag String
Natural beige, white, or black? Square, round, or other shapes?
There are many styles of cotton tag string. You can choose the style you want from our Photo Gallery, or you can send pictures of other styles. Contact us and tell us what you want, and we will send more pictures of the styles you want.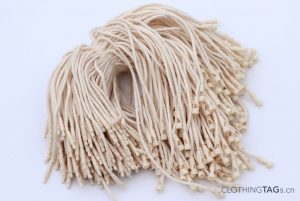 Bullet Cotton Tag String
Our bullet hang tag string are very strong and have a reinforced structure that makes them difficult to remove by hand.
Cotton Tag String with Safety Pin
It consists of knotted cotton rope and safety pins. You can choose safety pins in any color, gold, silver, gun metal, rose gold, antique brass, etc.
Best Cotton Tag String Manufacturer
As the best cotton tag string manufacturer, we offer high quality hang tag string at competitive prices with no minimum. We ensure that all hang tag string are strong and durable, can bear a weight of at least 2 kg, and is easy to tighten by hand and will be permanently locked after using. If they are locked, they cannot be reused. So that it can protect from fraudulent returns.
Our cotton tag string are made from 100% organic pure cotton and recycled polystyrene. It's biodegradable and completely sustainable, doesn't harm the environment and helps enhance your brand image.
In addition to cotton tag string, you can also choose polyester, leather, wax cotton, satin tape, flax and other hang tag string materials.
Best Service
Contact us via Email or WhatsApp, we provide one-on-one customer service and can accurately custom the cotton tag string you want. Just send the style, size, shape, color, quantity or reference pictures and other information you want, and we will quickly reply and quote.