Custom printed drawstring bags for your gifts, jewelry, clothing, shoes, etc, Embroidery or print your logo to make your brand stand out. You can customize any material, size, color and style.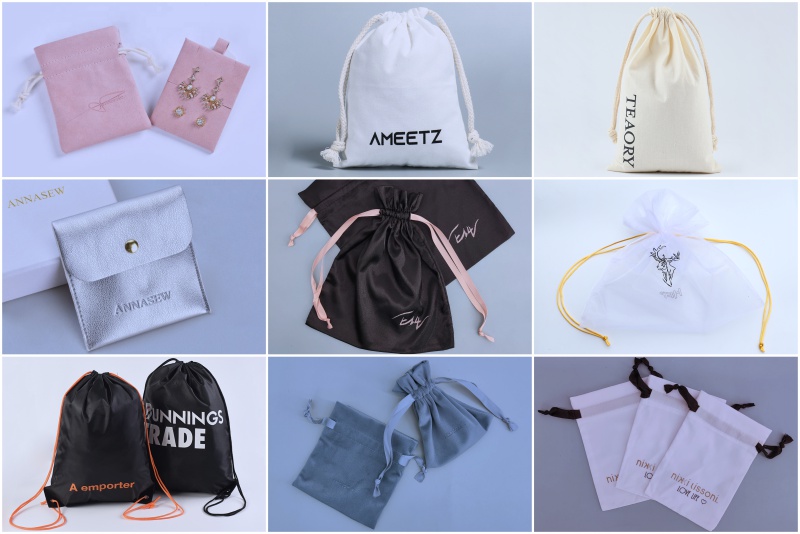 Different Types Of Drawstring Bags
You can use a variety of materials to personalize different types of drawstring bags.
All soft fabrics can make drawstring bags, some common materials such as cotton, canvas, linen, flannel, velvet, organza, satin silk, non woven, PU leather, plastic, etc.
Muslin bags, cotton bags, canvas bags and linen bags have good moisture absorption and breathability, also have good dust-proof effect. So it is widely used.
Transparent organza drawstring bags and silk satin bags with special looks, perfect for clothing, gifts, jewelry, and more.
The flannel velvet drawstring bags has soft and comfortable fluff fiber that are thick and stretchy for a very high-end look. It can better protect products, so it is very suitable for jewelry packaging.
Suede and PU leather drawstring bags are high-grade drawstring bags with unique texture, beautiful appearance, wear-resistant and dirt-resistant, dust-proof and moisture-proof. Often used in jewelry packaging or electronic products.
Polyester drawstring bag, very wear-resistant, easy to wash, quick-drying, and not easy to wrinkle. Therefore it is often used in backpacks, sports, and other products.
Non-woven drawstring bag, it is very environmentally friendly material, moisture-proof, dust-proof, mildew-proof, bacteria-proof and so on. And the price is very cheap. It is popular in shoe packaging.
Drawstring bag materials also include PVC, plastic, etc. If you need other unique materials, please let us know. We'll quickly help you find the style.
Design Drawstring Bags With Logo
Just send your logo, size, color, material, style or reference picture and other information, we provide one-to-one free design. We will send you digital designs and pictures to confirm and improve the details with you.
Our drawstring bags can be designed in a variety of styles, including double drawstring, single drawstring, favor bag, zipper pocket, round bottom, square bottom, etc. And match the best rope to create your own drawstring bag.
Need a large or small size? You can custom any size drawstring bags or pouch for your product. So it applies to all products.
Details:
Material: cotton, canvas, linen, velvet, organza, satin silk, non woven, PU leather, plastic, etc. (you can also provide samples or pictures for customization).
Thickness: Customized according to your needs, or we provide suggestions
Size: according to your needs.
Color: according to your needs.
logo: Print any color according to Pantone card, or gold, silver, embroidery, etc.
Cord: cotton, polyester, wax cotton, satin tape, flax, etc., and can be customized in any color and length.
Other accessories: zipper pocket, cord buckle, etc. according to your needs.
Our drawstring bags minimum order is small, so it is good for small business.
As a drawstring bags manufacturer and supplier, we can consistently manufacture products that meet your requirements. We have professional pre-sales and after-sales services. If you have any questions, you can contact us via email or WhatsApp, we provide one-to-one professional services. We will provide you with the best suggestions during the customization process, including size, color, material, font, design, etc.
Besides, we custom printed drawstring bags for global brands, including the USA, Australia, Canada, UK, France, South Africa, Saudi Arabia, New Zealand, Ireland, etc.