Custom beautiful leather patches is the first choice for jeans brands. High-quality leather labels with unique logo appearance can make your jeans standing out. Levi's, Sweet-Orr, Wrangler, Lee and other world-renowned jeans brands use it as a decoration, and each brand has its own unique style.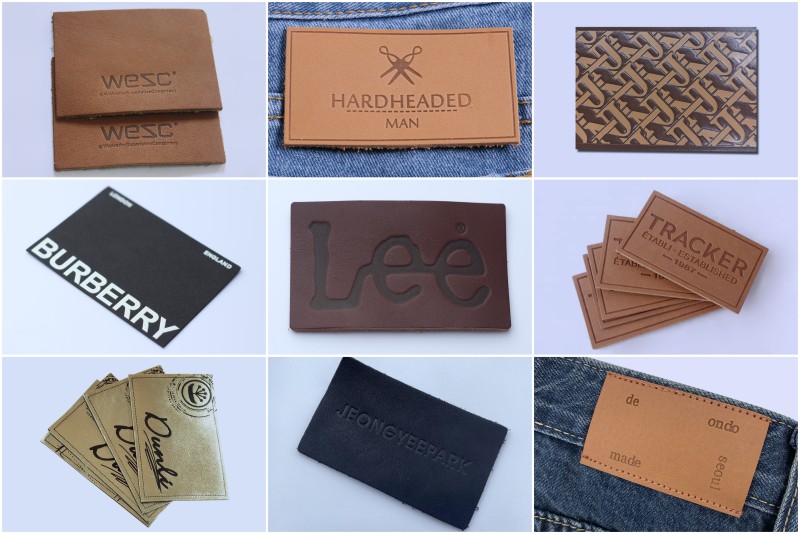 In order to get the best results, we provide a rich of leather materials, colors and logo technology to match your personalized design.
Our leather patches are made of high-grade faux leather (PU leather, suede, holographic leather, jacron), 100% genuine leather (pig leather, cattle leather, crocodile leather) and other materials, and can be customized in any color.
Embossed Leather Patches? printed? Embroidered logo? Or metal logo? A variety of logo technology can mark your high-quality jeans with a unique leather imprint.
The history of jeans leather patches
Levi's is the first jeans brand to use leather patches on jeans. Subsequently, brands such as Sweet-Orr, Wrangler, and Lee successively used leather patches and developed rapidly.
So far, countless brands have been using leather patches. Today, It has become a symbol of high-quality of jeans in most people's minds, and it increases brand value.
In order to meet the needs of vegan, many brands will choose faux leather (PU leather, suede, holographic leather, jacron) or woven labels as jeans leather patches.
Function
Those leather patches with a sense of design can enhance the quality of jeans, also can make the high-quality jeans more attractive.
The brand logo printed on the jeans leather patch is unique, which can promote the brand well.
In addition to promoting the brand, it is also a way to prevent counterfeiting. Rigorous and meticulous leather patches make it difficult for illegal businesses to copy.
In addition to leather patches, high-quality jeans also need to use rivets to reinforce the pocket corners. If you need customized high-quality rivets, we can also provide them.
Our leather patches can also be used for clothing, hats, bags, shoes, jackets and other products.
As a leather patches manufacturer and supplier, we can consistently manufacture products that meet your requirements. We have comprehensive pre-sales and after-sales services. If you have any questions, you can contact us via email or WhatsApp, and we will actively solve the problem for you.