Custom exquisite Kraft paper bags, printed with personalized logos and designs, add unparalleled packaging to your brand. Brown, white, black and any other color options to make your packaging unique.
Kraft paper bags are one of the most popular eco-friendly packaging, widely used in clothing, gifts, shopping, bread, retail, etc.
These exquisite kraft paper bags can be customized in any size and style, printed with various unique logos (gold, silver or color, etc.), and matched any handles.
Imagination is the only limit, no matter what style you want, we can make it happen!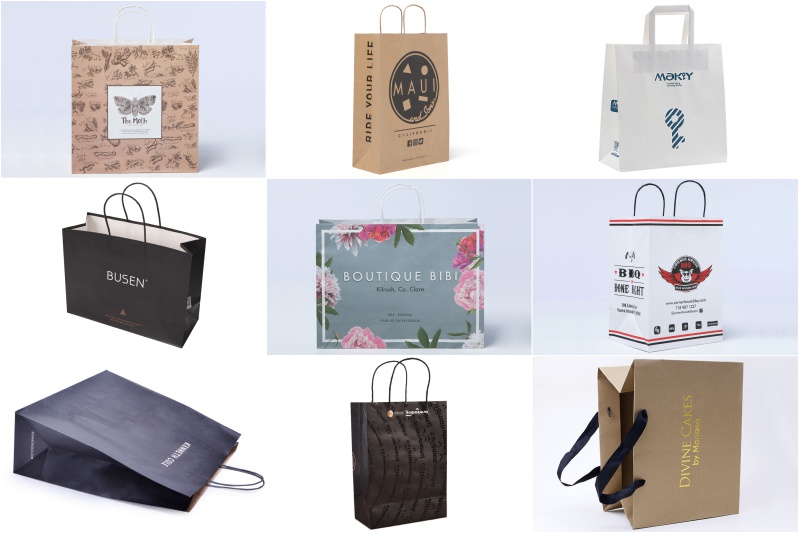 These excellent eco-friendly kraft paper bags, durable and recyclable, make a great contribution to the ecology while promoting the brand.
Brown kraft paper bags
Brown Kraft paper bags are the most affordable Kraft paper bags and the most classic casual style.
The brown color look different in shades, if you are concerned about the color, we can provide brown Kraft paper card for you to choose.
Since the background of the brown Kraft paper bag is brown, the light-colored logo will not be clear, so we recommend using a dark color logo. Such as gold, black and so on.
White kraft paper bags
White Kraft paper bags are slightly more expensive than brown, have a smoother finish, and has a luxurious feel.
It can print any color and is the best option if your logo is light color or flashy.
Black kraft paper bags
Black kraft paper bags are printed black on brown or white kraft paper. So the inside of the black kraft paper bag is white, brown or black.
The white logo on a black background is its most classic design, and you can also choose a luxurious gold logo, etc.
Coloured kraft paper bags
Colored kraft paper bags are printed color on white kraft paper.
If you have special color needs, please contact us, we will match you an accurate color.
Personalized logo
Multiple printing techniques make your kraft paper bags luxurious. Shiny Foil Logo (gold, silver, black, rose gold, rainbow, etc.). Engraved and Embossed logo, UV logo, or choose a unique color according to the Pantone card or print the picture.
Handles
The handle of the kraft paper bag is mostly made of Kraft paper, although it is paper, the spiral structure makes it strong and durable enough.
You can also choose handles in other materials and constructions. Such as ribbon, grosgrain ribbon, three-stranded rope, cotton rope, flax rope, paper handle(brown paper bags handle), etc. You can also choose other special handle.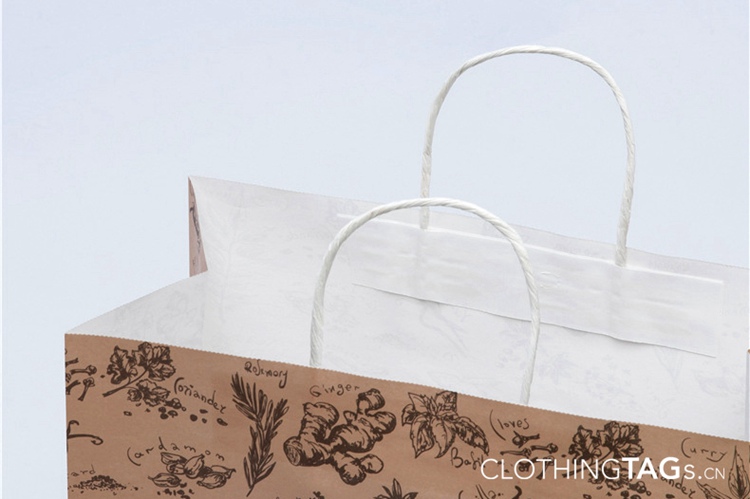 Check out our custom paper bags to learn more about paper bags.
As a kraft paper bags manufacturer and supplier, we can consistently manufacture products that meet your requirements. Besides, we custom kraft paper bags for global brands, including the USA, Australia, Canada, UK, France, South Africa, Saudi Arabia, New Zealand, Ireland, etc.
We have comprehensive pre-sales and after-sales services. If you have any questions, you can contact us via Email or WhatsApp, and we will actively solve the problem for you.