Custom logo rubber zipper pulls for your garment. Make your brand stand out.
Our rubber zipper pulls can be created in any color, size, shape and style, and are extremely durable enough to last for years without fading.
Our professional team will provide you with the most professional service, whatever you want, we can provide customization and design.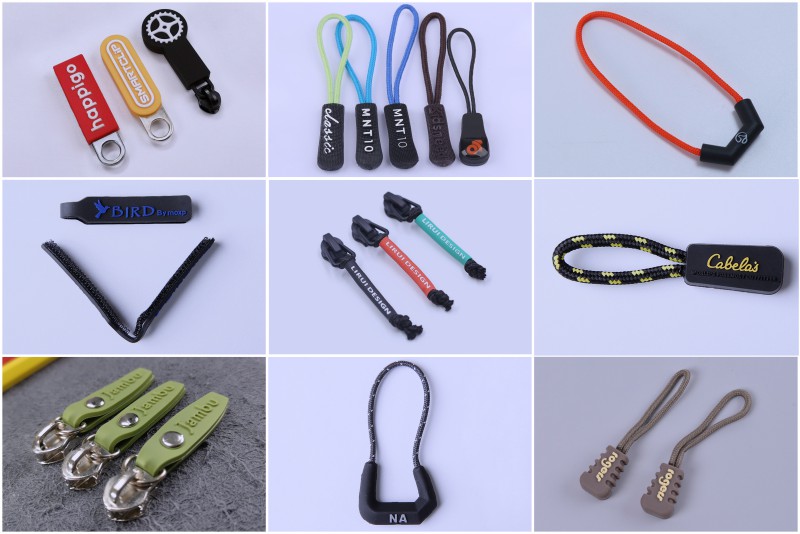 Learn More About Rubber Zipper Pulls?
Custom vibrant rubber zipper pulls, which are very popular in sportswear series.
Rubber zipper pulls are a very popular option, the colors are unlimited, and installation is quick and easy. Often the rope are in unit with the sliders, but you can also choose metal rings to link the sliders.
The material of the rubber zipper puller is mainly TPU, PVC and silicone, its color is unlimited, you can choose any color according to the Pantone card. Also, logos can be embossed, engraved or printed.
TPU zipper puller is a very popular choice of many sports brands, it is as durable as pvc, it is a hard rubber material, it can be easily made into any camber shape. Add tactile camber, textures for more comfort touch when using the zipper pulls.
Like pvc labels, pvc zipper pulls are soft and extremely durable. Non-toxic, washable, non-fading, soft and non-deformable. It cannot be made into a camber shape.
Silicone zipper puller is the same as silicone label, silicone is softer, smoother and more comfortable to touch than pvc, it is high-grade rubber, and the price is also very high, It cannot be made into a camber shape.
How To Start?
Send us the rubber zipper puller style you want, then we will provide free designs, including 1:1 3D designs to confirm and perfect the details with you.
Let us know what you think, we can design any font, color, size, shape and style, and provide the most professional advice.
Besides rubber zipper pulls, you can also customize our other zipper pulls series.
As a rubber zipper pull manufacturer and supplier, we can consistently manufacture products that meet your requirements. Besides, we custom rubber zipper pulls for global brands, such as the USA, Australia, Canada, UK, France, South Africa, Saudi Arabia, New Zealand, Ireland, etc.
At the same time, our them is to serve both large and small businesses, and provide high quality, low price, and low minimum quantity orders.
We have professional pre-sales and after-sales services. If you have any questions, you can contact us via email or WhatsApp, we provide one-to-one professional services.