Custom printed your own luxury hang tags, add unparalleled packaging to your products. Display your brand logo, care information, etc., and briefly describe your own brand story.
Whether it's for clothing, jewelry, gifts, bottles, or bags, we can always make products that meet your requirements.
Custom Luxury Hang Tags
You can customize luxury hang tags in any size, shape, material, thickness, logo technology, hang tag rope and design.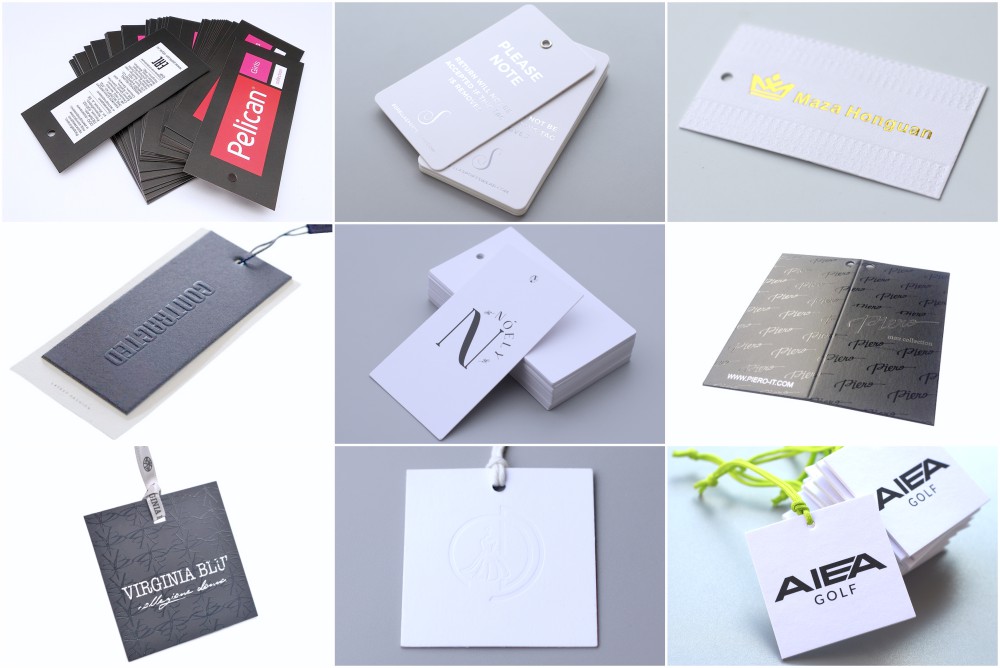 Matte, or Luster?
We offer a variety of high quality paper hang tag materials, white card, black card, tracing paper, kraft paper, coated paper, specialty paper, etc. to match your luxury design needs.
Regarding thickness, we recommend the two most commonly used thicknesses, 0.5mm (thin tag, can be bent) 1mm (thicker card, almost impossible to bend)
Luxury swing tags generally use 1mm thickness, which is the most suitable thickness to balance the price and professional appearance. Of course, you can also choose other thicker thicknesses, such as 1.5mm, 2mm, 3mm, etc.
Match a high quality hang tag string seal with logo or a simple hang tag string with a safety pin, to give your hang tag the perfect look.
How to print a luxurious logo on a hang tags?
You have many options: printing, embossed, foil or UV. Choose the best logo technology can make your high end brand stand out.
Custom Printed Hang Tags
Printing is the most used technique, it can custom printed any color ideally like gradient color, pictures etc. One important note is that if you want to print very good effect while your logo color is very complex, pls choose art paper/coated paper.
Engraving and embossing is to press on hang tag by using a mold (your logo shape of course). Press in front, logo is engraved; press backside, logo is embossed. You can press hang tag either with printing first or not. Just bear in mind: your logo must be simple and of large fonts, so that the press effect is best.
Hot-Foil Hang Tags
Hot stamping/foil. Firstly, put a very thin metal paper on hang tags, then hot press it, then your logo will leave on hang tag in metallic style, looks shiny. The normal metallic color is gold, silver, rose gold, besides there are many other different colors metallic paper you can choose.
Printed UV Hang Tags
UV is very simple; the main function is to make your logo looks shiny (like water shiny). UV is clear, without any color, so it will reflect the color of background, if background is black, UV is black; background is white, UV is white. Some designer would choose print first, then UV, so the logo looks very special.
Send your design work, or design request, custom design professional luxury hang tags.
Need a new design?
You don't need to download any boring templates or software, just send your logo or text or reference pictures and other information. We have a professional design team, provide one-to-one free design. No need for any additional fee to create a professional hang tag look for you. We take every project big and small seriously, making it easy for you to bring your ideas and creativity to life.
Besides, we custom printed hang tags for global brands, including the USA, Australia, Canada, UK, France, South Africa, Saudi Arabia, New Zealand, Ireland, etc.
We have professional pre-sales and after-sales services. If you have any questions, you can contact us via email or WhatsApp, we provide one-to-one professional services. Custom hang tags may have some other special techniques to express your luxury swing tags, we will provide you with the best suggestions during the customization process, including size, color, material, font, design, etc.