Custom unique embossed hang tags. Add thick high quality swing tags to your products. Raised or engraved, or printed logo color. Our excellent quality and service will make your ideas stand out.
Our high quality embossed hang tags with competitive price and low MOQ, we can do the best for both large and small businesses.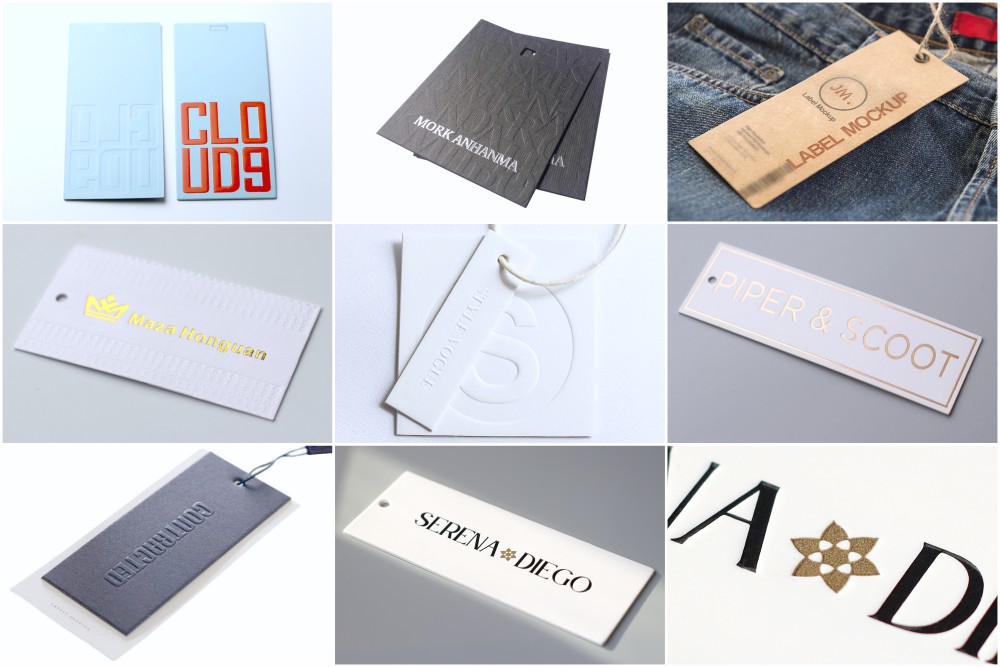 Custom Unique Embossed Hang Tags
We can custom embossed hang tags in any size, material, thickness, shape and color, even metal, leather, pvc, etc. A large selection of paper materials can perfectly match any of your ideas.
About paper material
You can choose from glossy coated paper, with a smooth matte finish and glossy finish.
Matte black and white cards, uncoated with a natural paper texture.
Kraft paper and other specialty papers.
All paper materials can be customized in any color, texture and thickness.
You can simply raised or engraved the logo, or fill in the logo color and paper color you want according to Pantone spot color (you can also choose Hot-foil, UV, etc, printing hang tag technology).
(Note: After embossed and printing the color, its embossed effect will be less obvious, but the touch will be very obvious and textured.)
Suggested thickness of embossed hang tags: thick paper: 1mm 1.5mm 1.8mm (almost impossible to bend) or thin paper (0.5mm)
We provide all types of tag string to best meet your needs. String seal with logo or simple rope without logo.
Cotton, polyester, leather, wax cotton, satin tape, flax, etc., you can check the type of rope you want from our catalog, or send the picture of the rope you want.
If you have any questions, please contact us by Email or WhatsApp, we provide one-to-one customer service, and can accurately customize your embossed hang tag ideas. Just send your logo, size, design, text or reference pictures and other information, we will quote quickly.
If you need a new design, you don't need to download boring templates and software, we have professional designers to provide free designs.
If your embossed hang tag design is very complicated, we can provide 3d rendering to confirm the thickness and design etc.
About Embossed Hang Tags
Embossed hang tags are high-end hang tags, and its craft is more complicated than ordinary hang tags. Especially when printing colors on embossed logos, it needs to be very precise. The sense of quality it brings is also unparalleled, with good thickness and logo texture, which can make your clothing, wine, candles, etc. more luxurious.
Our mature technology and service will custom the best embossed hang tag for your high-end brand to ensure that your brand stands out in the industry.