Custom printed clear plastic hang tags for your clothing. Transparent, frosted, or translucent? Personalize plastic hang tag, add a unique design to your brand and make your brand stand out.
Clear plastic hang tags can create a layered effect and are a popular hang tag option for many high-end brands. We offer all plastic hang tag options to match your apparel design. You can print any unique logo color, even a luxurious gold color.
Send your logo, designs or ideas, reference samples, sketches and more to create unique plastic hang tags. We can also provide professional advice and free designs. Including font, material, style, size, etc.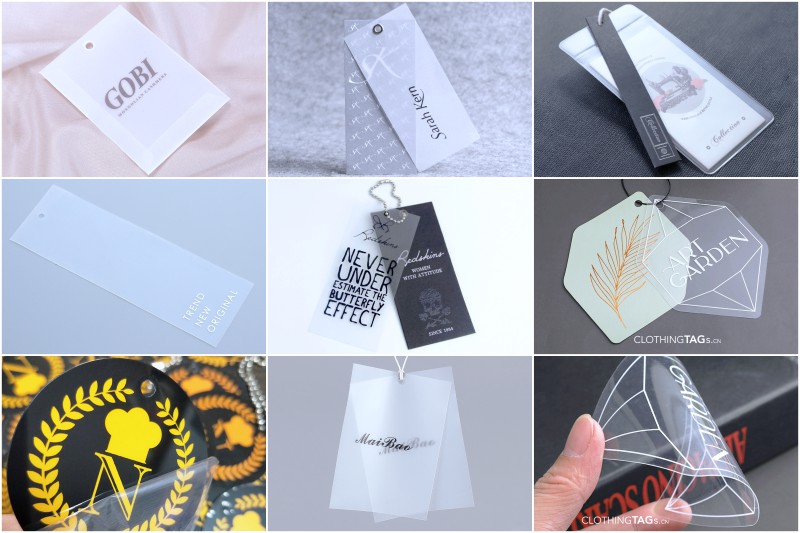 We offer you high quality clothing hang tags at competitive prices. We hope to impress you.
Hard Transparent Plastic Hang Tags
Hard and transparent plastic hang tags, generally printed with simple logos on the surface, matched with paper hang tags, connected by ropes and safety pins, luxurious and layered.
It has excellent toughness so you don't need to worry about it breaking.
You can choose a clear glossy and translucent matte finish, or you can choose an opaque color.
Soft Clear TPU Hang Tags
Plastic Bag Tags
Translucent Tracing Paper Tags
The translucent tracing paper hang tags is the most commonly used special hang tags, and its surface has a matte frosted effect.
Due to its translucent appearance, its surface can be printed with a simple logo and placed in front of the tag, or it can be printed with complex information and care content and placed in the back of the tag.
As a plastic hang tag manufacturer and supplier, we can consistently manufacture products that meet your requirements. Besides, we custom plastic hang tags for global brands, such as the USA, Australia, Canada, UK, France, South Africa, Saudi Arabia, New Zealand, Ireland, etc.
We have comprehensive pre-sales and after-sales services. If you have any questions, you can contact us via email or WhatsApp, we provide one-to-one professional services.