PVC patch is very suitable for fire fighting, police, army, air guns and tactical paintball teams, outdoor clothing, etc. It is permanent, will not crack nor decompose in harsh environments, and its production temperature is about 165°. As a high-quality PVC patch manufacturer, we use ATBC-PVC material, which is non-toxic, washable and colorfast, soft and not deformed. We provide custom PVC patches in any color, size, shape, thickness and fixing method, and there is no minimum order quantity. Our professional customization services can provide the most satisfying PVC patch within your budget.
We provide rubber labels for global brands, including the USA, Australia, Canada, UK, France, Saudi Arabia, etc. In addition to PVC patches, you can also choose high-end silicone labels.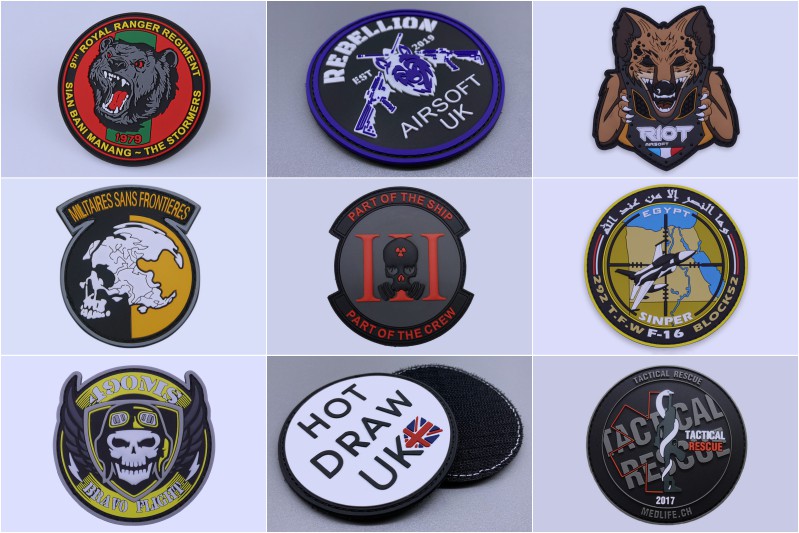 Custom PVC patches color, size, shape and thickness
Color: The PVC patch can customize any color according to Pantone code. You can also customize transparent PVC patches and PVC patches that glow in the dark.
Shape: You can customize various shapes, such as round, squares, or logo shapes.
Size: any size according to your needs, we can also suggest some regular sizes, or suggest the smallest size according to your logo.
Thickness: The total thickness of the PVC patch is generally 2.5mm, the thickness of the logo is generally 0.5mm, and the base is 2mm.
Design: We may adjust some designs, and will adjust them to a sturdy design without affecting the aesthetics and give you confirmation.
(We will provide a detailed design based on your logo, and provide a 3D rendering, and work with you to determine the details, so that you can see the final effect before production.)
2D PVC patch is the most used PVC patch, because its production process is simpler, lower cost, and more suitable for the appearance of most logos. It has a flat logo.
The 3D PVC patch is difficult to produce and costs more, it can highlight the logo.
PVC patch fixing method
The most commonly used method of fixing is to sew patches. Can be directly sewn on clothes, hats or backpacks and other products. (You can choose to add sewing groove or not)
Adding Velcro, after that, the patch can be easily removed and re-fixed.
We will sew the hooks behind the PVC patches. Then, you just need sew the loop on your product, it is very convenient to use.
Custom PVC Patches No Minimum Order
If you need a smaller quantity, we provide the best customized solution.
We can customize any quantity.
We will provide you with the most professional advice and save you business time, energy and cost.
As a PVC patch manufacturer and supplier, we can consistently manufacture products that meet your requirements. We have comprehensive pre-sales and after-sales services. If you have any questions, you can contact us via email or WhatsApp, and we will actively solve the problem for you.