Custom durable metal tags for your machinery and equipment. We offer a variety of metal labels options, such as durable and non-magnetic aluminum and stainless steel, or brass and zinc alloy. Print your logo, ID, or asset information with superior durability to take your business to the next level.
Our metal labels are suitable for all fields, such as transportation, equipment, furniture, construction, food, or clothing, etc. Tell us your needs, we will provide you with the most professional advice, including material, size, design, etc.
Our metal tags are durable enough, that will stand up to corrosion, abrasion, harsh weather, UV rays, and more.
Adhesive, or adding holes to secure metal tags? Or multiple logo colors? We can consistently manufacture products that meet your requirements.
Metal Tags For Equipment
Anodized aluminum is non-magnetic and will not interfere with the equipment. It is not only lightweight, but is also durable. Ideal for equipment and outdoor use.
Wear and corrosion resistant surface coating makes it extremely durable and can last for more than ten years in harsh outdoor environments.
Among durable metal materials, it is the most economical.
Stainless Steel Tags
Stainless steel tags are the most durable metal tags and are ideal for industrial or outdoor use.
It can last for over twenty years in harsh outdoor environments, it is heavier, more premium and more expensive than aluminum.
Metal Tags For Indoor Use
Zinc alloys and brass are malleable, easy to melt and clot at certain temperature, so can be customized into a variety of shapes.
Brass Tags
Brass tags are abrasion and corrosion resistant and ideal for decorations, furniture labels or indoor use.
Zinc Alloy Electroplate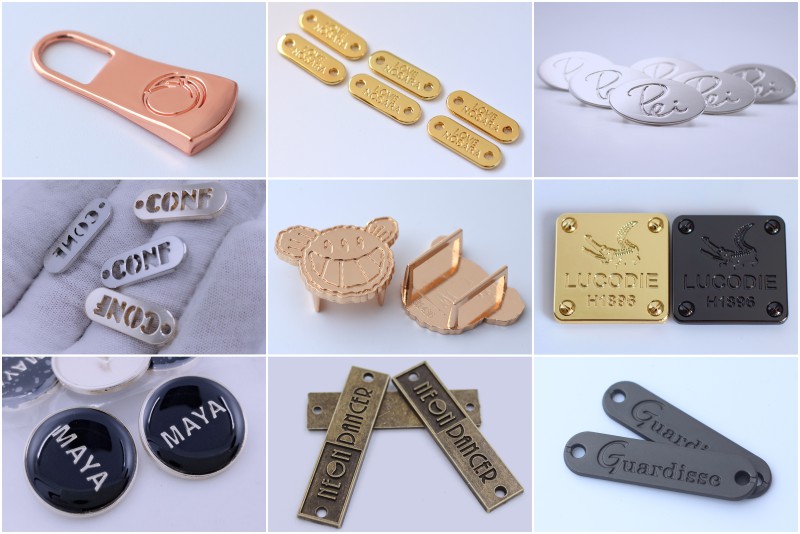 Zinc alloy is the most common metal material for clothing metal tags, it is smooth and bright, moreover, the electroplating color is uniform. It has excellent abrasion resistance, corrosion resistance and water resistance, so can be used in swimwear.
It can be electroplated in a variety of smooth and bright colors, including gold, silver, gun metal, rose gold, anti-brass, etc.
Best Metal Equipment Tag Maker
As a metal equipment tag manufacturer and supplier, we customize durable and reliable metal tags for you at competitive prices.
We offer free design assistance to help you create new metal tags. Just tell us your logo, text, color, size, shape and other information, then we can design any style and font.
Besides, we custom metal tags for global brands, such as the USA, Australia, Canada, UK, France, South Africa, Saudi Arabia, New Zealand, Ireland, etc.
In order to make your design more clear, we will provide a 1:1 3d rendering to confirm and improve the details with you. Make your work stand out.
We have comprehensive pre-sales and after-sales services. If you have any questions, you can contact us via email or WhatsApp, we provide one-to-one professional services to help you make the best choice.. We will provide you with the best suggestions during the customization process, including size, color, material, font, design, etc.