Custom print personalized fabric hang tags for your clothing series, handcrafted items, and more. Types include cotton, canvas, lace, satin and more. Matching paper hang tags, cotton string or rivets, then, print your logo and design, It will make your brand stand out.
Clothing Hang Tag Materials
Paper hang tags are the most common materials including cheap white or black hang tags, clear tracing paper, vintage Kraft hang tags, personalized coated paper hang tags and other specialty papers.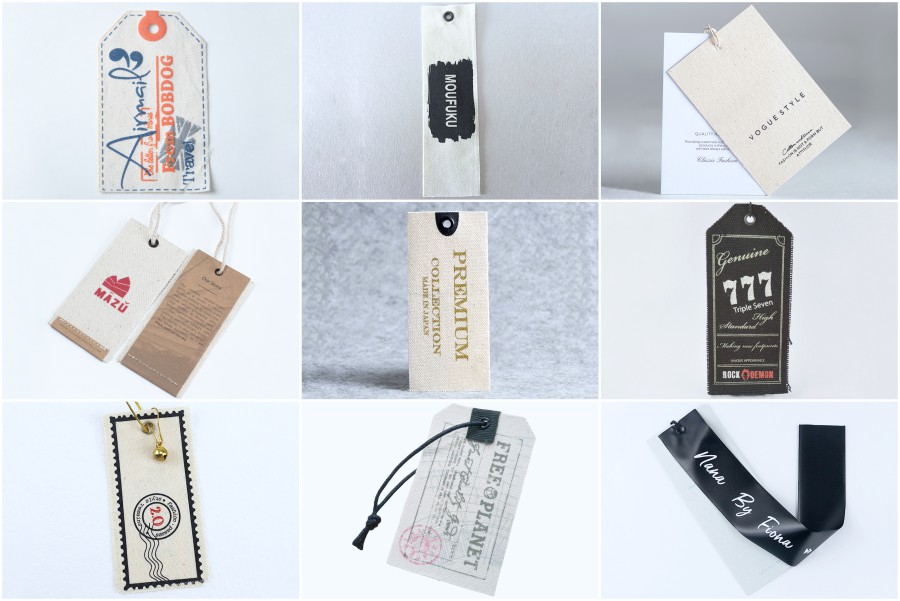 While the fabric hang tags is a special tag with a soft finish and a comfortable touch. Ideal for casual wear, underwear, handmade items or household items. Its materials include: cotton, canvas, lace, satin, etc.
In addition to fabric, hang tags also include metal hang tags, leather hang tags, plastic hang tags, rubber hang tags, etc.
Various materials give you more possibilities for your hang tag creativity.
Canvas Hang Tags
The canvas hang tags is made of sturdy cotton fabric, which is very flat in its natural state, and it is divided into white and off white.
You can choose thin canvas hang tags or thick canvas hang tags.
Cotton Hang Tags
The cotton hang tags material is pure cotton, which is softer than the canvas hang tag, comfortable to touch. Also It is divided into white and off white.
Lace Hang Tags
Custom Your Own Fabric Swing Tags
A hundred or thousands?
You can customize any quantity, size and color, and we can meet the customization needs of small businesses.
We offer a comprehensive range of hang tag string styles, in a variety of materials and colors, and can be customized to any length.
Such as cotton, polyester, leather, wax cotton, satin tape, flax, etc. Also hang tag can match any color metal eyelet, Safety pin.
Anything you need, whatever you want, we can do it.
As a hang tags manufacturer and supplier, we can consistently manufacture products that meet your requirements.
You are free to use your creativity to create a quality brand identity for your products.
We hope we will impress you with our excellent service and quality.
If you need help with your design, we can provide one-on-one free design.
Besides, we custom zipper puller for global brands, including the USA, Australia, Canada, UK, France, South Africa, Saudi Arabia, New Zealand, Ireland, etc.
We have professional pre-sales and after-sales services. If you have any questions, you can contact us via email or WhatsApp, we provide one-to-one professional services. We will provide you with the best suggestions during the customization process, including size, color, material, font, design, etc.