Custom high definition woven damask labels for your clothing, choose any color of threads. Our excellence service and quality make countless clothing brands stand out.
Use real high density 50 denier threads to create high definition woven labels. We can provide free samples for you to confirm the quality.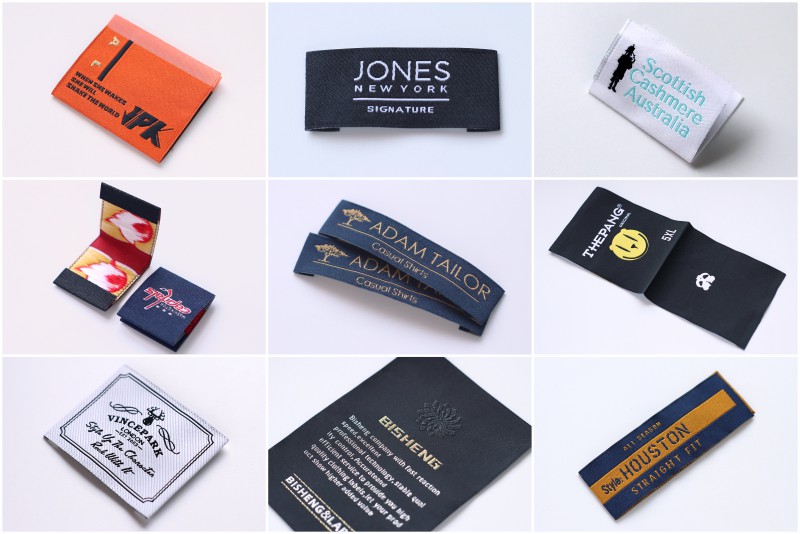 High Definition Woven Damask Labels
Our high definition woven damask labels is made with high density thread. Your woven labels design can be well woven to better show the details of your logo.
If your logo are very tiny and thin, then using our thin and high density thread can make your logo very delicate.
In addition to some very complex logos, you can also customize woven wash care labels. The woven small font can be clear, although the wash care labels has many small symbols and their meanings.
Most woven labels for t-shirts usually choose a special color, such as special gold, there are many kinds of gold, you can choose shiny gold or matte gold, or choose the color according to the Pantone card. We will choose the most matching yarn color.In addition to high definition logos, our damask woven labels can also be make rich colors. There can be 8 colors on the labels, so you can woven a gradient logo.
Thread Options
Ordinary yarn: logo matte (50 denier threads)
Glossy yarn, the logo is slightly shiny, and the color will be more vivid than ordinary yarn. (50 denier threads)
Gold yarn and silver yarn: Shiny, Yarn density is not high.
Woven label texture
Damask woven labels can make patterns and texture, making your label more luxury and high-graded. Such as diagonal texture, pattern, etc.
You can also woven yarns on the whole background, so that the label look more luxury(mainly the background color will be much better), but the cost will be higher.
We use ultrasonic cutting, the edges will be very flat and soft, so it will not irritate the skin.
Damask And Satin Woven Labels
We provide customized various types of woven labels, in addition to damask woven labels, you can also choose satin woven labels, cotton woven labels, etc.
Damask high definition woven labels are very normal woven logo labels with low cost. Damask woven labels are very soft to touch, so they are widely used in skin-touch clothing like T-shirts, knitting, hats, sportswear, underwear, sweater etc.
If you want the woven label to look hard and bright, you can choose the satin woven labels. Because it has a smooth woven edge, not only will not irritate the skin, and will be more high-end. Soft and luster satin woven labels (taffeta woven labels), its yarn density is not high, but there are woven edge on the top and bottom, looks more high-end.
Cotton woven labels with cotton fibers on the surface, there are woven edge on the top and bottom, which is very suitable for pure cotton products.
As a woven labels manufacturer and supplier, we can consistently manufacture products that meet your requirements. We have professional pre-sales and after-sales services. If you have any questions, you can contact us via email or WhatsApp, we provide one-to-one professional services. We will provide you with the best suggestions during the customization process, including size, color, material, font, design, etc.
Besides, we custom woven labels for global brands, including the USA, Australia, Canada, UK, France, South Africa, Saudi Arabia, New Zealand, Ireland, etc