We custom high-quality metal tags and labels, mainly used for clothing, including bags, shirts, jeans, hats, etc.
It also used for metal jewelry tags, nameplates, key chains, dog tags, buttons, zipper pulls, etc.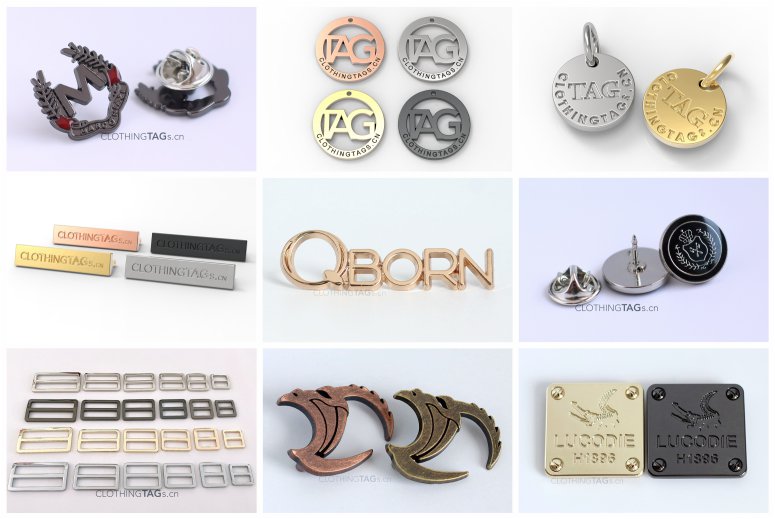 High-end clothing brands choose metal tags as clothing accessories, is a good choice. It can used with leather labels, to make your clothing more high-end.
And choosing a good metal labels supplier is very important, price and MOQ are very important factors. Our MOQ is low, you can send your request, we can give you a preferential price.
In addition to the price, the quality of the metal tags is very important. Our metal tags surface is smooth and bright, and the electroporating color is uniform, scratch resistant, corrosion resistant, and waterproof. It can be used on swimwear.
In the custom engraved metal tags process, you can choose either popular or complex fonts. Because our laser engraving technology is very good and small fonts can be clear.
There are also professional designers who can give you professional advice based on your design, as well as free design.
If you have metal tag styles and pictures, you can send to us. We support design and production based on styles and pictures. At the same time, a 1:1 3D draft will be provided to make your metal labels design look clearer.
We will try our best to meet customer needs and ensure quality.
Metal tags Material, technique, color
Materials: zinc alloy, aluminum, copper etc.
Technique: engraving, embossing, epoxy, spray printing etc.
Metal tags color: gold, silver, copper, ancient brass, rose gold, gun metal, nickel etc., (both glossy and matte)
Size and shape: according to your design and needs.
Attaching metal tags: according to your design and needs.
Minimum order quantity: any quantity.
Please provide following information for quick and accurate quotation.
Product design or logo
Product size, color.
Quantity and other requirements.