Custom high-quality metal tags and labels. Our rich material and logo technology can make your clothing brand standing out.
Zinc alloy, aluminum, copper or stainless steel? Engraving, embossing or printing? Or more unique epoxy or add leather patches? Each material and technology has its own unique charm.
Metal tags are not only used as jeans buttons and bag chains, but also can be used as clothing labels to attach onto clothing. The main function is to customize unique logo to your high-quality clothing. Thus, Metal tag is an indispensable element for clothing decoration.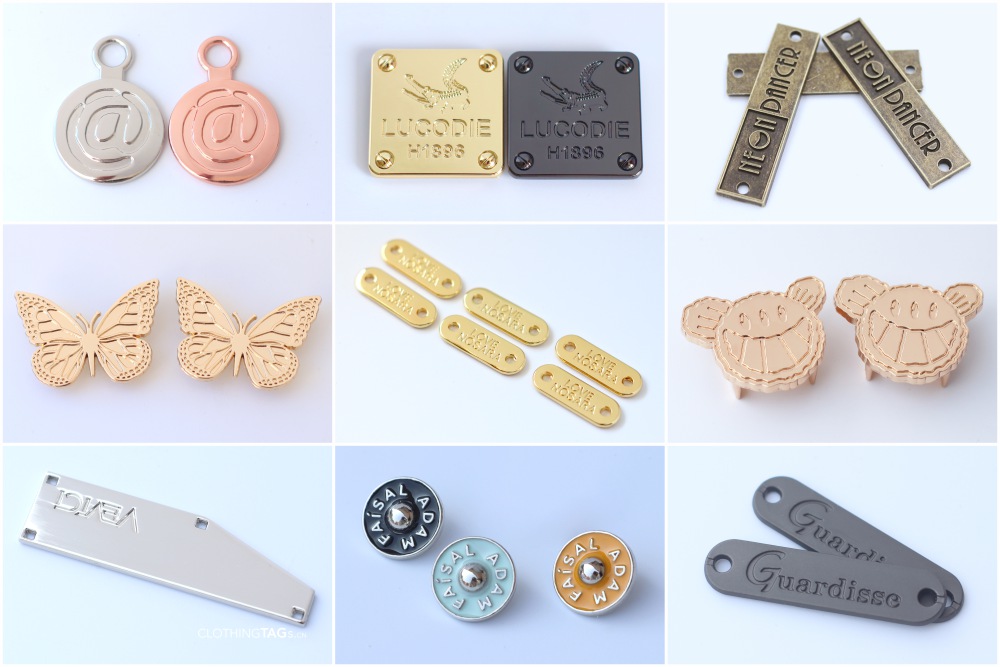 Our different metal labels finishes are suitable for different products. In addition to be used as clothing labels, they can also be used for jewelry tags, furniture labels, bag labels, hats, shoes, hang tags, name tags, key chains, dog tags, buttons, zipper pulls, etc.
In addition to metal tags, we also provide a variety of metal accessories, including D-rings, metal buckles, metal cord locks and metal rings, etc. They can also customize your logo.
Learn more about metal tags and labels?
As a metal labels manufacturer and supplier, we can consistently manufacture products that meet your requirements. Our MOQ is low, you can send requests, we will offer you a competitive price.
Our metal tags surface is smooth and bright, moreover, the electroplating color is uniform. It has excellent abrasion resistance, corrosion resistance and water resistance, and can be used in swimwear. It is suitable for all shapes, sizes and fixing methods. All in all, choose the finishing matching to your personalized design.
In the custom engraved metal tags process, you can choose either popular or complex fonts. Because our laser engraving technology is very good so small fonts can be clear.
Engraved, embossed, Laser printing, epoxy color, etc., a variety of techniques can meet your different customized needs.
There are also professional designers who can offer suggestions based on your design, we can also help you design freely. If you have metal tag physical sample or styles pictures, you can send to us. We can design or produce based on samples and pictures. At the same time, a 1:1 3D layout will be provided to make your metal labels design look clearer. We will try our best to meet customer needs and ensure quality.
Metal labels details
Materials: zinc alloy, aluminum, copper, stainless steel, etc.
Technique: engraving, embossing, epoxy, spray printing, laser printing, etc.
Metal tags color: gold, silver, copper, antique brass, rose gold, gun metal, nickel etc., (both glossy and matte)
Size and shape: according to your design and needs, we can suggest you the smallest size.
Metal tags fixing: with holes, bendable feet, self-adhesive, pins, rivets, screw fixation, etc.
Minimum order quantity: any quantity.
Design: Send CDR, PDF, AI, ESP, PSD, pictures and other design files.
In order to make your design more clear, we will provide a 1:1 3d rendering to confirm and improve the details with you. Make your artwork more perfect.
If you not have design and ideas, you can send us the pictures and texts of the styles you want, and we provide professional designs.
Please provide following information for quick and accurate quotation.
Product design or logo
Product size, color.
Quantity and other requirements.
We custom metal labels and tags for global brands, including the United States, United Kingdom, Canada, Australia, South Africa, Dubai, etc. Also, our cheap transportation can save you costs.
We have comprehensive pre-sales and after-sales services. If you have any questions, you can contact us via email or WhatsApp, we provide one-to-one professional services. We will provide you with the best suggestions during the customization process, including size, color, material, font, design, etc.