We have the best options when you are looking for custom satin bags with logo. Large satin drawstring bags and pouches, or any color, to personalize your clothing, gifts, jewelry, hair extensions and more.
In addition to satin bags, you can also choose from more material drawstring bags, Muslin bags, velvet drawstring bags, organza drawstring bags and more, these rich drawstring bags can add an elegant and exquisite packaging to your products and gifts.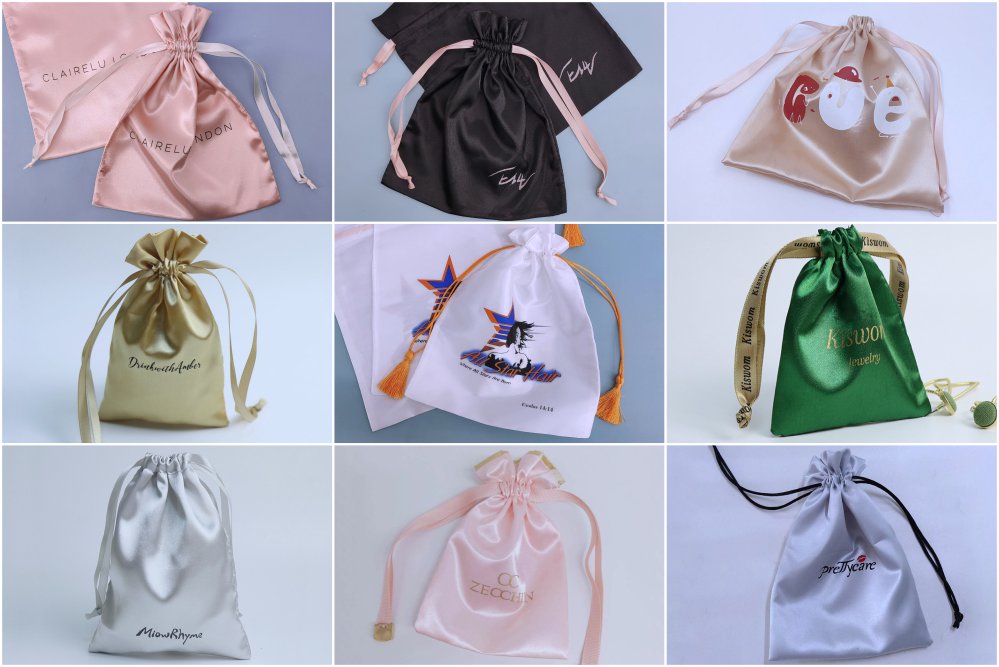 Printed Satin Bags With Logo
Print your logo on these glossy satin bags, it can make your brand attractive. You can casual personalize your designs and colors and print anywhere on the satin bags.
For example, you can print a gold or silver logo, embroider a three-dimensional logo, etc., to make the satin bag more luxurious.
You can print any font or pattern, just send your logo, text or reference image. We provide free designs and can design products according to your requirements.
Custom Satin Bags With Drawstrings
If you need to custom some beautiful silk satin bags for your business or wedding, as a gift or packaging, please contact us via Email or WhatsApp.
Please tell us what you want and we can customize the most suitable size, color, material and font for you. Make sure you get the best quality and service.
Custom a premium satin bags to fit your brand, whether you need a silk pouch for your precious jewelry, or a large satin drawstring bag for luxury clothing, or a favor bag for gifts and weddings, etc.
Choose the best size and match drawstrings of different materials such as ribbon, tassel, polyester, and more to create the most elegant and eye-catching satin bags.
For example: Ribbon might be the best choice, it has the same glossy finish as satin bags and can be customized in any color.
Best Silk Bags
Our silk satin bags are made of high-grade fabrics that are comfortable and smooth to the touch. Soft and strong, durable and very high quality. Can be machine washed or hand washed and reused. Has a luxurious look that can be matched with jewelry. Whether it is white, black, or a brand color, it has a unique luster and charm.
We custom any logo satin bags you want at affordable prices and make sure every satin bag you receive is a favorite. We look forward to your next order.