We custom various colors of faux and genuine leather patches, which can express any exquisite design. They are mainly used in clothing, jeans, hats, bags, shoes, jackets and other products, to add a luxurious high-end look to your excellent brand.
We custom leather patches for global brands, including the USA, Australia, Canada, UK, France, South Africa, Saudi Arabia, etc.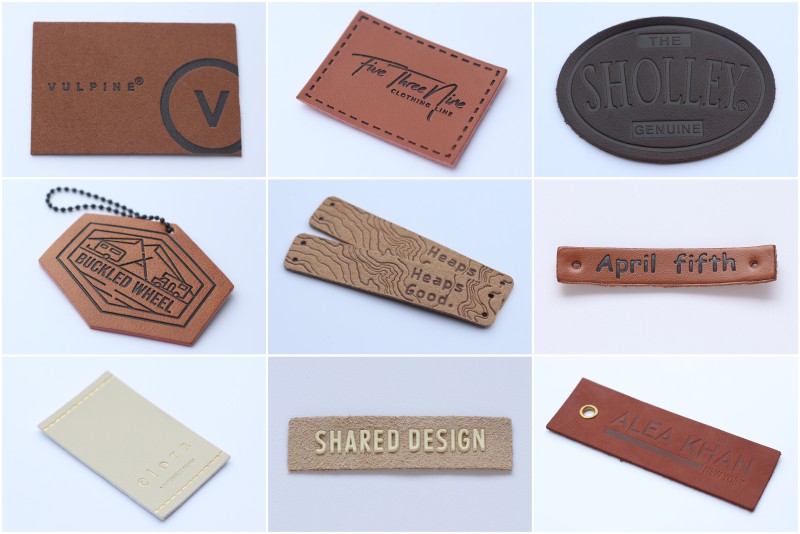 Genuine leather patches
Our genuine leather labels are made of 100% real leather and have natural textures. They have elegant appearance, soft and plump feel, good durability and flexibility, every genuine leather label has its unique texture.
Genuine leather patch usually is 2mm thickness, and feels heavy. But price is relatively higher.
Our genuine leather patch generally uses split leather. As a patch, it is the most suitable choice.
If you need more luxurious full-grain leather, please add a note. (Full-grain leather and split leather look similar, but full-grain leather is more durable and price is relatively higher)
Faux leather patches
Our faux leather patches mainly use high-grade synthetic materials (PU leather is the best material for faux leather patches). Its surface looks very similar to genuine leather patches, also has rich textures and colors, and durable.
The thickness of the faux leather patch is generally 1.2mm, and it feels light. The texture is more regular and neat than the genuine leather patch, and the color is more uniform.
Because genuine leather patches cost is high and not suitable for vegans, faux leather patches are also popular in many aspects.
Suede labels
The suede label also belongs to faux leather, also called suede microfiber labels. Its main feature is that it is very soft to touch and slightly stretchable, and is super durable. Often used in clothing, jeans, jackets and other products, and can add super soft finishes.
Suede labels both sides are of suede effect, so it is very soft, and it is very thin and light. Comparing to Pu leather labels, suede labels is more durable.
Detail:
Material: faux leather (PU leather, suede leather, holographic leather), genuine leather (pig leather, cattle leather, crocodile leather), etc.
Logo technology: embossed leather patch, silk screen print, engraved logo, embroidery logo etc. (can also attach metal labels to the leather labels)
Size and shape: customized according to your needs
Color: choose from our color chart
Quantity: no minimum
As a leather patches manufacturer and supplier, we can consistently manufacture products that meet your requirements. We have comprehensive pre-sales and after-sales services. If you have any questions, you can contact us via email or WhatsApp, and we will actively solve the problem for you.