Custom personalized chenille patches from us. The patches are popular for Letterman jackets, garment, hats, sportswear and other products. Furthermore, they can express warmth feeling and add furry towel texture. Whether you are a cheer-leading team, a training team or a school team, the patches can always give a bold and elegant appearance. We are keen to customize every perfect chenille patch for you. So that we will provide high quality, low price and low minimum quantity orders.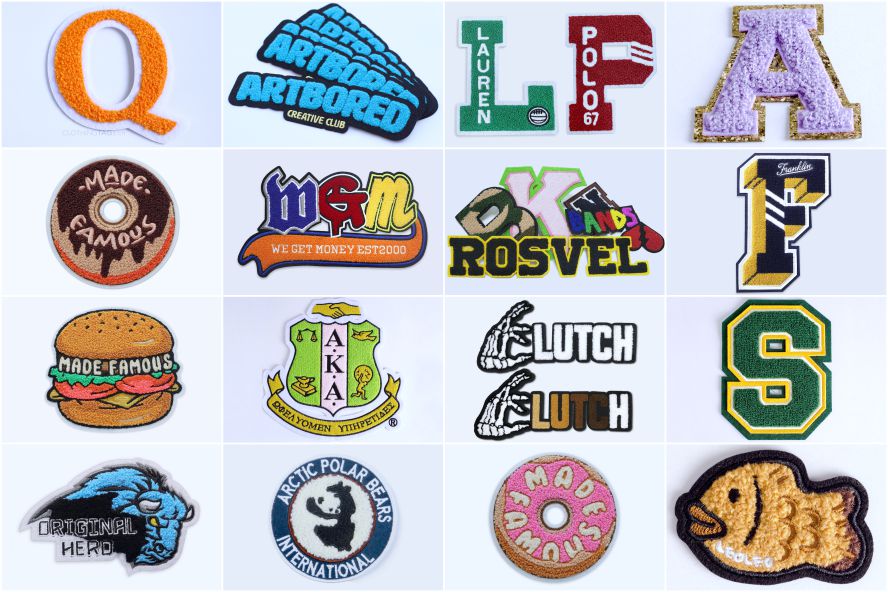 Learn more about chenille patches
The personalized chenille patches can customize any shape, size and color. Chenille patch, also named terry effect embroidery patch, is a kind of embroidered patch. It has a three-dimensional logo effect, and the surface is same as towel fabric- soft and comfortable.
Logo details
The three-dimensional chenille logos have a very fluffy effect, so it cannot show details well.
Therefore, if your personalized design contains small logo details, you need to combine chenille with normal embroidery technique. Embroidery can express a smaller logo, thus can add an amazing sense of layering, so can make the chenille patch more high-end.
Edge
Most chenille patches use trimming edges. If you want to make the chenille patch more high-end, you can also choose to embroider the edge.
Backing
Cloth backing: Cloth is added to the back to cover the sewing thread. Used for sewing.
Ironing backing: It can be directly ironed on the product with an iron, suitable for hats, jackets, backpacks, etc.
Velcro backing: Add Velcro, the patch can be easily removed and re-fixed.
Adhesive: temporary use (not commonly used)


How chenille patches are made
Chenille is a very popular embroidery patch, and its production process is similar to that of ordinary embroidery patches.
First, we need to choose the felt base fabric of the correct color, and then use a special towel embroidery machine to embroider the ordinary embroidery thread into an arched loop to create a fluffy three-dimensional effect. Finally, trim the chenille patch.
Best chenille patches manufacturer
As a chenille patches manufacturer and supplier, we can consistently manufacture products that meet your requirements. We custom chenille patches for global brands, such as the USA, Australia, Canada, UK, France, South Africa, Pakistan, Karachi, Saudi Arabia, etc.
If you are creating a logo for chenille patch, please contact us via email or WhatsApp. We have rich experience to provide you with professional advice and design help. If you are a small company, or a School, you can also choose us because our MOQ is small. If you are a clothing brand, we will offer best price.
Your satisfaction is very important, if you have any questions or dissatisfaction, please contact us, we have a good pre-sales and after-sales service. (If there is a problem with the material or technique, we can reproduce the products or refund the money.)
Detail:
Can be customized according to your design, physical sample or picture
Size / shape / color: according to your needs
Yarn: ordinary embroidery thread (we have many colors)
Edge: trimming, embroidered, etc.
Back: hot melt adhesive, Velcro (hook surface, fiber surface), etc. (Learn about

Woven vs Embroidered Patches

, and choose the most suitable fabric patch for you.)
Using environmentally friendly materials
(Note: Be very careful when using. The high temperatures required for ironing on the patch may burn the fabric (silk and other delicate fabrics are not suitable))
More patch options