Customize high-quality acid-free tissue paper for your luxury clothes packing, print your logo, and make your brand stand out. White tissue paper, or personalize the color you want, or customize a suitable size. We can do everything you want.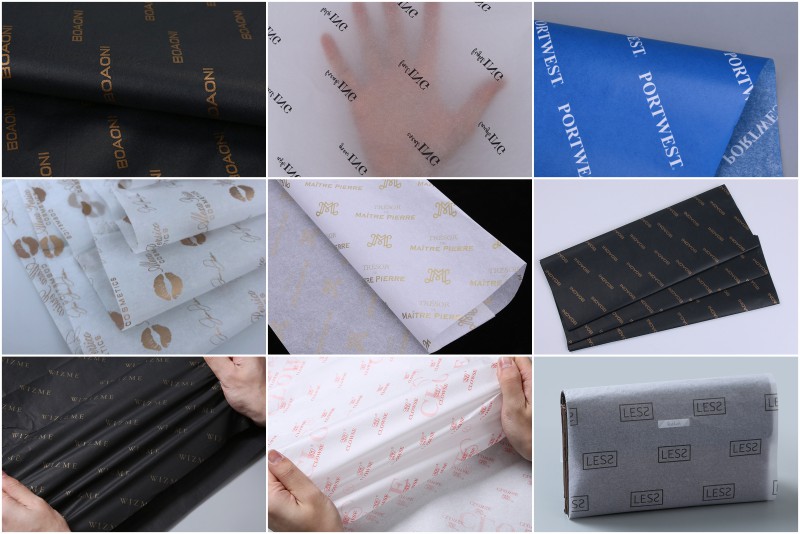 Find the right clothing tissue paper from our gallery, you can contact us by Email or WhatsApp to customize and wholesale the tissue. Whether it's a large business or a small business, we've got you covered. You can also customize tissue paper without logo.
Tissue Paper For Wrapping And Shipping Clothes
Tissue paper with logo can promote your brand when shipping your garment, providing luxurious look to give your customers the best unboxing experience.
Wrapping your clothes and fragile items with pH neutral acid-free tissue paper, which resists moisture, scratches, fills voids etc.. It is use for long-term storage and protection of your delicate products.
You can also customize a delicate sticker to add the finishing touch to the tissue paper.
Our tissue paper are very strong despite of their thinness, they are highly tear-resistant. Therefore, it is not only used for clothing, underwear, gifts, etc., but also suitable for jewelry, wine bottles and other products.
We pay great attention to details, including logo layout, color, size, etc., We provide free designs to customize the best luxury wrapping.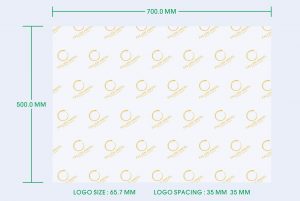 What size tissue paper for clothes?
The size of tissue paper needs to choose on your clothing, the following sizes are common sizes, for reference only.
Underwear
Summer And Autumn Clothing
Winter Clothes
500mm x 380mm (20″ x 15″)
750mm x 500mm (30″ x 20″)
1070mm x 780mm (42″ x 31″)
Why use tissue paper when packaging clothing?
Add tissue paper when packing clothes, the biggest role is to prevent moisture and scratches.
When the clothing are transported or stored for a long time, the color may fade slightly due to the humid air, or be scratched by the button zipper, etc. Therefore, adding tissue paper to the middle and outside of folded clothing prevents fading and scratching, and reduces creases from squeezing clothing.
It will provide the best protection for clothing from getting scratched if moisture from the air comes into the clothing.
Printing your own logo on tissue paper can elevate your product and promote your brand.
As a tissue paper manufacturer and supplier, we can consistently manufacture products that meet your requirements.
We have professional pre-sales and after-sales services. If you have any questions, you can contact us via email or WhatsApp, we provide one-to-one professional services. We will provide you with the best suggestions during the customization process, including size, color, material, font, design, etc.
Besides, we custom tissue paper for global brands, including the USA, Australia, Canada, UK, France, South Africa, Saudi Arabia, New Zealand, Ireland, etc.