Custom fashion thank you cards for your clothing brand, wedding and more. Firstly, choose personalized paper material and logo technique, then customize envelopes for your thank you card. Our MOQ is small, so it is suitable for the custom needs of small businesses.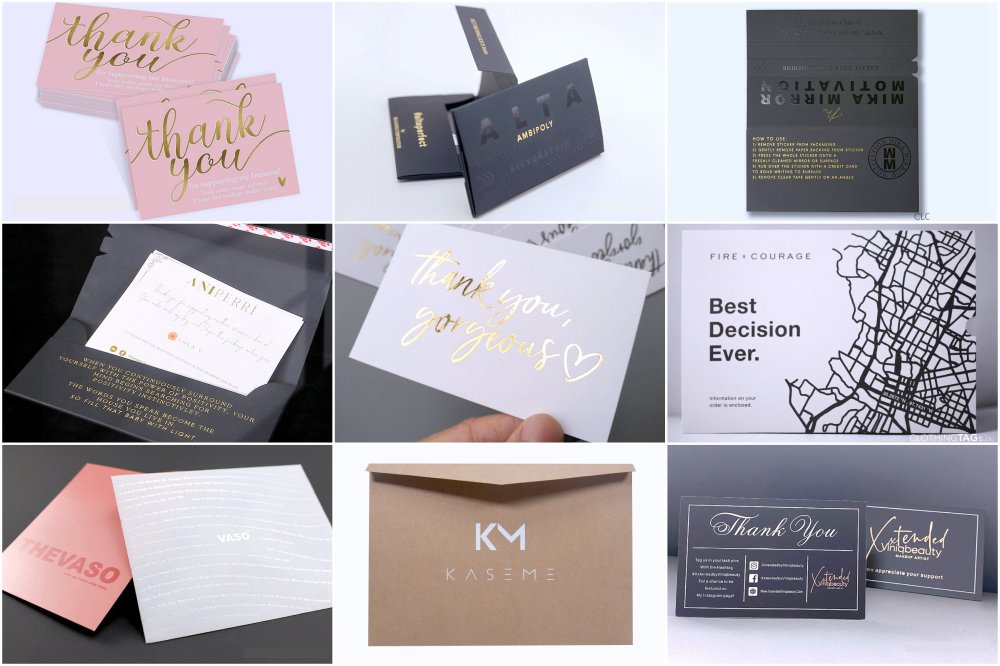 Real Professional Custom Thank You Card
A personalized envelope or an exquisite card, contact us for more thank you card inspiration. As a thank you card manufacturer, we can consistently manufacture products that meet your requirements.
Personalized Clothing Thank You Cards
An outstanding clothing thank you card requires personalized high-quality paper, beautiful logos and text and images. Our thank you cards use the same rich paper materials and logo techniques as hang tags, so it can help you create a beautiful and unique thank you card.
High-end black, clear tracing paper, or shiny Hot-Foil logo? What you want, we can do it.
Custom Envelopes for Your Thank You Cards
Custom envelopes can make thank you card stand out. Then, a delicate letter are ancient and can express special thanks.
Unique black card envelopes add a premium touch to thank you cards.
Clear tracing paper envelopes are a unique design that adds layers to thank you cards.
Simple and delicate thank you cards and envelopes, simple designs are also popular.
Clothing Brand Thank You Cards
Thank you cards are good tools for writing clothing brand stories, then with an elegant design, they can raise your brands fame.
Simple and elegant design style will make the clothing thank you card look more professional. Basically, the perfect thank you doesn't need to be complex, just with sincere thanks and your brand's story.
Sincere and positive messages can impress your customers.
Thank you for purchasing this *** garment.
We'd love to tell you a little more about your hand-made piece…
Woven into every *** garment is a deep-rooted respect for exceptional craftsmanship. Our collections are inspired by timeless textile traditions and we are committed to supporting these crafts and revealing the exquisite beauty that these master artisans create. By wearing this garment, you are supporting the livelihood of the men and women who made it and helping to keep these precious artisanal traditions alive.
Website
Thank you for being an amazing customer and having fantastic taste!
*** was founded on a mission to connect our ideals of artistry to everyday life. We are process motivated, empowering our people to connect and collaborate through the design process and many workshops.
Our design process begins in-store in collaboration with our community. Our pieces are designed and curated by our in-house designers and partnering manufacturers.
Hi__________________________________
You rock! I just wanted to send some love your way and thank you for your purchase.
I truly appreciate your business and i houpe you are completely satisfied with your new *** goodies!
Please accept this code for $5 off your next purchase: $5forfriends
I love to see you ***
So please give us a tag!
Cheers,
Thank you.
We hope you enjoy wearing
Your new statement piece for
Many years to come.
If you want to custom thank you cards for your clothing brand, please contact us by email or WhatsApp, we provide one-on-one professional service. Just send your information such as name logo, design, size or reference picture, we will quote quickly. (Low MOQ and Competitive Price)