Metal tack buttons are an important factor in creating denim collections. Custom high-quality metal tack buttons can make your jeans collection stand out. Learn more about the elements of jeans buttons from this post, so that you will have more experience to choose Jeans buttons.
Metal buttons color
Metal buttons have different colors and textures, so they can be matched with a variety of different clothes styles, including jeans, jackets, shirts, etc. Determine the most suitable texture and color, your products will form best effect.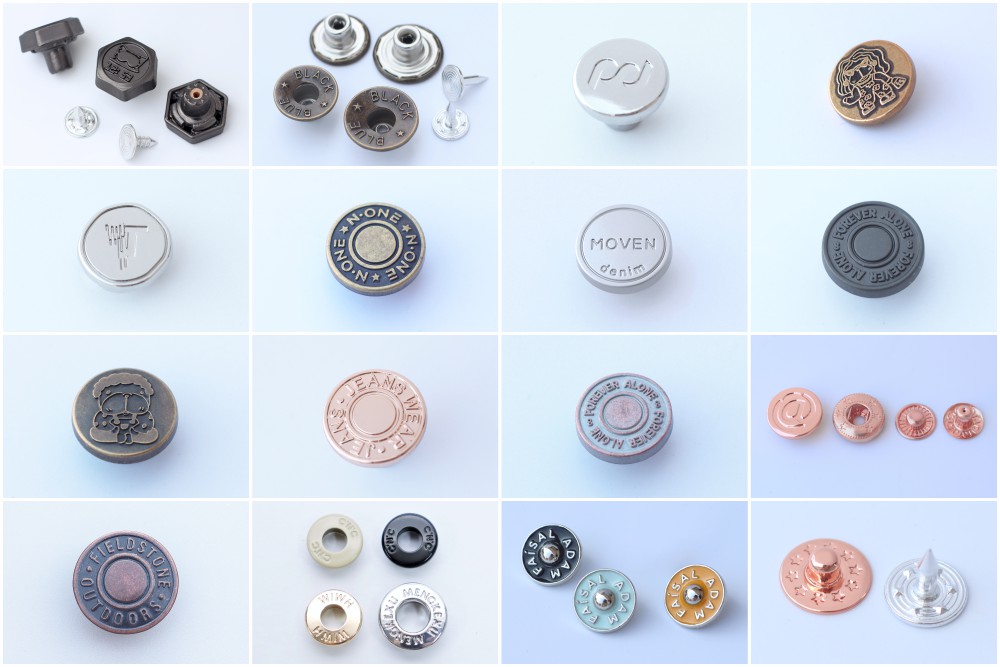 We provide metal buttons in many colors, including antique brass, black, rose gold, gold, silver, vintage, matte, shiny, etc.
You can choose button styles and color reference from our gallery. (Or send us sample pictures from other places)
Or use the color of the Metal Colors.
Custom your own jeans buttons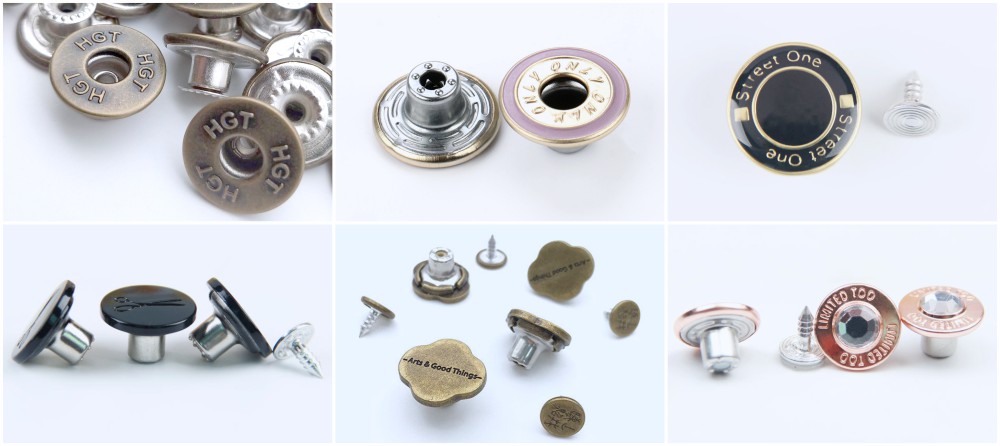 We can customize your logo, text or image on the jeans buttons. Customized tack button can increase the brand impression.
We provide various logo technologies: embossing, engraving, laser printing, epoxy filling, enamel, etc. We can also add fake diamond on the button.
Jeans buttons are usually round, but they can also be customized in different shapes: donuts, logo shapes, etc.
Size: Any size can be customized according to your needs, and we can also recommend you regular sizes.
If you need help in design, we can provide free design, and provide 3D design for your confirmation. We can also design the same font and style according to the reference picture you sent.
Zinc alloy VS Copper jeans buttons
Zinc alloy and Copper are two main material to produce jeans tack button. they all have their merits. You can choose the jeans buttons according to your brand tone.
Copper jeans buttons is cheaper. But copper gives customer a feeling of old, so it can match many vintage jeans brand.
However, zinc alloy is thicker, more durable, and quality is better. So price is slightly higher.

Rotatable and non-rotatable tack buttons
The tack buttons are fastened to the clothes. The tack buttons in Figure 1 is rotatable, and the tack button in Figure 2 is non-rotatable.

In addition to jeans buttons, we also provide other custom metal accessories: rivets, snaps, eyelets, zippers, metal sewing buttons, etc.
Contact us by Email or WhatsApp, we provide one-to-one customer service, and can accurately create a unique metal button for you.