Custom high-quality flannel velvet drawstring bags, print or embroider your logo, protect your products and promote your brand.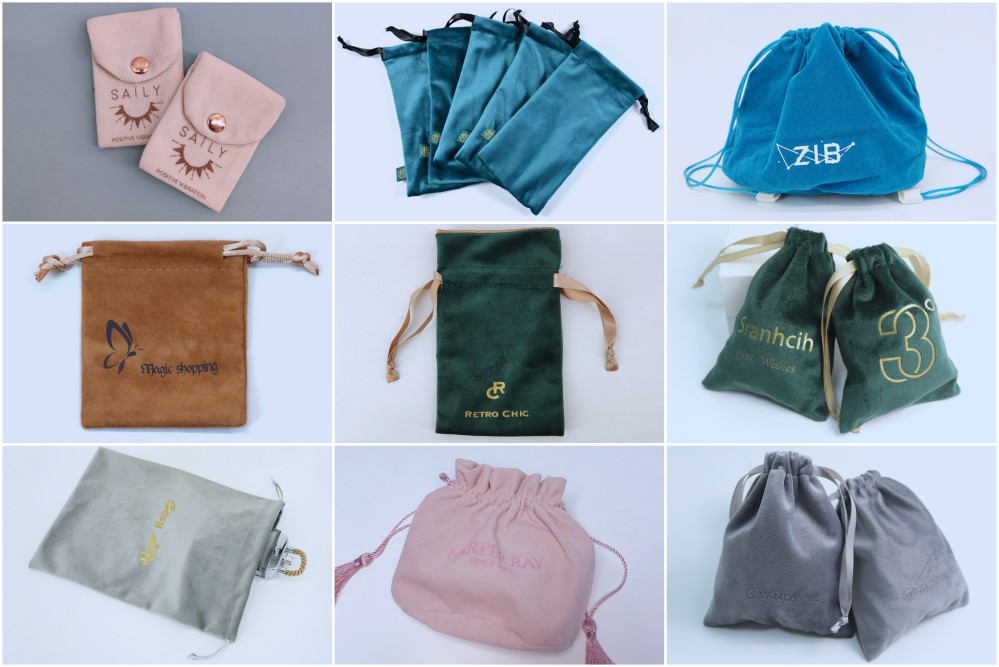 Best Velvet Drawstring Bags and Pouches
Need a custom large velvet drawstring bag for clothing, or a velvet pouch for jewelry packaging?
Our velvet bags are made of high-quality velvet fabric, with soft and comfortable plush fibers on the surface, delicate luster, soft and breathable, and safe and odor-free. It is very suitable for jewelry, necklaces, bracelets, high-end clothing, wedding gifts and valuables, etc. It can perfectly protect the product and prevent dust.
We have precise sewing technology to make the stitches neat and beautiful, and ensure the logo printing is clear.
Our velvet bags are not only soft and comfortable to the touch, but also very durable and wear-resistant, has strong firmness. Compared with cotton and silk, it will not deform and wrinkle, and can better protect the product.
Custom Velvet Drawstring Bag Details
Custom velvet drawstring bags from ClothingTAGs.cn, you can ask for more details, such as special drawstring, materials, colors, etc., and we have many options.
Style: We use double drawstring velvet bag by default. You can also design in many styles, including single drawstring, zipper pocket, round bottom, square bottom, etc.
Drawstrings: Customize with unique drawstring materials and colors, including cotton, polyester, wax cotton, satin tape, flax, etc.
Size: Customize the bag in any size, or we offer advice.
Material: We use high-quality velvet, which feels smooth and delicate, thick and sturdy.
Color: classic black, or beige, green, etc., any color according to your needs.
Logo: Print any color according to Pantone card, or gold, silver, embroidery, etc.
More details: We use single-sided velvet fabric by default, you can also use double-sided velvet. A satin lining can also be added to make the bag even more luxurious.
Let us know if you have more special ideas
Personalize your own velvet drawstring bags. We will use suitable printing technology according to your requirements. We can also customize drawstring bags in more materials, you can check the bag you want from our gallery. They are just examples, you can customize better drawstring bags.
We are more than happy to create what you want and can provide a free intuitive design to confirm and improve the details. We craft what you want perfectly with our competent and professional skills, and we can guarantee that you will be 100% satisfied with every velvet bag from us. When you receive your package, we hope to exceed your expectations and look forward to your next order.
Contact us via Email or WhatsApp, send your logo, material, color, text, quantity, size, or sample pictures and other details, we will quickly quote you.